Making Cider Doughnuts at Jaswell's Farm
The freshly fried doughnuts are created using cider made from the orchard's apples.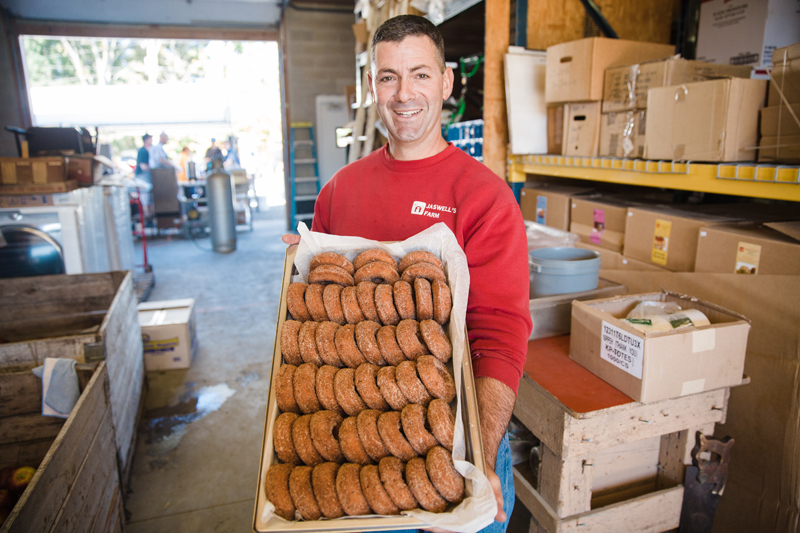 Editor's note: The October issue of Rhode Island Monthly includes a feature all about apple-picking at local orchards, plus apple recipes, buying and baking tips and more.
How does a freshly fried doughnut made with cider from apples grown in Rhode Island sound? If you're hankering for one of the best cinnamon-and-sugar coated treats in our area, head to Jaswell's Farm in Smithfield.
Allison Molis is the co-owner of Jaswell's Farm, along with her brother, Chris Jaswell. The apple orchard has been in their family for four generations. "We're proud of the fact that we continued the tradition," says Molis. "Our parents started the cider mill back in the 1970s. Chris and I are still running it today."
They grow apples at the pick-your-own orchard and an on-site cider press makes cider year-round. They also have a machine that creates the doughnuts. "Each place has its own recipe, and of course, ours is top secret," says Molis. "The one secret ingredient that we do have that differentiates our doughnuts from others is our cider."
Staff mixes up the batter including the secret cider ingredient – a batch includes five dozen at a time – and then the machine does the rest of the work. The hopper is filled with batter and it drops each doughnut into the hot oil. The blobs of dough float along as they fry, then they get flipped by the machine to thoroughly cook. Once they're done, they come up a conveyor and land in a catch tray. Depending on the doughnut favor, they will either be coated in cinnamon and sugar (cider) or hand-glazed (blueberry).
"The machine essentially does all the work. Someone just needs to be there to man it and make sure it doesn't go haywire and we end up with an "I Love Lucy" episode," says Molis.
This is Jaswell Farm's second year making cider doughnuts. "The popularity doesn't seem to wane. We've been making them all summer and we manufacture our cider year-round, so that enables us to make the doughnuts season-round," Molis says. The farm opens each spring in June and remains open through Christmas Eve. Spring and summer doughnut flavors include apple, strawberry and blueberry, and fall continues with apple cider and pumpkin varieties (coming soon!). They make a batch or two on a week day, and hope to sell out by the end of the day. "On the weekend, it's a continuous process because you never seem to have enough!" says Molis. 50 Swan Rd., Smithfield, 231-9043, jaswellsfarm.com
We sent a photographer to see how these scrumptious specimens are made. Photos by James Jones.