Making Bracelets in Rhode Island for Music Education
Rhode Island's rich manufacturing history and affordability are why Cords for Music is having the metal for their bracelets manufactured here.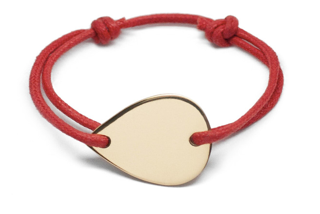 Before Nicholas Coblence launched Cords for Music, he looked all over the United States for companies to make his pick cord bracelets.
Music had always been important to him and Coblence wanted to make jewelry and use part of the proceeds from the sales to fund music education in public schools from his base in New York City.
With a background in fashion and nonprofit management and an "obsession" with products made in the United States, Coblence took out a loan on his credit card and researched jewelry-making hubs around the country. He says he was floored by what he learned about Rhode Island's manufacturing history and that's why he decided to have his bracelets made here.
"First of all, it's more affordable, but also, it's a richer history. I didn't realize that all the Italians when they came over brought their craft to Rhode Island and set up their factories. I had no idea and I thought that story was pretty incredible," he says. "I found it much more genuine. And then when I found out companies like Tiffany's make in Rhode Island, I thought, if Tiffany's can do it, I should do it. It's just the way it should be," he says.
The metal portion of the bracelets is all manufactured in Rhode Island. Coblence works with a stamping company here, and also with Precision Polishing and Ideal Plating.
"I don't come from a manufacturing background so I'm learning a lot and it's just great to be able to get on the phone and say, can you adjust this and this and they say sure. They really work with you very well."
Here's a peek into the process behind the making of the bracelet:
You can buy them online through Cords for Music's website. About 12 percent of the proceeds go to music education.