Make the Magdalenae Room's Mint Julep for Derby Day
Here are five tips to celebrate the Kentucky Derby Saturday.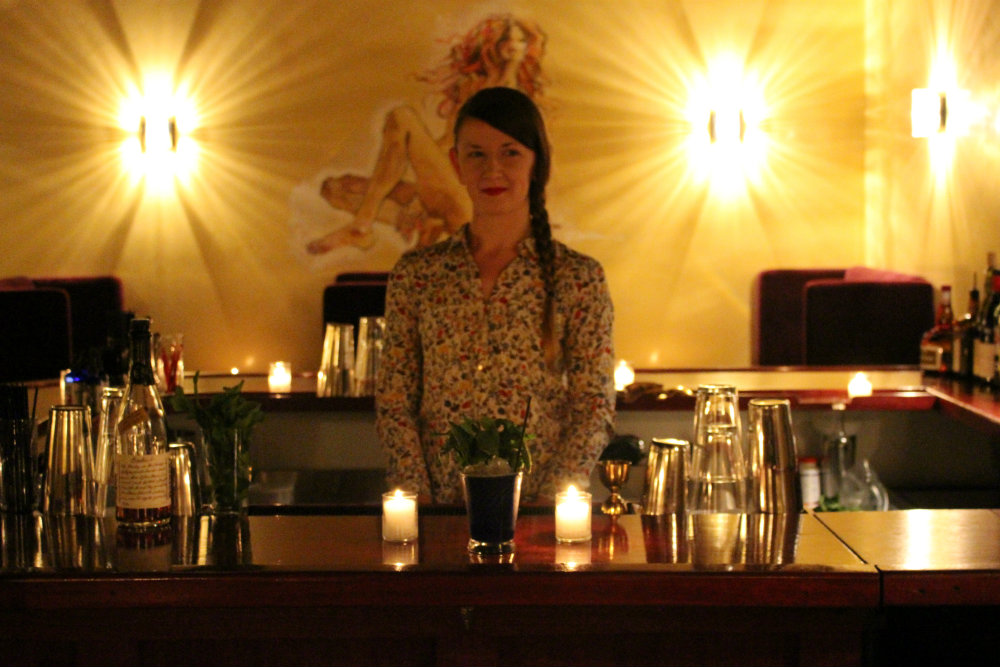 This Saturday, May 7, is the Kentucky Derby and we think Rhode Islanders have just as much right to celebrate as the ladies and gents attending in the flesh. And what better way to get festive than to have friends over, don hats and get smashed daintily sip mint juleps, the drink du jour on Derby Day at Churchill Downs?
We got a crash course on how to make the perfect julep from Magdalenae Room bartender Catherine Hood and, in the process, found out five rad facts about this unassuming libation.
What we learned:
1. Don't tell your friends 'it's like a mojito': Hood says, "A lot of people compare them to mojitos. But a mojito, it's just a completely different drink. A mint julep is more like an old fashioned if you use mint instead of bitters."
2. In the good ol' days, it was used for medicinal purposes and as a morning pick-me-up: "This is a really old cocktail, it dates back to the late 1700's. It was originally used for medicinal purposes, like a lot of cocktails back in the day. It was also used as a morning pick-me-up. Farmers would drink a mint julep before they would go out to work in the fields for the day."
So now you have a perfectly legit reason to start your day with one of these babies, right? Cubicles, fields, same thing.
3. The cup is pretty cool (like, literally): "Traditionally the cup is made with silver or pewter. They have this lip on the top and lip on the bottom, so the idea is you're standing around in your suit and fancy hat and you're supposed to hold the cup by either the top or the bottom so your hand doesn't freeze and also so the cup gets all frosty and keeps the drink super cold."
4. Now commonly made with bourbon, the julep was not always made with this base liquor: "Like a lot of pre-Prohibition drinks, it was made with not just bourbon but also with cognac and brandy, and rum was pretty common too. There was also a gin julep which was made with Genever, a Dutch aged gin."
5. Wanna shake up your mint julep? Here's how Hood would: "I would really like to try to make this with Genever. I think that would be an interesting spin and probably not one that many people would do. It would also be pretty interesting if you combined mint with another herb. I'm a big fan of that. So if you had a mixture of mint and lemon balm, or mint and lemon balm and basil, or something like that, that could be an interesting twist on it."
Now, how to make your own high-octane mint julep:
Ingredients:
.5 ounce simple syrup (made with a one to one ratio of water and sugar)
15-20 mint leaves (at the Derby, spearmint is used but any mint you can get your hands on works)
2 and ½ ounce bourbon (Hood recommends 130 proof Bookers for a julep with bite)
Crushed ice
Mint for garnish
How to make it:
Put the simple syrup and mint leaves in your cup. Use the butt end of a bar spoon to bruise the mint a bit and release the aroma. Add the bourbon and fill half-way with crushed ice. Give it a swizzle stir with your bar spoon, then top with ice and garnish with mint sprigs.
Watch it done here:
The Magdalenae Room, The Dean Hotel, 122 Fountain St., Providence, 455-3326, thedeanhotel.com