Make Your Own Holiday Centerpieces
Studio Choo's Jill Rizzo teaches us the basics of floral arrangement.
Floral arrangements by Jill Rizzo of Studio Choo East

Sitting Pretty
The thought of creating a floral centerpiece can stress out even the most practiced of holiday decor aficionados. But it needn't be an intimidating task, according to Jill Rizzo, co-owner of Studio Choo, which has locations in Providence and San Francisco. To jumpstart the planning process, she's designed three arrangements using flowers and other plants that can be easily found in your local grocery store and backyard and are guaranteed to impress guests. The first, a festive red showstopper, uses purple phalaenopsis orchids as the main ingredient. Rizzo suggests either cutting the flowers or, if you prefer to keep the plant intact, taking it out of its pot and wrapping the soil and roots in a plastic bag that can be put in a vase and then repotted after the holidays. "Start by placing the biggest items first and then build up your base layer with branches, greenery and finally more delicate flowers," Rizzo says. To help keep everything in place, Rizzo suggests using chicken wire inside the vase or a floral tape grid across the top of the container.
---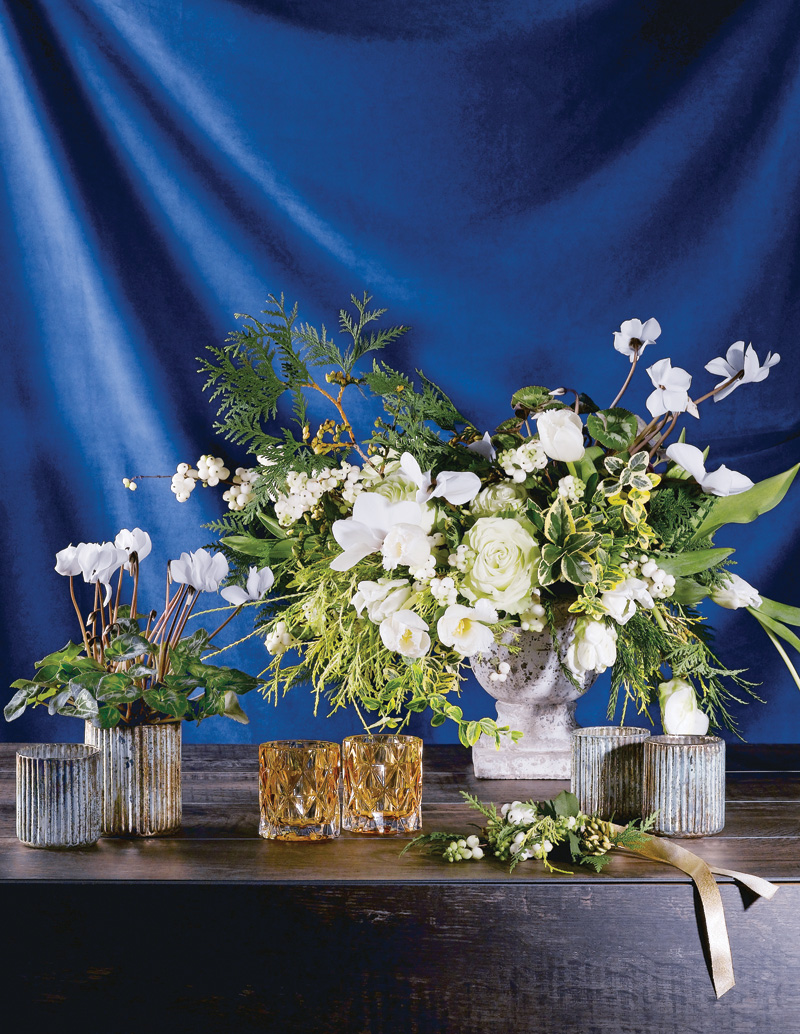 Conversation Starter
Don't let the drama of this arrangement, with its cascading evergreens and chic winter white palette, fool you. It's actually the simplest of the bunch, with white cyclamen — abundant in grocery stores around the holidays — serving as the primary element. Like the first, a vase this wide and low needs some structure — like a flower frog or chicken wire — at the bottom to hold stems in place. Once that's in you can go to town, as Rizzo did, adding euonymus and cypress cut from outside before popping in the cyclamen. Here, Rizzo used the plant whole with its roots bagged, as well as clippings throughout the arrangement. "It's a delicate flower that you never see cut so it's a nice, unusual addition that steps up your game a little bit," Rizzo explains. Snowberry and tulips round things out for a display that will turn heads no matter where it's placed.
---
By the Numbers
Multiple containers share the stage in this blue and silver creation that Rizzo put together using store-bought succulents. "They look like big rosettes, so they can take the place of a more traditional flower," she explains. Clipped from their stems, succulents will stay alive for several weeks and then generate roots when placed back in sandy soil. Texture was a key consideration when Rizzo was choosing plants. Flowers like delphinium, kochia and brunia did the trick, while foliage and other foraged clippings in the form of juniper, cotoneaster, hydrangea and spruce add further interest without veering away from the color scheme. The beauty of using several vessels is that a little material goes a long way, with clippings easily filling the smaller vases, which can then be scattered around the room — a few on the dining table, a few on a sideboard — for a cohesive, less formal feel.
---
D.I.Y.
Selecting materials for a centerpiece is often the most challenging step, Rizzo says, so stick with a monochromatic palette to narrow down your choices. When scouting the grocery store floral department, Rizzo recommends keeping an open mind, going with whatever looks the healthiest as a starting point and building off that. Use different materials — twigs, greenery, plants with different leaf shapes — for texture.
When constructing your centerpiece, your container is your guide. A common rookie mistake is not cutting stems down enough, making for a top-heavy arrangement. Vary material heights, with some plants resting on the container rim and building up to the tallest point, which should be one-and-a-half to two times the height of the vessel.
And don't be afraid to use your own backyard as a resource. "I've made entire arrangements out of yard clippings," Rizzo says. Shrubs and evergreens can add unique variety and interest. "People don't think to look in their yards, but I guarantee: The more they look, the more they will see things they can use." For more tips and inspiration, check out Rizzo's books The Flower Recipe Book and Branches and Blooms at studiochoo.com.