Make Al Forno's Spaghetti al Sugo Finto at Home
Joe Yonan's America the Great Cookbook includes recipes for 100 dishes that renowned chefs cook for the people they love.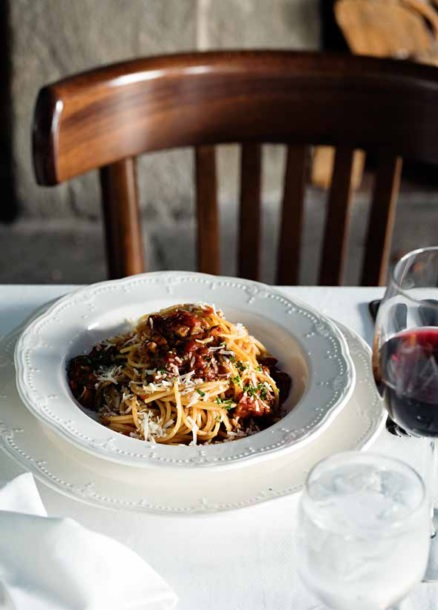 Just in time for the holidays, a new cookbook celebrates dishes that renowned chefs cook for the people they love. In America The Great Cookbook, Johanne Killeen of Providence's only James Beard Award-winning restaurant, Al Forno, shares her recipe for spaghetti al sugo finto. The book features 100 recipes from the nation's most celebrated chefs along with the personal stories behind the meals. Some of the other chefs featured are David Chang of Momofuku, Francis Lam, Amanda Cohen of Dirt Candy and the Spotted Pig, Joanne Chang of Flour, Jose Andres, , Mario Batali and more. Edited and curated by Joe Yonan, who is the Washington Post's Food and Dining editor and a two-time James Beard Award winner, America The Great Cookbook includes chefs from five regions of America: the Midwest, Northeast, Southeast, Southwest and the West Coast. It also fights childhood hunger by helping No Kid Hungry connect kids with at least 200,000 meals.
The stories behind each dish make this cookbook unique from others. Killeen shares why she loves this recipe: "I wanted to present something that was very simple for the home cook, with readily available ingredients. I have always been intrigued with the way Italians make something very tasty with very little," she says in the cookbook. "This recipe is vegetarian, and it uses water rather than stock. You get a stock of sorts from soaking dried mushrooms, but that's all it is. And you end up with a sauce that has a lot of taste, a lot of depth, and a lot of character. The recipe is quick to make
and economical, too. No foie gras here!"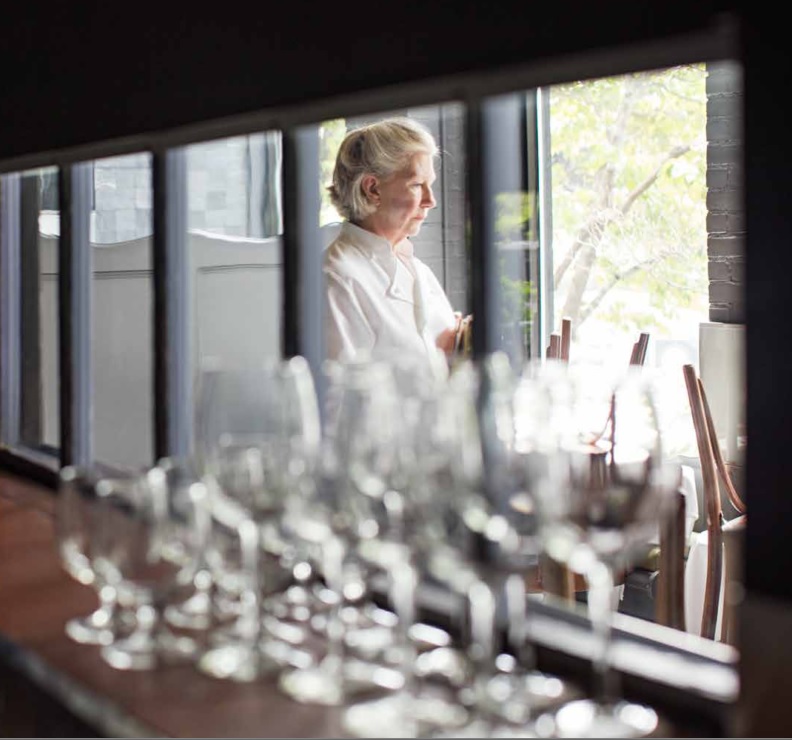 Here's a sneak peek at Killeen's treasured recipe:
Spaghetti al Sugo Finto
Spaghetti with Mushroom Ragù
Makes 6–8 servings as a first course or 4–6 as a main course.
1 cup dried porcini mushrooms
2½ cups warm water
¾ cup finely diced yellow onion
½ cup finely diced carrot
½ cup finely diced celery
1 tsp finely chopped garlic
2–3 fresh flat-leaf parsley sprigs, finely chopped
¼ cup extra-virgin olive oil
1 tsp sea salt
¼ tsp red pepper flakes
2¼–2½ cups finely chopped white mushrooms
2–3 fresh sage leaves
1 fresh rosemary sprig, leaves only
1 bay leaf
½ cup dry white wine
3 cups canned pureed tomatoes
1 lb dried spaghetti or spaghettini
2 Tbs unsalted butter, cut into small pieces
Grated Parmigiano-Reggiano
Cheese for serving
Soak the porcini mushrooms in the warm water for 1 hour (we like to use a 4-cup Pyrex measuring pitcher). Using a slotted spoon or tongs, transfer the mushrooms to paper towels to drain. Gently pour most of the soaking liquid through a fine-mesh sieve suspended over a small bowl (or another Pyrex measuring pitcher), being careful not to disturb the particles of sand that will have sunk to the bottom. Save about 2 cups of the liquid and discard the remainder. Finely chop the porcini and set aside.
Put the onion, carrot, celery, garlic, parsley, olive oil, salt and red pepper flakes in a large sauté pan. Place over medium-high heat and saute until the vegetables are soft, about 10 minutes. Add the white mushrooms, sage, rosemary and bay leaf and sauté over high heat, stirring often, for 5 minutes. Add the porcini and wine and cook, stirring frequently, until most of the wine has evaporated, about 5 minutes. Add 1 cup of the reserved mushroom water and the tomatoes, bring to a boil, reduce the heat, and simmer for 20 minutes.
If the sauce seems too dry, add a bit more of the mushroom soaking liquid. Taste the sauce and add more salt if needed. Remove and discard the bay leaf.
To serve, bring plenty of water to a boil in a large pot. Generously salt the water and drop in the spaghetti. Cook, stirring often, until al dente, then drain and transfer to a large serving bowl. Spoon some of the sauce over the spaghetti, dot with the butter, and garnish with Parmigiano-Reggiano. Serve right away, passing more sauce and cheese around the table.
Note
This recipe makes 3½–4 cups sugo—more than ample for 1 pound of spaghetti. Sauce the pasta judiciously and use any leftover sugo for another meal or as a topping for crostini.
RELATED ARTICLES