Made in the Shade
Beautiful and rugged — what's not to love about ferns?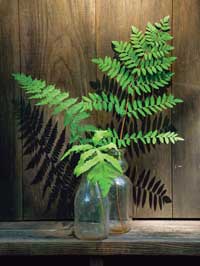 The Victorians lusted for bustles, lavish furnishings and ferns. Their passion for the last gave rise to specialty gardens labeled, aptly, ferneries. Then, times changed and the plants — 
never mind the diversity of shapes, colors and sizes (three inches to thirty feet in frost-free zones) — along with fuddy undergarments and ornate sideboards were deemed passe. Now, not a minute too soon, easy-going ferns are back!
Dinosaurs are okay, but ferns (from an Old English word meaning lacy) have been around longer. For 300 to 400 million years, wind has driven their infinitesimal spores about the globe. They land, grow and eventually produce male and female cells. These team up (romantically enough, in rain) and more baby ferns result.
Given their stamina, trust ferns to feel comfortable on the north side of your house where other things turn up their noses. Mass them around trees, use them as accents or pop them into containers. Asking little more than moist, slightly acidic soil — no staking or deadheading — ferns are easily divided with a sharp spade or knife and some are even evergreen.
"Whether in a mixed border with flowering perennials or as understory to woody shrubs, they offer year-round interest," says Lisa McMahon, owner of Saunders-town's Singing Stones Nursery.
And there's more: Deer detour around them. When you think about all their attributes, it's a wonder we bother to grow anything else.
Location, Location
Ferns — the clumping type like Christmas fern and the creeping sort like sensitive fern — spring from a rhizome, which bears the roots and leaves. Plant them in well-prepared soil and water regularly until 
established. Plenty of humus ensures proper water retention and, equally as important, good drainage. Damp, remember, is good; drowning is bad.
"A royal fern enjoys sitting at the bottom of a hill but not in a pool," says Karen Asher, whose handsome fern-bedecked South County garden was featured on the Rhode Island Wild Plant Society's recent tour. Wind is damaging, too.
Sun? Some varieties (try interrupted fern) tolerate it better than others. Still, "If leaves begin to brown, they're hollering to be moved and that's what I do," 
Asher says. "Finding the right location is important and ferns don't mind being transplanted." Dig a generous root ball for the trip and water well.
Care and Feeding
All ferns love a compost mulch. About every other year, Asher replenishes her beds with shredded leaves and pine bark. Pine needles from nearby trees jump steadily in on their own. Fertilizers and insecticides aren't necessary. Should slugs surface, fixes like saucers of beer or hand removal are best. Clip tattered fronds any time.
Sources
Where to See Them
Garden in the Woods Framingham Massachusetts, 508-877-3658, newfs.org/visit/garden-in-the-woods.
Blithewold Mansion Gardens & Arbor­­etum Bristol 253-2707, blithewold.org.
Green Animals 380 Cory's Lane, Ports­­mouth, 683-1267, newportmansions.org.
Arcadia Management Area Richmond, Hopkinton, Exeter and West Greenwich, 539-2356, riparks.com.
George Washington Management Area Putnam Pike, Glocester, 568-2013, riparks.com.
---
Where to Buy Them
In addition to nurseries, ferns are also available at local sales and by mail order, often as dormant or bare root plants.
Rhode Island Wild Plant Society Spring Sale June 6, 9 a.m.–noon, URI Kingston Campus, 789-7497.
Blue Moon Wakefield 284-2369, bluemoonfarmperennials.com.
Singing Stones Nursery Saunderstown 295-2375 (by appointment only).
Seven Arrows Farm Attleboro Massachusetts, 508-399-7860, sevenarrowsfarm.com.
Eastern Plant Specialties 732-382-2508, easternplant.com.
---
A Reading List
Native Ferns Moss & Grasses by William Cullina (Houghton Mifflin Harcourt, 2008)
Ferns for American Gardens by John T. Mickel (Timber Press, 2003)
Peterson Field Guide to Ferns Second Edition: Northeast and Central North America (Houghton Mifflin Harcourt, 2005)
Native Plants of the Northeast by Donald J. Leopold (Timber Press, 2005)
Download these two pdfs to see the photos and descriptions of 12 ferns.