Lunch Break
Whoever said, "Breakfast is the most important meal of the day," never met lunch, our favorite dining pit stop. Here are dozens of yummy ways to nosh at noon.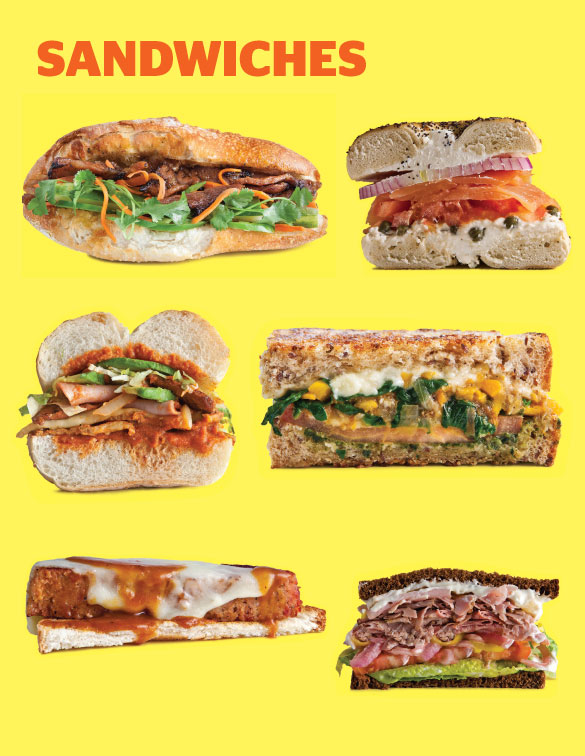 Though often overlooked, on the go, or skipped entirely, we think lunch deserves a lot more love. After all, if breakfast and dinner are the bread, lunch is the meat in the middle of a day's sandwich — the culinary oasis that separates morning from night. Several decades past bologna on white bread, today's lunch is as simple as a salad or as indulgent as a lobster reuben. We sampled dishes across the state in an effort to revive the midday meal, so cancel a meeting, carve out some time, and break out the napkins.
Sandwiches
The staple. The touchstone. The double-breaded barometer by which all other lunches are judged. Go ahead and shove your meats, your cheeses and — God forbid — your veggies into a bread blanket. We'll just call it a midday meal.
BanhMi: Roasted pork with pickled vegetables, cilantro and chili peppers on a French baguette ($3.80)
Pho Paradise, 337 Broad St., Providence, 369-7985.
Grilled Cheese: Mozzarella and manchego with red onion and spinach on multigrain ($10)
Rue de L'Espoir, 99 Hope St., Providence, 751-8890, therue.com.
Shellfish: Half a pound of Maine lobster meat with hot butter on a traditional roll ($33)
Barking Crab, 151 Swinburne Row, Newport, 846-2722, barkingcrab.com.
Fish: Pan-fried white fish, mango salsa, avocado, arugula, sweet pepper aioli ($14)
Boathouse, 227 Schooner Dr., Tiverton, 624-6300, boathousetiverton.com.
PB & J: Freshly ground peanut butter with Nutella, granola and banana ($5.75)
Jolly Roger, 2257 South Main St., Providence, 709-8986.
Pork: Marinated pork, lettuce, viajero cheese, tomato, pickled jalapenos, onions, avocado and refried beans served toasted with ham, chipotle sauce with onions ($5) m
El Rancho Grande, 311 Plainfield St., Providence, 275-0808, elranchogranderestaurant.com.

Power Lunch
The "Mad Men" meal may be over, but the corner office crew still gathers (occasionally) to talk shop without the boss around. Here's where they go:
Gluttony, They Name is Lunch
There's nothing here for the Cracker Eaters — those who graze through the day with some pretzel sticks and a wedge of cheese. In fact, we're sick of lunch being treated like a movable feast. This is a full-on, sit-down, immobilizing meal. Clear the afternoon, 'cause you're gonna need a nap.
Kid's Meal
What are kids eating today? Can you drag them anywhere that you would actually eat yourself? Our part-time staffer — eleven-year-old Lily — lays down the lunch law for Lilliputians.
404 Benefit St., Providence, 751-9650.
Salad (a.k.a. Rabbit Food)
Who says you can't maintain your weight and eat three meals a day? Throw your protein bars and energy drinks out the window and embrace the meal most likely to be ignored. Do the math: Indulge a little at noon and you'll be buying far fewer king-sized Snickers bars at 4 p.m. (Yeah, we see you at the vending machine EVERY. SINGLE. DAY.)