Luca + Danni Jewelry Celebrates Breast Cancer Awareness Month
Check out the new Breast Cancer Awareness Collection in partnership with the Gloria Gemma Foundation.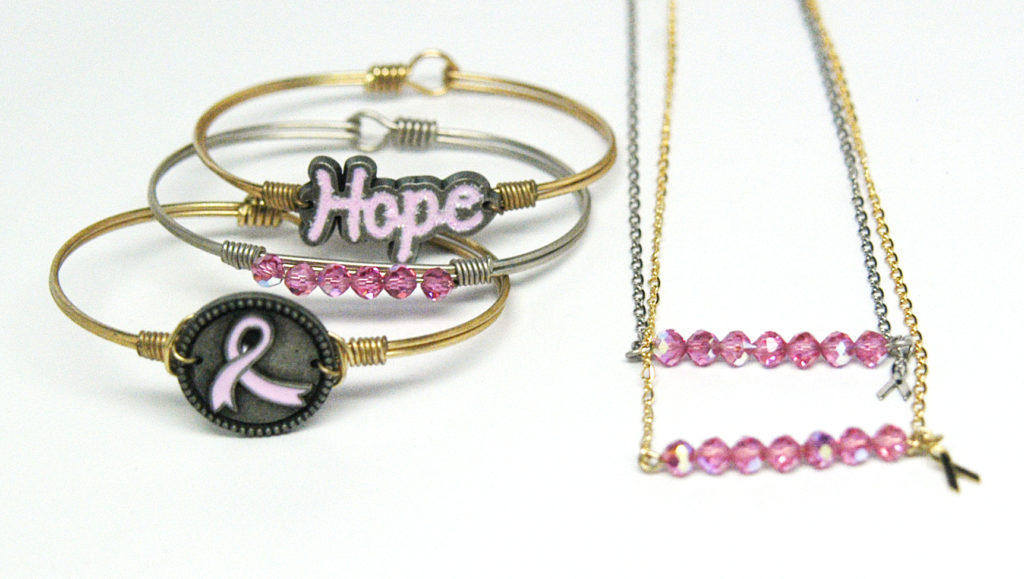 Last month, Rhode Island-based jewelry company Luca + Danni launched a new Breast Cancer Awareness Collection in partnership with the Gloria Gemma Foundation. Aside from the beautiful designs, 20 percent of the purchase will be donated to the Foundation.
The collection is composed of three bangles and one necklace. The first is the Pink Ribbon Bangle, which is a choice of a brass oxidized or silver plated wire wrap bracelet with a pewter circle emblazoned with a pink ribbon. The Hope Breast Cancer Awareness Bangle is similar in design, except instead of a pewter circle, the bracelet is adorned with the word 'Hope' in pink. The last of the bracelets is the Pink Swarovski Awareness Bead Bangle, which features six pink Swarovski crystals in a straight line, emphasized by the brass or silver-plated wrap. The Pink AB Swarovski Bead Necklace is similar in composition to the bracelet, but the added ribbon charm gives the perfect touch. The necklace is available in either gold or silver.
The story behind the partnership is both sad and inspiring. Fred Magnanimi, owner of Luca + Danni, started the jewelry company after his younger brother, Danny Magnanimi, died in April of 2013. At the time, Fred was an investment banker on Wall Street, far away from the family jewelry business.
"My younger brother passed away from Leukemia – he was thirty-three years old and in the process of taking over the family business…," says Fred. "My brother and I [had] talked about working together on a project. I wanted to name it Luca + Danni (named after my two young children) whereby my wife would make some jewelry and [Danny] would do the manufacturing. I figured it would be a good project for all of us to work on given that we were so appreciative of how fragile life is as a result of his struggle."
Unfortunately, Danny wasn't able to see those plans through. But Fred is determined to continue his brother's work and keep his vision alive. According to Fred, Danny's passion was to create jewelry that would inspire others along the journey of life. He says, "While [Danny and I] never got that chance, I refused to let his dream die and did the only practical thing possible….I quit my high-paying job, bought a house in Rhode Island, uprooted my family and joined a dying manufacturing business."
The company is named after Fred's two young children, Luca and Danni, and it lives on in the honor and memory of Danny. It is a branch off the family jewelry company, Mag Jewelry, on Dyer Avenue in Cranston. "With Luca + Danni, I decided to build the business that my brother didn't get a chance to build," says Fred. A little after one year since the launch, Luca + Danni has reached more than 700 retailers in the United States and Canada, and continues to grow. Fred continues to keep the passion and sincerity in his products strong and the messages behind them true.
With the new partnership, Luca + Danni will help raise awareness for breast cancer in a tangible, beautiful way. Similar to the other products, the jewelry doesn't jingle and jangle like most other pieces; they rest flat on the wrist for the designs to truly be appreciated. Each piece is hand-made and costs $32.
You can purchase Luca + Danni jewelry online or at shops in RI, such as Flaunt Boutique in Providence and Smithfield, Charmed and Dangerous in Scituate, and Daisy Dig'ins in Barrington. For a complete list of shops, visit lucadanni.com.