Lovecraft Walking Tour and Narragansett Beer After Party
Spend ninety minutes exploring significant sites and then taste Gansett's new Lovecraft Honey Ale.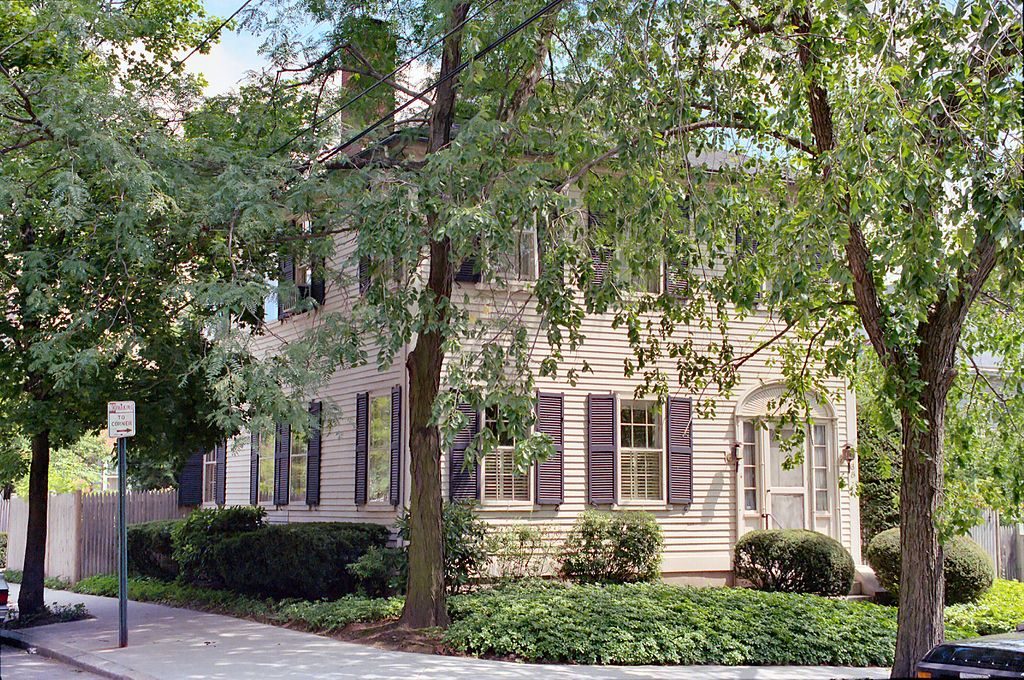 H. P. Lovecraft had many ties to Providence. He was born in Providence in 1890 and spent most of his life here, and he also produced his most celebrated tales in Providence, including The Call of Cthulhu. Though the home where Lovecraft was born (on Angell Street) was demolished in 1961, most sites with historical significance to his life are still standing.
This Sunday, March 15, marks the anniversary of his death, and to honor his contributions to Providence and to the literary world, the Rhode Island Historical Society has organized a yearly Literary Providence Walking Tour called Life and Times of H.P. Lovecraft. The tour takes place from noon to 1:30 p.m. starting at the John Brown House Museum, at 52 Power St. in Providence.
For only $10 per person, Lovecraftians will explore spaces and places that were important to the writer's life and his work in Providence. "He wrote a series of works in just few years time, and we will walk right to the places in those stories and read the descriptions," says tour guide Barbara Barnes of the Rhode Island Historical Society. "And you can see exactly what he saw."
Landmarks include Prospect Terrace (one of his favorite spots to visit), the John Hay Library (where his archives, including papers and letters, are kept in a special collection) and Benefit Street houses where members of his family resided. Participants will also see the site of his former home, as well as locales mentioned in The Case of Charles Dexter Ward, The Haunter of the Dark, The Shunned House and The Call of Cthulhu, which were Providence-based. "Shunned House is located at 135 Benefit, which is now a private residence," says Barnes. "The last house he lived in is now located on Prospect Street," says Barnes. "When he lived in it, it was on College Hill near where the List Art Center is located, behind the John Hay Library."
Following the tour, participants are invited to attend a Narragansett Beer after party at Flatbread Company at 161 Cushing St. from 2 to 4 p.m., where Narragansett's Lovecraft Honey Ale will be on tap. Lovecraft had a love of mead and this is 'Gansett's riff on it. Read a Q-and-A about Lovecraft Honey Ale with Narragansett president Mark Hellendrung. The brewery was started in 1890, which is the same year Lovecraft was born. Coincidence? We think not. "The stars are right," as Hellendrung says in the interview. For every pint of Lovecraft Honey Ale sold on the afternoon of March 15, Flatbread and Narragansett will donate $1 to the Rhode Island Historical Society.
Advance reservations are required for a spot on the walking tour, though you can pay the day of the event. Wear comfortable shoes as this is a ninety-minute tour and you will walk approximately a mile and a half. To reserve your place in the walking tour, email or call Barbara Barnes at bbarnes@rihs.org or 401-273-7507 x362.
On Saturday night, there will be another Lovecraftian event held at the Aldrich House (110 Benevolent St., Providence). On March 14 from 5-7 p.m. for a suggested $5 donation, you can watch David Neilsen's original one-man production, The Sacrifice of Randolph Carter. The performance takes two of Lovecraft's most beloved short stories – "The Statement of Randolph Carter" and "From Beyond" – and combines them into a single, horrific narrative. There will also be a mini read-a-thon with selections by the staff and friends of the Lovecraft Arts and Sciences Council. For reservations or questions, please contact programs@rihs.org, or 401-331-8575 x136.
Photo caption: By Will Hart from Fullerton, U.S.A. [CC BY 2.0 (http://creativecommons.org/licenses/by/2.0)], via Wikimedia Commons