The Love Story Behind Newport's Wanton-Lyman-Hazard House
Romance and mystery swirl around an eighteenth-century Colonial on Broadway, once home to a playboy-turned-respectable citizen.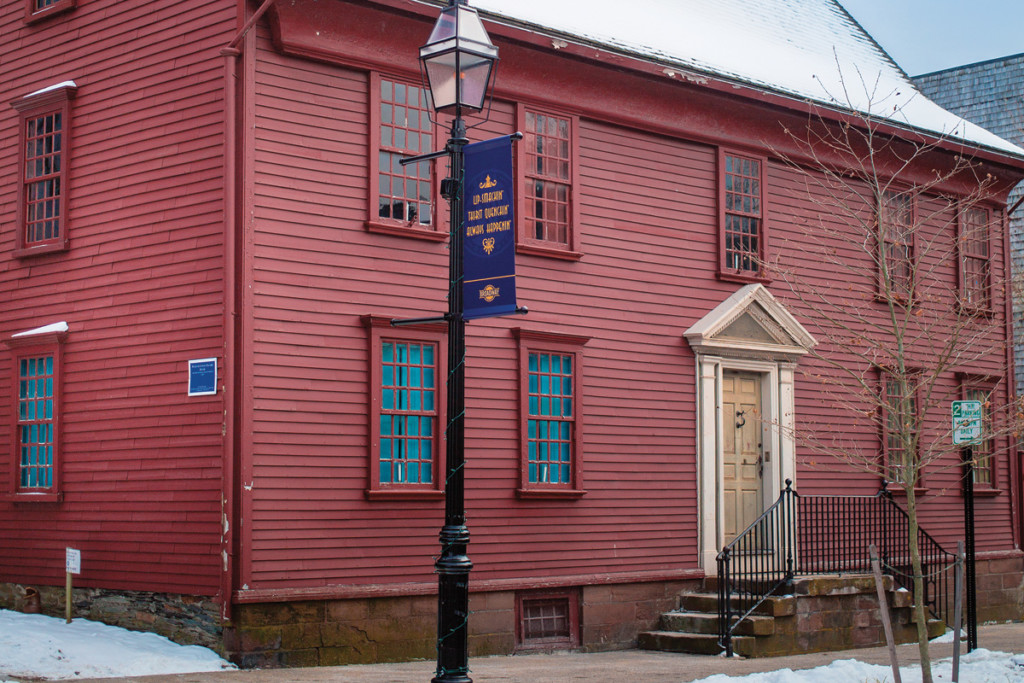 Since Lin Manuel Miranda's Hamilton hit the stage, Hamilton fever has swept the modern world. Handsome, thoughtful and provocative, Alexander Hamilton found a new wave of fandom, leaving little room for the stodgier of the Revolutionary bunch. But perhaps it's time we bat our eyelashes at someone closer to home. Move over Alexander Hamilton: Newporter Daniel Lyman has a story worth noting.
Yale grad and ladies' man, Lyman was a passionate and intelligent playboy-turned-Patriot whose life weaves an interesting tale through Newport's Colonial history.
Historian Taylor Stoermer started studying Lyman after the Newport Historical Society (NHS) received a sword from one of Lyman's descendants, along with the story that Revolutionary bigwig Marquis de Lafayette supposedly gifted it to Lyman. The sword arrived back in Newport in 2015 to much pomp and circumstance, with a replica of Lafayette's boat, Hermione, moored off Fort Adams and historic reenactors roaming the area.
At NHS's headquarters, Stoermer pulls the sword from its box and gingerly holds it up. The silver handle is intricately decorated with loops and ribbons of spun metal, but is attached to a simple, utilitarian blade.
Stoermer lifts his hand. Perched on the pad of his pointer finger, the blade of the sword does not waver.
"This sword is perfectly balanced," he says, "which means it wasn't just a decoration, it was made to be used."
The sword was passed down by Lyman's descendants along with grandiose stories of his Revolutionary heroics: He had a horse shot out from under him, was the first to greet the French army in Newport and was best friends with Lafayette. The problem is, none of it is true (or at least, the source of information was murky).
"What really surprised me was how quickly it all fell apart, that not only was some of it not true, none of it was," says Stoermer. "So then you have to take 150 years of writing about Daniel Lyman and throw it out the window and start all over again."
The truth of Daniel Lyman still paints an impressive picture, but also creates a more intimate and relatable one.
Daniel Lyman was born in 1756 in Durham, Connecticut, and lived there until he entered at Yale in 1772. He studied hard, made friends and then, his junior year, all hell broke loose.
"He's a junior when the American Revolution breaks out in '75 and he's just wrapped up in it," says Stoermer, "He is a true believer when it comes to the Patriot cause."
Not dissimilar to the student activism on college campuses today, Lyman divided his time between school, fun, friends and the Revolution, heading to Cambridge with Benedict Arnold (of infamous repute) during the first alarm.
But Stoermer notes that after all that action, it was back to the books. "The funny thing is, he has to go back to school," he says. "He doesn't just bail on his studies; he goes back and forth. He graduates with his class in '76 and it's at the end of that when he knows what he's going to do: Join the army full time."
This is where the real fun begins.
A few years later, in 1778, Lyman is assigned to William Heath's regiment in Boston and lives it up.
"He's a twenty-something-year-old major in Boston, and one night his fellow staff members got together and decided to have a party. Everybody brought a musical instrument and they played while drinking some suitable beverages,"
explains Stoermer. "After, they thought it would be a good idea to start parading through the town playing their instruments. So you have this group of soldiers playing instruments, completely wasted. Then, Lyman says that they get to the part of town in which the 'votives of Venus lent out of their windows and beckoned to them. And they answered the call.' "
You can imagine the scene: young militiamen blowing on flutes in between swigs from a flask, the smell of alcohol on their breath, and women of ill-repute beckoning from high windows.
"When I read that, I was thinking, oh Daniel…." Stoermer says with a laugh.
Lyman was a ladies' man, and was constantly writing to his friends about the charming Ms. so-and-so, but that all changed when he came to Newport in 1780 and met Polly Wanton. Polly grew up in Newport, with her formative years spent under British rule. "So things couldn't have been terribly easy for her," say Stoermer. "The war meant something different to her from these other folks."
But then the British left the City by the Sea in 1779, and in 1780, according to Lyman's descendants' oral history, the American and French forces came to celebrate their victory.
Daniel Lyman is in a military parade going down Broadway. As he marches, he sees a family standing on the steps of their house. There's a mother and father, and a small boy standing with Polly. Upon seeing her, "Lyman is lost," says Stoermer. "But a lot of other folks have seen her and are lost too. There were a lot of French and American officers who were in and out of that house before he sees her. So he's involved in this competition, because people call her the charming Polly, and she was every bit as interesting as Daniel." Lyman was smitten, but not just by her beauty. "Polly was witty and engaging and charming," says Stoermer, "these things are what made her so interesting."
Daniel and Polly began writing each other, and Daniel's affection grew stronger. His letters shift from telling the raucous tales of youthful pursuits, to romantic (and sometimes cheesy) professions of love to Polly.
They married in 1782 when Lyman was twenty-six and Polly nineteen.
Their story is best told against the backdrop of a maroon Colonial on Broadway, the same house where Lyman first saw Polly. Today, the Wanton-Lyman-Hazard house sits next to a smoke shop and in front of a blue building with lettering that reads: The revolution will not be motorized.
The house bears traces of their eclectic taste, with graphic wallpaper and murals, as well as sweet reminders of their love: One of the windows, now out of its frame and on display in the house, has "Charming Polly" scratched into it, while another still faces the outside world with a swirling cursive "Daniel." The couple had thirteen children, and Lyman remained active in the local scene as a member of the Hartford Convention and Chief Justice of the Rhode Island Supreme Court. Later in life, he started a mill in North Providence, in an area that still bears his name today: Lymansville.
While Lyman spent his last days in Providence near his mill, the house where he and Polly lived passed down through generations until it was sold to the Newport Historical Society in 1927. It's now open to the public.
The tales of Lyman and his escapades were kept alive through various family members, and by an array of objects from their lives, such as the fabled Lafayette sword, the sword that sparked Stoermer's investigation in the first place. Stoermer is still in the throes of research regarding this mysterious weapon, and among his few conclusions are that it is indeed French and indeed finely crafted.
But while the mysteries of Daniel Lyman and his sword might continue, his physical legacy lives on amidst the tourists and cars, and the restaurants and shops. Lyman's presence in Newport lives on in the letters he wrote and in the maroon house on Broadway.