Love Shack
For one large Italian family a tiny West Warwick kitchen promised more than a traditional feast.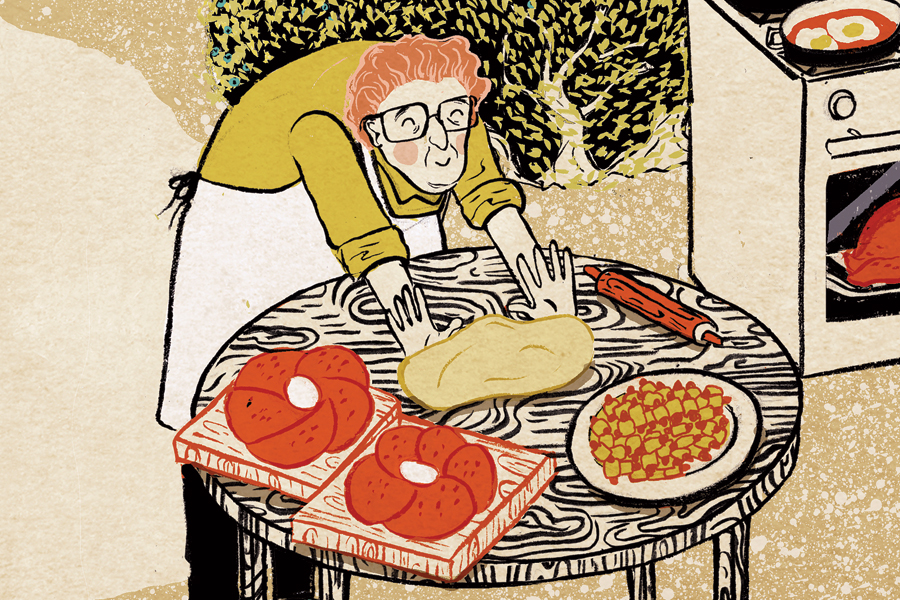 Imagine so much food that one table can't possibly hold it all. Imagine so many people that one room can't contain them. Imagine two stoves with all their burners on, spaghetti sauce simmering on this one, meatballs frying on this one, water ready to boil here, sausage browning here; on this one, leftover dough from the pizza is crisping in oil; on this one, broccoli cooks in crushed red pepper; here, veal and peas sit to warm; here, eggplant — female ones, you always cook the females because male eggplant is bitter — coated in egg and breadcrumbs is cooking to go into parmigiana.
The chef, the maestro, the one who turns this into Sunday supper, stands four feet eleven inches tall. Unusual for a southern Italian, her hair is naturally red, and will stay that way even into her seventies. Her eyes are green and she has the ivory skin of someone who has not spent time in the sun, though she has. Lots of time. Bent over tomato plants, tying them to posts to help them climb. On her hands and knees plucking carrots and potatoes from the dirt in our backyard. Holding a large yellow bowl to collect the blueberries from the bushes that line our fence. On Christmas Eve, she is the one with a stick beating the fig tree so that it will be sure to bear fruit the next year. She calmly chases chickens, grabs them by their feathers and wrings their necks without any squeamishness. She uses that same resolve and cold heart to slaughter rabbits, the ones I thought were my pets, which I named Snowball and Blackie. "Hurrumph," she says, shrugging. "They ran away. Now mangia."
She is my grandmother. Mama Rose.
Mama Rose came to West Warwick — Natick — from Italy when she was two, or younger; the story has many versions. Everyone agrees that as a baby (or a toddler?) back in Italy, in the small mountain town of Campa de Campania, she got scarlet fever and almost died. But her mother ran to the church, the one with the gold Virgin Mary on top (that statue turns when the Virgin is sad — in earthquakes and during German invasions), her baby daughter in her arms, and prayed for the Virgin to save Rose. The fever broke.
My grandmother survived. But all of her hair fell off, and her mother, my great grandmother, my Nonna, left it as an offering of thanks.
This is why a statue of the Virgin Mary with small candles burning at her feet sits prominently in our house. That statue has a crack running diagonally across it from the time Mama Rose threw it across the room when her twenty-three-year-old daughter, Ann, my namesake, died having her wisdom teeth out. But that is a story for another time.
This story is about food, and people, and what you do when you have too much of them. If you are my grandfather, a man who died long before I was born of encephalitis that he contracted from a mosquito on Block Island where he went during the summer to give haircuts (he was a barber by trade, with a shop in Wickford), and you see your wife and your ten children bursting out of the house with its tiny dining room and tinier kitchen, you build another kitchen. A separate building really, across the yard from the house. It is not much, this little house. Just a big room with that second stove in it and a long table and lots of mismatched chairs, with an alcove for a double slate sink and shelves to hold, yes, even more food, and a counter where pies can cool and dough can rise beneath hand-embroidered dishcloths, away from children's hands.
So small is this place that it is called, simply, The Shack.
For me, The Shack was preferable to our house, which we called The Big House, though it was far from big. I think summer was the best time to sit in The Shack and help Mama Rose and my Great Aunt Annie pull silk from ears of corn, strings from green beans, and peas from their pods. There was never just one vegetable served, there were as many as we had bowls. Those bowls were also mismatched, but to my childish eyes they were fancy with their chipped gold trim and clusters of pink or blue flowers. Everything was cooked until it turned soft, and then topped with butter and salt. My father, an interloper from the Midwest, claimed corn should be boiled in milk and sugar, and sometimes he got his way.
There was always watermelon too. Mama Rose had a knack for choosing the sweetest ones by thumping them and pressing her ear to the green striped rind. I still do not know what she heard, or even what she listened for. But I do know that watermelon selected by her and sliced into thick slabs over that slate sink in The Shack is the best watermelon I have had 'til this day. (My father sprinkled salt on his watermelon, a habit that Mama Rose thought was close to blasphemous.) Also in that sink: a colander of dark red cherries from our cherry tree; the yellow bowl of blueberries. And on the counter, the pies — cherry with a lattice top, blueberry, peach.
On summer nights I lay on the couch that lined one wall of The Shack and listened to the voices of my aunts and uncles sitting in the yard, smoking cigarettes. I could see the red glow, hear crickets serenading them, sneak more pie or sweet corn unnoticed.
But now that I think about it, perhaps fall was the best time in The Shack. In fall, the days grew cool and we wore the sweaters that hung on hooks inside the door when we were there, which was always. Fall meant lots of spaghetti sauce bubbling in pots on the stove there and in The Big House. That sauce was for chicken and eggplant parmigiana; spaghetti and lasagna and gnocchi, the little pasta made from potatoes that Mama Rose rolled into long logs, cut into bite-sized pieces, then rolled off the tines of a fork to give them their characteristic ridges. Then the counters would be lined with cookie sheets dusted with flour and all of those gnocchi drying. In fall Mama Rose made lots and lots of dough too, for pigs in the blankets and white pizza and — best of all — dough boys, fried in oil and topped with sugar, eaten right out of the pan, even though that meant burned tongues.
Fall meant polenta too, stirred in a giant pot with a long wooden spoon. We children had to keep a safe distance from it, relegated to that couch in The Shack, a blanket over our knees to ward off the chill as Mama Rose stirred, the hot polenta bubbling and splattering and leaving small red burns on her arms. There were always two pots of polenta: one with red sauce and sausage, the other bright green with kale.
The pies in autumn were always apple, with so many apples inside Mama Rose needed help lifting them from the oven. She brushed the top crusts with milk and sprinkled them with sugar so that they were the most golden piecrusts I've ever seen. She grimaced when my father ate his with a thick slice of cheddar cheese, and refused to let any of us have a taste; more blasphemy.
The Shack in winter was cold, heated only by the oven that baked the lasagna we ate before our Thanksgiving turkey and the lasagna we ate after our Italian wedding soup on Christmas. Unlike the rest of the year, we didn't eat in The Shack in winter; too cold. Instead, people ran through the snow, oven mitted hands gripping enormous pans of lasagna, from Shack to Big House. That oven was where we roasted chestnuts too throughout the winter. Mama Rose held each chestnut in one hand, and scored its hard shell with a knife before baking. Whenever I am in Italy in winter, the smell of roasting chestnuts on street corners smells just like home.
Just before Easter, The Shack got a good cleaning. Mama Rose and Nonna swept the floors and scoured the table and counters. The oven and the burners on the stove were scrubbed. Easter meant spring, and perhaps that was the best time of all, with Mama Rose and my Great Aunt Annie making the dough for the Italian doughnuts that I cannot even try to spell here; we had to be careful when we ate one because half had anchovies inside and none of us kids wanted to eat a doughnut with a little furry fish inside. They sat in The Shack and twisted the dough for wandi into fat pretzel shapes, fried them, blanketed them with powdered sugar and filled wooden baskets with them.
Easter sweet bread rose on the counters in The Shack. It was big and round and daffodil yellow, except we kids each got a small loaf that was braided and held a hard boiled egg in the center. Plastic baskets of homemade cheese sat in the slate sink overnight. On the stove, a smoked shoulder boiled; later it was shredded for the Easter frittatas and its water was used for macaroni pastera, which was made in a giant blue cast iron pot, the homemade noodles boiled in the ham water, then tossed with cinnamon and Parmesan cheese and dozens of eggs before getting baked in the oven in The Shack. Unlike all the other food, the macaroni pastera was eaten before Easter, at noon on Holy Saturday. We fasted from our Good Friday fish dinner until the church bells rang the next noon, in respect for Jesus dying on the cross.
Once the macaroni pastera was out of the oven, the Easter bread went in, so many loaves of it that it took all day and into the night to bake it all. By then, it was time to bake the Easter lasagna. While the oven did its job, the stovetop did its own: those frittatas as big as dinner plates and a dozen eggs high; the frying of the small balls of dough that got drenched in honey and topped with rainbow sprinkles; the braciola, flank steak stuffed with Parmesan cheese and parsley and pine nuts simmering in sauce.
And then it was spring, when Mama Rose stood at the stove in The Shack and fried squash blossoms for snacks. Spring meant artichokes, big fat ones stuffed with hamburger meat and baked in the oven. I was shocked the first time I saw an unstuffed artichoke and was expected to dip the leaves into dressing. So dainty, unlike ours, which were hearty and filling. To quiet us as we waited for something to come out of that oven or pot, Mama Rose cut fennel and served it with a bowl of olive oil and salt and pepper. We dipped the fennel into the olive oil, our eyes on the stove. When we ate all of the fennel, Mama Rose dropped radishes, fresh picked and gathered in her apron, onto the table. We dipped those in the olive oil too.
Yes, I think maybe spring was the best time in The Shack, when the windows were opened and light breezes came through the screened windows, when everything seemed new and fresh and hopeful. I can almost hear the snap of the fennel when I took a bite, almost taste the delicate squash blossom on my tongue.
But memory is like that, isn't it? Both blurry and sharp at once, flawed but true. Perhaps peas came in spring, not summer. Perhaps there were beets and asparagus too. And fava beans shelled by an old woman's hands. Perhaps the tobacco my Great Uncle Rum smoked in his pipe didn't smell like cherries, but that's how I remember it. And I remember my Great Uncle Carmine wearing a pork pie hat and too much cologne; my Great Aunt Etta making butter cookies in shapes topped with silver sprinkles; my cousins reaching, reaching, for a slice of toasted Easter bread; a pig in the blanket browned on the outside and cradling a hot sausage inside; powdered sugar from a wandi dusting my Sunday dress; the reddest watermelon, the dull green color that kale turns polenta; meatballs in simmering spaghetti sauce; so many people crowded into such a tiny space, The Shack.
I remember it this way.
I remember a day in autumn, playing with my gray cat Candy in the backyard. Nonna, who did not speak English, whispered to me: Pssst. She stood in the doorway of The Shack, an old cardigan over her black dress, a faded apron over the cardigan. She crooked her finger at me, her way of asking me inside, where the air smelled of good food cooking and baking and cooling. She patted the couch, and I sat. Figlia mia, she said, smiling and showing a mouth of broken and missing teeth. Too many years later I learned that figlia mia meant my daughter. Nonna handed me a bowl, beige pottery with a blue stripe around it. Inside, strong coffee and hot milk and lots of sugar.
She motioned for me to take a sip. I did.
And what I remember, what I know, is that there has never been anything more delicious than that sip of coffee made by my great grandmother, served in that chipped bowl, sitting in The Shack of my childhood.