Lost in Yonkers Stars Evil Grandma
Most grandmas in traditional media are represented as warm, nurturing souls, but what if your grandmother was as cold as steel?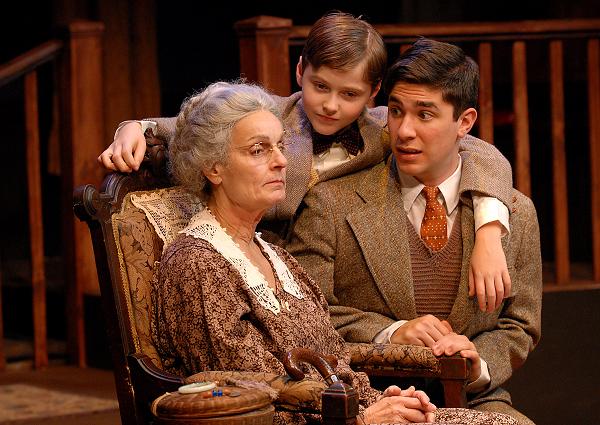 Most grandmas in traditional media are represented as warm, nurturing souls, but what if your grandmother was as cold as steel? In Neil Simon's Lost in Yonkers, two young boys, Jay and Arty, are sent to live with their grandmother in 1942 after their mother dies and their father, Eddie, must take a traveling job to sell scrap metal in order to pay the family's medical debts. They have to move out of their home, leaving the children nowhere else to go. Most children wouldn't mind ten months filled with fresh baked cookies, home-cooked meals and hugs and kisses, but Jay and Arty know their grandmother is not the typical loving matriarch.
The mean-spirited woman, played by a believably cantankerous Paula Faber, scolds and points her cane at the boys, leaving them frightened of their every move. She is a Holocaust survivor, and the mother of four (although two other children died very young), and each child has a different defect in personality; the boys' father Eddie cries about everything; their thirty-five-year-old aunt Bella, who still lives with grandma, has the personality of a small child; uncle Louie is a henchman who steals money and delivers it to the mob; and aunt Gert can hardly speak without yelling. The reason behind their developmental disabilities is because of how their mother treated them growing up. They were never held or nurtured. They were taught never to cry.
Having the young outspoken boys in the home is just what grandma needs to soften up. Whereas her own children never really had the gumption to stand up to her, it is the little one, Arty, played by an outstanding Matthew Pirraglia, who helps her see the ogress she has become. He isn't afraid to tell her like it is, as no one seems to have ever done before. The boys also help aunt Bella (Hillary Parker) to come out of her shell, and realize that she has her own life to live. It's not too late for her to put the obligation to live with her mother on the backburner and try to meet someone and have a family of her own someday. It is amazing to see Parker regress to the mind of a nine-year-old in a woman's body.
The play is heavy with familial drama, yet it also has sporadic humor provided by Arty's character. He's a little boy that doesn't know any better. Meanwhile, Bella keeps us laughing with her ditzy demeanor and childlike mannerisms. Uncle Louie (Ara Boghigian) adds some sex appeal to the show as he is a handsome guy who commands the stage with his boisterous personality.
As Bella finally comes into her own, and Eddie returns home to his boys and a less austere mother, the audience is left with a sense of hope that grandma will finally be the mother and grandmother that every child deserves to have.
Lost in Yonkers is on onstage through December 16. Tickets are $25. Call 247-4200 or visit 2ndstorytheatre.com for more information.