Los Andes
Unpretentious surroundings, an adventurous South American menu and an accommodating chef entice diners into new culinary territory.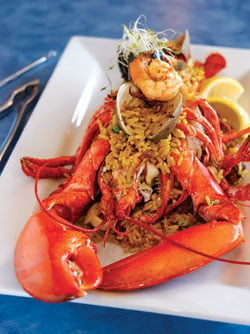 Los Andes

903 Chalkstone Ave., Providence, 649-4911,
losandesri.com
.
Hours
Open nightly for dinner; lunch Thursday through Sunday and breakfast on weekends. Reservations suggested. Limited wheelchair accessibility (one step into the entrance). Some lot and street parking.
Cuisine
A hybrid of South and Latin American cuisine.
Capacity
An even hundred.
Vibe
The home of your much-beloved and slightly crazy grandmother — the one who cooks like nobody's business and dances with abandon once she gets some booze in her.
Prices
Appetizers $2.95–$8.95, entrees $10.95–$32.95, desserts $4.95.
Karen's picks
Tortora rellena, ceviche frito, paella, anything with four legs.
Key
Fair
Good
Very Good
Excellent
Half-star
"If you like exotic meats," says Omar Curi as our group heads toward the door, "just give me a few weeks and I'll get whatever you want." It's the fifth time he's approached us to monitor the meal and, surprisingly, it's not the least bit oppressive. Each question turns to a conversation, each story a revelation. Curi and his brother, Cesin, opened Los Andes three years ago and have somehow managed to keep their culinary capabilities as publicly subdued as the exterior of their corner shop. Its brick façade, innocuous neon "Open" sign and arbitrary assortment of South American memorabilia offer no hint as to what comes out of the kitchen. The maniac mannequin dressed in traditional Carnival attire appears more than happy to pose for photos as patrons file out but, again, she's mum on the Los Andes mystique.
The legend lies with the Curi brothers themselves: an ever-evolving tale, doled out tableside in which diners play a pivotal role. Cesin executes the restaurant's formidable inventory of Bolivian and Peruvian dishes, but it's Omar who asks regular and new diners what they like and whether they're comfortable — not just physically, but with the experience of South American cuisine. Though most of the repeat customers are noticeably proficient, he is quick to acknowledge that the craft of cooking — and here it's just that — is a two-person exchange. Unlike limelight restaurants with personality-driven chefs, Los Andes has nothing to do with ego, nor any single set of hands. It's a constant interchange (via Facebook as well as old-school methods) of offering up one's cultural culinary language and listening, in return, to how it's most readily accepted.
There's certainly no shortage of edible incarnations in this simple space that offers meats and seafood with equal gusto and rustic precision. That being said, there are some combinations that, even with familiar ingredients, manage to hit the palate in an unexpected manner. Servers cajole and assure diners with elation. It's tough to sell beef heart, tongue and tripe to a staid crowd, but this is the group to do it. "You don't like it," Omar chimes in from across the room, "I'll get you something else!"
The variety is extensive even for petrified diners, most of whom loosen up after a caipirinha, singani or pisco, which mixes white grape brandy with lime juice, sugar and foam from an egg white. Though entrees are massive in size and filling from any angle, appetizers cover vast and disparate terrain. Ceviche frito may sound like an oxymoron, but it's just what it says: Lightly fried tilapia and shellfish are doused in leche de tigre (a citrus-based marinade) and sprinkled with rocoto peppers. As to how anything deep fried can maintain such purity and brightness, that still remains an appreciated enigma. Causa limena — a molded mound of mashed potatoes filled with avocado and shredded chicken — looks like a Play-Doh experiment gone wrong but it proves irresistible.
There are still staples, of course: empanadas with a crackling crust and the even better saltenas, which are baked and contain a savory chicken stew. But the casual and comforting totora rellena is king. A blackened plantain is stuffed with its own sweetened flesh, strips of pork, Ritz crackers (what the…?) and queso blanco. Thanksgiving stuffing could easily be usurped by such an oddly addictive amalgam. Mass adoration is, apparently, unsurprising to Omar, who simply nodded with approval as one diner blanketed her face with a not-quite-empty plantain skin.
In truth, there's not much to look at during dinner other than the illuminated fish tank and the fact that most tables (on most nights) are full. Sometimes the light is so dim, it's a strain to see the food in front of you. You can, however, catch sight of chef Curi meandering around at a startlingly carefree pace given how much meat they're breaking down in the back. Like any self-respecting South American establishment, meat — specifically beef — plays a central role on the menu. Mixed grill dishes are served tableside, doled out by proprietary patrons. That's the funny thing about Los Andes: So casual is the atmosphere, so congenial the staff, it's tough not to become territorial. Hang out and party in someone's basement long enough and you'll begin to think it's your own, a proclivity that the staff loves to indulge.
"If you like exotic meats, just give me a few weeks and I'll get rabbit, ostrich, whatever makes you happy." It's a funny way to run a business — putting customers in charge — but if it's community you're after (and that's clearly the Curi priority), the payoff is there. More familiar meats have appeared regularly in the last year, metamorphosing informal into festive: veal chops with madeira and large-grained choclo corn, rack of lamb with Andean spices and Peruvian olives, and the New England version of paella: saffron-scented rice and meats stuffed into a baked lobster.
Crossing cultural boundaries is de rigueur here, both in the dining room and the kitchen, and it's done with incredible ease. Sure, there are Bolivian mainstays (chicharron, for example: cinnamon-scented pork ribs served with gargantuan kernels of mote), but there's a distinct love of internationalism. Chifa de pollo, fried rice with chicken, eggs and scallions, pay homage to the Chinese immigrants who brought soy sauce and woks into the kitchens of Peru. It's an astute display of the restaurant's vision, which, without exception, is an enthusiastic convergence of customs. Nowhere is this more evident than in the dessert, which juxtaposes conventional flan with a bright Caribbean-inspired mango mousse, and the tres leche cake with its North American molten chocolate cousin.
It should come as no surprise that, amidst the food and drink, the glue that binds this crowd together in revelry is often music. Various groups perform at Los Andes, saturating the already convivial air with energy. No matter the night, the power this place puts out behind its plain exterior is pretty remarkable. It certainly makes one wonder how many riches in Rhode Island lie yet unearthed, but this one plainly deserves the public acclaim.