Lore Collection to Launch in the Arcade
Two designers plan to curate and sell the work of emerging artists at a new combination gallery and shop in Providence.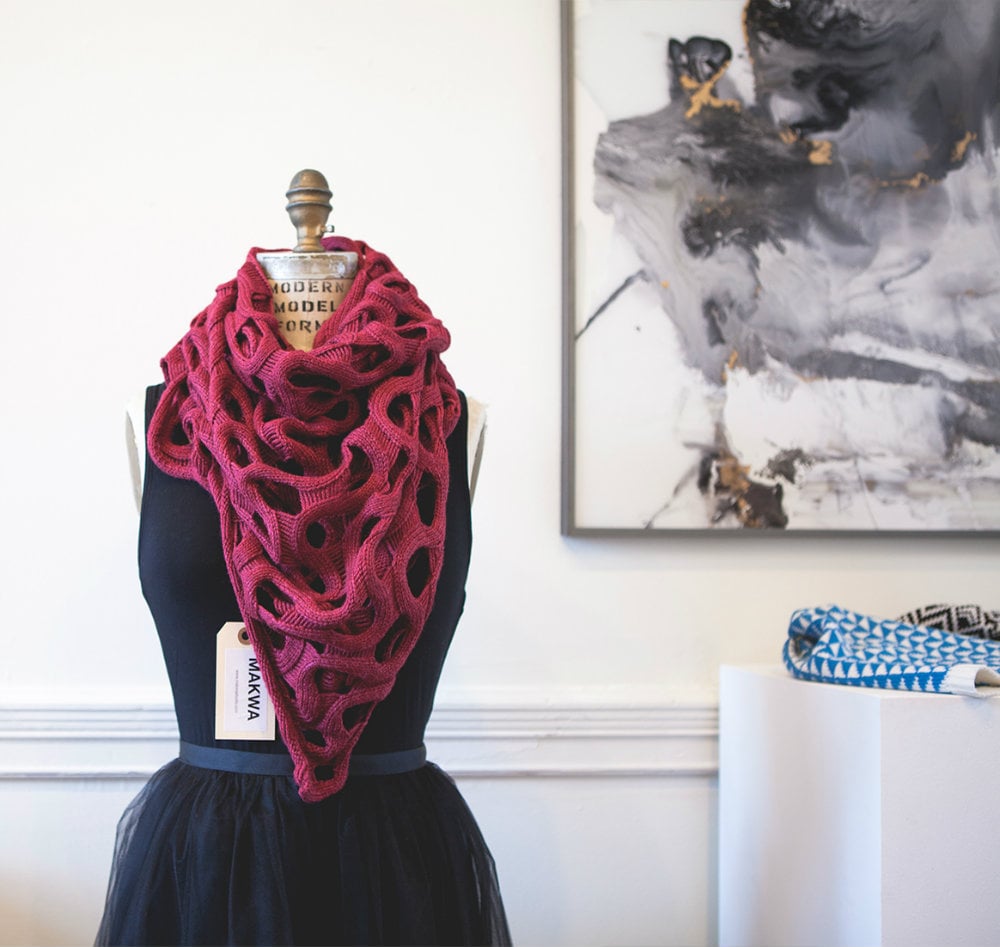 When most people visit a gallery, unless you are an investor in an artist or a certain type of work, you typically don't come to buy.
Marge Hinge and Jayna Aronovitch are looking to change that with their new venture, the Lore Collection. The RISD grads and former roommates are combining a gallery and retail space in a new shop they are opening in the Arcade in Providence on March 2. The Lore Collection will be a "contemporary art and design space of emerging work," Aronovitch says.
With pieces ranging from lithography prints to sweater capes created from vintage blankets to pillows made by former commercial sex workers in India to handcrafted furniture, Hinge and Aronovitch are curating the work of up-and-coming designers to create what they describe as "the Lore lifestyle."
Here's more about the venture, which will also be part of Providence's Gallery Night tour:
How did you start collaborating?
Marge: We were working freelance for Kyla Coburn, who does all the restaurants in town. We learned so many things and we had a friend that was doing window displays. We just wanted to figure out something that we could do that was creative and fun that let us do a bunch of different things. We did a window display when the Vault [Collective in Providence] first opened up.
Jayna: The floor painting in Faust [in the Dean Hotel] was the first project we worked on together. It was inspiring to us to be working hands-on on installations, and we were like, well, we want to do our own thing.
How did the idea of the Lore Collection start?
Marge: Opening a shop is something that we've talked about for years. We know so many talented artists and designers who aren't necessarily putting themselves out there. A lot of people make really cool things, but they don't know how to promote it.
Jayna: We don't really see a place for the type of work that we really admire. So that's the goal. There's plenty of places that sell handmade, and it's easy to do handmade. And handmade isn't really the word to describe Lore. Basically it was our network of artists and friends who make really great stuff. And let's curate a space where all of this fits. We want to make some things more accessible that may seem out of reach. The idea is to put together a lifestyle of all the different kinds of work we see being made.
What does "Lore" mean?
Jayna: "Lore" comes from folklore, which is storytelling. When we started out, to beef up our concept, we did a lot of studio visits and really got to know how people work and what they do and what that process is. (They feature interviews with the artists on their website.) It brings you closer to the work, which is part of the mission. Every time you go out and buy something, you don't really think about where it comes from. It depends on where you go, but generally, you just buy it because you like it. When you go to a design store where everything is not super production-value-based, you really want to know more about it.
You started out with a holiday pop-up store at the Columbus Theatre in December. Was this idea to test out how Lore would work as a shop?
Marge: Yeah, the initial idea was to do an online store and a pop-up shop to try and highlight different people. And then we found that it was really great to interact with the customers.
Jayna: When you want to create a lifestyle brand, I think it's harder to sell the connections that all of the work has just virtually. That's what's fun about having a shop. You pick things that complement each other. And not only that, you pick things that you like. A customer walks in the door, they might see a necklace on a plate on a pedestal next to a painting, and those pieces come together in this really beautiful way.
Why did you want to open your shop in the Arcade?
Marge: It's great for us, because it's a smaller space and it's got great visibility. There's a lot of foot traffic.
Jayna: It was one of the first few places that we looked at. We had talked to them about pop-up opportunities. They have a really great community there. The more we are in there, the more it's nice to be surrounded by people who are all kind of on the same team. I look at shops that are on the street and you're on your own, you're a lone dog. And I like the way they curate the businesses they want in there. That's one of the other reasons that we wanted to go there was because it is a higher-end area. We're not exclusively thousand-dollar items, but we would like to promote people who make beautiful, expensive things. We want buyers who are appreciative of that quality.
The Lore Collection is opening on March 2. The Arcade is open Monday-Saturday, 10 a.m.-6:30 p.m. They're also hosting a grand opening party on March 7, from 6-9 p.m. that the public can attend. The Arcade, 65 Weybosset St., Providence, arcadeprovidence.com.