Local Rower Competing for Spot on Men's Olympic Team
Anders Weiss, from Barrington, and a member of the Narragansett Boat Club, explains the intense training and diet required to row competitively.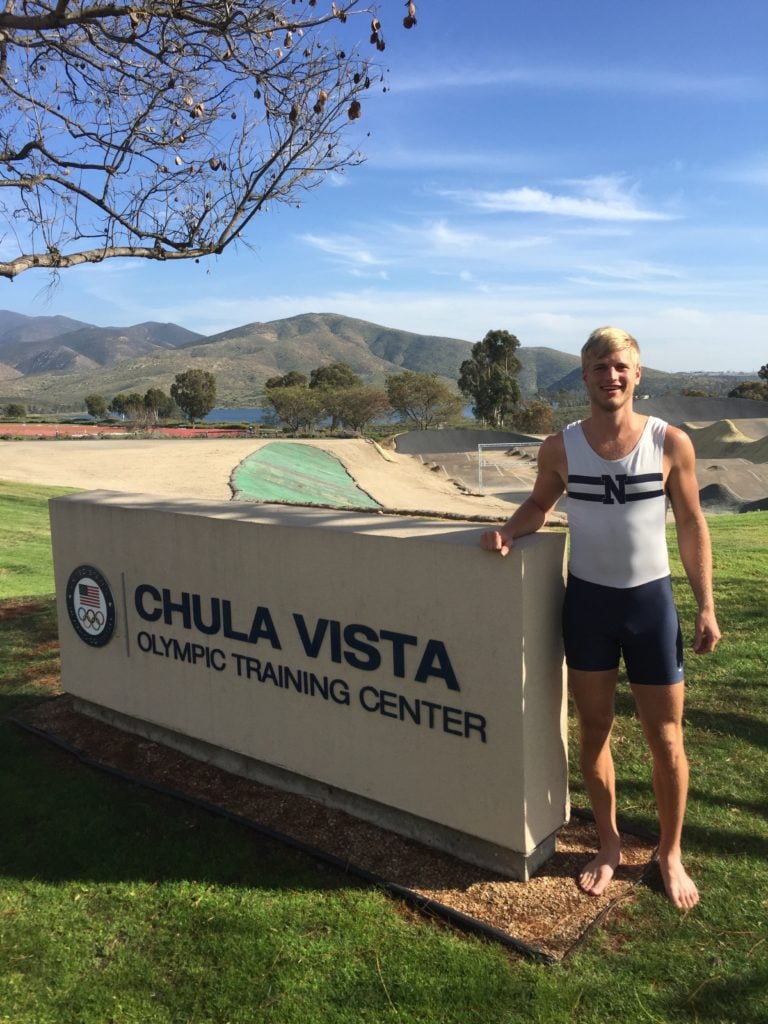 Anders Weiss checks off many aspects of what can be called the "rowing type." He stands six-foot-four, has toned legs and arms with bulging veins, and if you Google his name, photos of him clad in spandex will pop up. You might even find a picture of his face in a painful grimace, lips curled over teeth and eyes hard set, as he pulls with all his might.
Originally from Barrington, the twenty-three-year-old is currently in Chula Vista, California, trying out for the 2016 Olympic Men's National Team.
"We have twenty guys here for twelve spots, so pretty happy about my progress but still have one more step," he says in a phone interview, sitting outside and soaking up the balmy California afternoon.
Weiss first learned about rowing from his sister, who walked-on to the Brown University women's crew and enjoyed success. This led him to join the Narragansett Boat Club (NBC) where, under the tutelage of its dedicated coaches, he learned his craft. After three years at NBC, Brown recruited him and he jumped ship from the independence of a single scull into the anonymity of an eight-man crew.
"In an eight, you're going along and you can't point at anyone and say, that's the person who's moving the boat best – you can't, it's impossible," he says. "The goal of the sport is to make yourself as similar to the person in front of you as you can."
A day in his life as a Brown rower was all about extremes.
Practice was six days a week, often double sessions of water time and land training.
"We worked out Monday through Saturday, and Tuesday and Thursday we worked out quite a bit, even on your own."
The days blurred together, a steady stream of waking up, eating, working out, studying and snagging as much shut-eye as possible.
"You're so beat down from some of the workouts that you go back, eat — you eat a lot," he says with a laugh. "You study and then you go to sleep. You repeat. It's very monotonous; it's the same thing over and over again. Thankfully, I was doing what I loved."
Rowers burn around 510 calories in one hour of intense rowing. Multiple workouts require tons of fuel to fan the fire, so Wiess' food intake was astronomical.
"Basically, it was wake up, go to the dining hall, have three eggs in an omelet with a bagel — this is gonna get really disgusting, I'm gonna warn you right now," he says, continuing to list his insane diet.
"A burger, a chicken sandwich, a couple fries and a protein shake when I wake up. That would be breakfast pretty much."
Weiss would continue his day, snacking on a burrito before resting his stomach.
Lunch was a couple burgers, fries, chocolate milk, a bowl of granola with yogurt and fruit and whatever else he could get his hands on.
"That would lead me to practice," he says, barely pausing.
After a rigorous workout, it was back to the dining hall for dinner which was "pretty much whatever they served. If it's chicken parmesan, get as many pieces as you can, maybe three or four. Eat that. Maybe a salad or two just to even it out with the greens. Soup if there was a good soup."
To round out the day, he would hit up one of the Brown eateries for a late night snack that was usually a couple slices of pizza with a Chobani yogurt or a chicken sandwich and salad, or a quesadilla.
"And then before bed, a protein shake as well. And repeat, over and over again."
But this extreme regimen in the pursuit of pure power is only one layer of what makes a rower tic.
The psychology behind the sport and behind Weiss' attraction to it soars to something higher, something transcendental.
Rowing is a sport that has no rewards. If you're rowing in an eight-man boat, you are anonymous, simply one of crew pulling as hard as you can with a small person sitting at the head of the boat yelling at you.
It's not soccer or football, with legions of fans cheering you on or celebrity-like status that plasters you on billboards or in glossy Nike ads.
It takes a certain type to pull on spandex and slip into a boat where the reward at the end of a race is puking your guts out.
It's humbling, and that's why Weiss loves it, that's why he has pursued rowing to the world's largest athletic stage.
As he trains in the sunny landscape of southern California with legions of beautiful people, craggy snow-peaked mountains rising behind the camp and the temperature rarely below sixty, it might seem like he's simply relaxing at a luxury camp for coddled athletes.
But all is not as it appears. Weiss is not simply a young man who enjoys his sport and who has a twinge of bro-ness about him.
Beneath Weiss' Thor-like veneer is a yogi with masochistic tendencies.
He seeks a higher purpose from physical activity and derives almost transcendental pleasure from pain.
According to Weiss, rowing helps you to "Find out who you are as a person and change that if it needs to be changed."
"There's all this self help, but all you need for self help is an erg and setting it up for 2,000 meters because it will tell you where you are, and you'll quickly find out where you can be after a month of training. You can always improve and that's what I like about it," he says.
He talks about rowing like an old friend, an old friend who he knows intimately, warts and all.
"It is an intimidating sport… you're vomiting afterwards, you can't stand up, you can't sit down, you don't know what to do and all of a sudden there's so much pain," he says. "Some of the most painful parts are after the race, the lactic acid just sits and you're in a world of pain, but it's really one of those things where all the pain is worth it."
Eating like a horse, waking up at the crack of dawn, blisters bleeding on your hands and pulling so hard you can't think and the world melts away into a black hole of pain – is worth it to Weiss.
"When it's a little dark outside and you don't really focus on anything, you just feel yourself moving so fast, so quickly, without any effort. It's hard to beat a feeling like that…When you get in a boat and you see all the work you've done, all the pain you've been through and how it's paid off, it's really… it's really…" he says, struggling for words before sighing, "It's magical."