What's Happening to Our Local Media Outlets?
Can our venerable institutions survive, and can new ones thrive, in this anemic media era?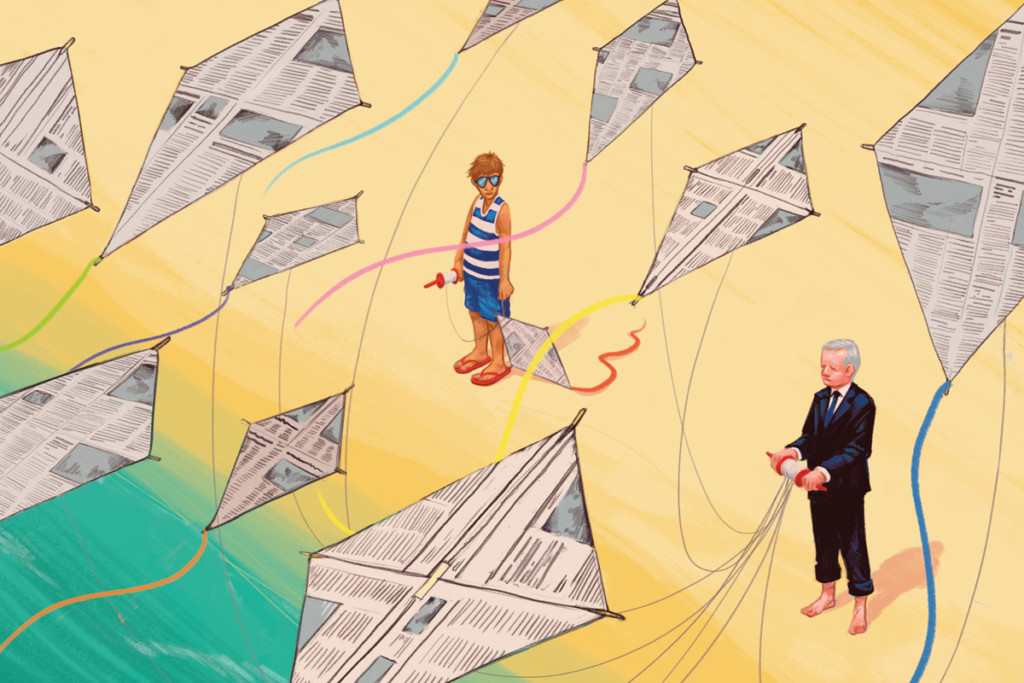 John Howell bought his first newspaper in 1969. He was twenty-eight years old. The Warwick Beacon was for sale for $40,000. Howell had been working for the East Providence Post, doing everything from covering council meetings to collecting the classifieds. But he had no money, experience or training in the business of newspapers.
Undaunted, he and his partner, Anthony Ritacco, scratched up $16,000 and a stock debenture plan that would raise the majority of the cash while keeping control of the company in their hands.
"A light went on; you could own it and you could do what you wanted," Howell recalls. "But I wasn't looking at it as earning a huge salary. I was always looking at it at from the perspective of: Let's tell the story of what's happening here in the community."
Over a forty-eight-year publishing career, Howell and various partners in three companies have owned a total of thirteen publications: six newspapers and seven free lifestyle and shopper publications and a separate printing operation.
His most audacious play was for the crown jewel of Rhode Island journalism. In the spring of 2014, Howell joined Barry Fain, his co-publisher of free monthly tabloids; Matthew Hayes, publisher of a Bristol-based chain of community weeklies; and real estate investor Arnold "Buff" Chace Jr. to buy the Providence Journal. The 189-year-old state daily had passed out of local hands in 1997, when the Metcalf family sold it to the Dallas-based A. H. Belo Corp. But their $45 million bid fell short. New Media/GateHouse, currently the nation's largest newspaper company, scooped it up for $50 million.
"The feeling was: Let's bring it back to being locally owned," Howell says. "In the end, it came down to numbers and I understand that. But GateHouse just chopped it all up and let people go."
In November, GateHouse acquired another family-owned media institution: The Newport Daily News. Founded in 1846, the Newport Daily News had deep local roots, having been owned by the Sherman family for nearly a century. According to an article on the newspaper's website, Albert K. "Buck" Sherman Jr., the paper's retired publisher, said: "Today is one of the saddest days of my life — a day I have always hoped would never come."
But, actually, it was just another day in the newspaper business. Howell is an anomaly. The last decade has seen a wholesale transfer of newspaper ownership from community pillars to private equity funds and other investment groups who have taken advantage of the industry's financial distress to add newspapers to their wide-ranging portfolios. GateHouse, which now owns 124 weeklies and fourteen dailies in New England alone, is emblematic of this transformation, says Penelope Muse Abernathy, Knight Chair in Journalism and Digital Media Economics at the University of North Carolina at Chapel Hill, and author of The Rise of a New Media Baron and the Emerging Threat of News Deserts. Abernathy focused her research on small papers, where the effect of absentee corporate ownership in a pursuit of profits could do a community the most damage.
"Many of the large chains (such as GateHouse) take on considerable debt to finance their acquisitions. So their first order of business is finding ways to cost-cut to pay the banks. This can lead to "ghost" newspapers: stand-alone papers with greatly diminished staffs that over time become mere editions of other papers," she says.
This was journalist Betty Cotter's experience when she worked at the Narragansett Times as it transitioned from local to two different corporate owners.
"All newspapers are interested in making money," she says. "But when you get an out-of-state corporation, removed from the community, with shareholders, the money they are trying to get out of that paper is increased, and more than a family might settle for. And, when it comes to family ownership, you have local stewards and an investment in the editorial content."
In some ways, Rhode Island has bucked the national trend. Between 2004 and 2014, the United States lost 700 papers to closures, mergers and transitions to editions of larger dailies. In contrast, the state's media landscape expanded from twenty-four to thirty newspapers as locally owned companies added new weeklies. But more than half of those papers are owned by out-of-state entities.
The Journal's Executive Editor, Alan Rosenberg, in his fortieth year on staff, says the paper's core mission remains. While GateHouse has moved the newspaper
layout to its design center in Dallas, all news decisions are made locally.
"Of course, I'm not saying nothing has changed; a great deal has changed. What hasn't changed is our commitment to reflect what's going on in Rhode Island," he says.  "To conclude that it's no good is a false and self-defeating way to look at things."
While it's true that the Journal is no longer a ubiquitous municipal and state presence, the blame does not lie with out-of-state ownership. "Nationwide, circulation and ad bases have declined and you can't staff an organization in the same way you did when they were healthier," Rosenberg says. "And we have tried to be as smart and creative as we can to work with the resources we have."
At the same time, there's alarm in a few quarters that some of the new owners do not separate fact from opinion or even fact from fiction. In January 2016, Michael Schroeder, who had just purchased the Block Island Times, apologized to the readers of the New Britain Herald in Connecticut after other news outlets reported that he published a story under a fake byline with fake quotes and plagiarized passages that attacked a Las Vegas judge who had criticized his then-business partner, casino mogul Sheldon Adelson.
Last October, about sixty activists demonstrated outside the Cranston offices of Channel 10 WJAR in protest of its parent company's directives to slant the local affiliates' news broadcasts rightward in commentaries and other segments. The Sinclair Broadcast Group bought WJAR from Media General in November 2014, when a merger forced Media General to sell off one of its Providence stations. Sinclair has been chastised for its mixture of political advocacy and news. In 2007, the FCC fined Sinclair for failing to disclose that the host of a public affairs program had been paid to promote President George Bush's No Child Left Behind program.
WJAR General Manager Vic Vetters defends the commentaries.
"We believe everyone benefits when there's a robust diversity of opinions in the marketplace," he says. "These commentaries contribute to the diversity of views available to our audience. These pieces are clearly labeled as commentary to ensure that our viewers distinguish them from our news. They have no impact on the quality of our local news coverage, which has won numerous industry awards and continues to serve as Rhode Island's top-rated television station."
But viewer Constance Mussells of East Greenwich, who helped organize the protest, has turned away from 10: "I feel betrayed. That used to be my favorite station; Its coverage was decent and I didn't feel like I had to worry about bias," she says. "Now I don't watch it. I see what these commentaries are, and suddenly the local news is not the local news; it's someone's opinion."
And there is the sense in the community that despite the increase in news outlets, there is actually less news. Providence Newspaper Guild President John Hill says that is just the math.
"When you let the staff shrink, you should not be surprised that there's less content," he says. "The features department is down to two people. The investigative team is replaced by a contractor. Where does it stop? We don't know."
Yet the dream of news, locally produced by plucky correspondents with grit and passion, refuses to die.
Disappointed by the lack of comprehensive reporting on her town, Elizabeth F. McNamara has been trying off and on for the last four years to start her own East Greenwich news website. "It's easy to report; it's harder to make money reporting," she says. "I'm trying to see if there is a way forward for local news."
Providence Country Day School hadn't had a student newspaper in fifteen years, when then-junior Peder Schaefer and some friends decided to revive the Roundtable last spring. The paper is literally that — a single sheet of paper — but is frequently published. His biggest scoop to date: a story that faculty was considering a ban on cell phones at the school.
Schaefer plans a career in journalism. "It's more important now than ever that people get a balanced perspective," he says.
Howell is now seventy-six, and, as the owner of the Beacon, he still does everything from covering the council meetings to doing the layout. His local news empire has been whittled to ten publications and he is still searching for a business model that will allow them to continue.
"We're not thriving — hanging on in some respects," he says. "But it's been a great ride. I feel like I'm engaged in what's happening in my community."
Ellen Liberman is an award-winning journalist who has commented on politics and reported on government affairs for more than two decades.