Local Man Discovers Hidden Artistic Talent
Shawn Patrick Duff's first gallery show will take place May 4−25 at AS220's Main Gallery at 115 Empire St. in Providence.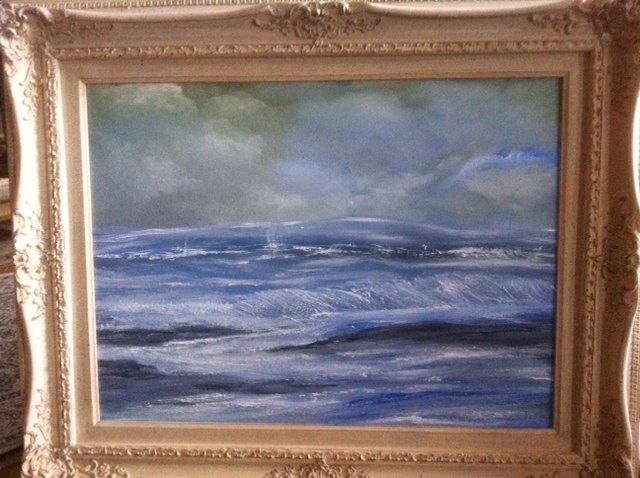 Shawn Patrick Duff had fallen on hard times. He was out of work due to an injury and having trouble paying the bills. As a single father of a sixteen-year-old son living in Pawtucket, it was getting even more difficult to make ends meet. Then his mother, who had been suffering from cancer, passed away. He couldn't sleep. One night, he got out of bed and decided to clean out his closet to get his mind off things for awhile.
In the closet, he found three blank canvases and some oil paints, stored away for years, because he had always meant to take up painting again since his college days. That night, he finally got around to it, and he painted three ocean landscapes, including calm seas and barreling waves. "They just poured out of me. I was amazed at what I saw," he says.
He hung the paintings on his walls, and there they remained for nearly three years, until things financially worsened. Eventually, he called a friend and asked if he might want to buy one of his masterpieces. "He took a look at my paintings and told me I was talented," says Duff. "And he told me to paint, and paint and paint. That's what I've been doing since that day."
Over the last six months, Duff has created nearly fifty works. Most have a similar ocean theme, but each one is incredibly unique. "Some are violent storms, some are smooth and calm and each one affects me emotionally, it's almost like a possession while I'm at the canvas," he says. "There's a spirituality there that's indescribable." He says he doesn't plan each work, it just comes naturally. "I start to paint and I see things. Something guides me and I do the stroke and low and behold, there's a wave," he adds. "I feel like an instrument holding a brush."
One painting now hangs in Senator Sheldon Whitehouse's office. Six hang inside Kitchen Bar restaurant on the East Side (four are for sale; two have been bought by the owner). Duff's first gallery show will take place May 4−25 at AS220's Main Gallery at 115 Empire St. in Providence. Opening night is May 4 from 5−7 p.m. Eleven paintings will be on display in the open window gallery. He'll also be showing at the Wickford Art Festival, and he'll continue to donate some of his paintings to worthy causes, including this week's PeaceLove Foundation fundraiser that was held at the MET to raise funds for free creative programming for people impacted by mental illnesses.
"There's enough anger going around the world, and not enough kindness. My paintings have a lot of love behind them," he says. "I am putting myself on that canvas and I do it fearlessly. I personally hope that people look at my work and get some enjoyment and peace from it. I want them to look into the paintings and be taken away for a little while." as220.org