Local Floral Designers Unite to Create FloralCoLab
Each with their own style, the designers teach classes around Rhode Island.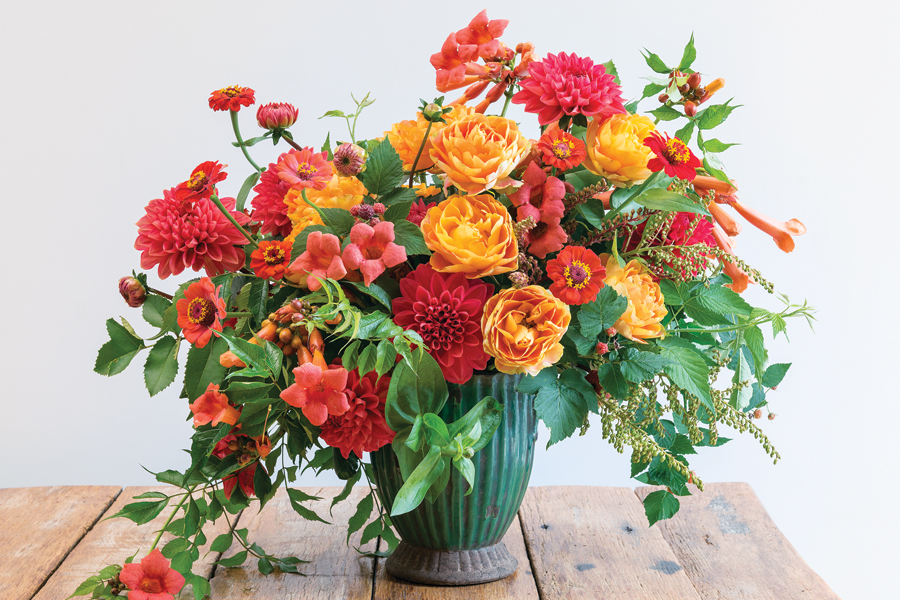 The Floral CoLab brings together the talents of local floral designers, unique businesses and cultural destinations through season-driven classes. Here, the CoLab's designer-instructors offer insights into the creative pursuit they've made their life's work.
Collective Passion
When design and nature come together, beautiful things can happen. That's the idea behind the year-old Floral CoLab, a collective offering floral design classes inspired by the seasons at unique locations around the state. "Floral design is a creative outlet that many people have an appreciation for. Our goal is to bring more visibility to both our industry and the businesses and organizations where the classes are held," says Joye Whitney, the CoLab's founder and director. In creating the CoLab, she tapped three local designers — Dennis Delsignore, Laura Seita and Semia Dunne — to teach.
Collectively, the four bring to the CoLab nearly sixty years of experience and a shared passion for teaching others their craft. Classes have taken place at Blithewold Mansion, the Farmer's Daughter garden center in South Kingstown, the boutique Restored by Design and the Lorimer Workshop in Providence. They generally include a tour, followed by hands-on instruction on making an arrangement specific to the location. More classes are planned for the coming months with the addition of Newport-based designer Kim Lamothe of Greenlion Design. Whitney hopes to expand the CoLab's reach to include lectures and partnerships with community organizations. The current schedule is available at floralcolab.com. Here's more about their design styles and why they love going to work every day.

Joye Whitney

Dahlias took center stage in Whitney's arrangements, not only because they were in season at the time they were shot, but because the maintenance-heavy tubers are growing in popularity among both brides and home gardeners. Whitney hopes to offer classes on growing and caring for the colorful buds at the CoLab soon.

While taking her first floral design class at RISD, Whitney realized she had found her calling. "I really got hooked [on floral design] right away," she says. Whitney began her career at Stoneblossom Floral and Event Design in Warren. The experience eventually led her to create the Floral CoLab as well as work with Field of Artisans, a collaborative that offers popup classes in South County. Whitney also serves as a project manager for DesignxRI, a marketing and networking resource for designers working in Rhode Island. As busy as she is, Whitney still finds time to return to her first love: designing for weddings and other events as a freelancer. Employing what she describes as a loose, romantic style that favors a soft color palette, Whitney finds much to enjoy about the work she does. "In design, there's a lot of room to be creative," she says. "It's all about the vision and how to make the flowers come together to enhance that. The flowers are really what pull events together."

---
Dennis Delsignore

Delsignore's verdant arrangements include fiddlehead ferns, poppy pods, celosia cock's comb, protea and air plants and reflect his love of texture and monochromatic looks.

In his twenty years as a floral designer, Dennis Delsignore has traveled the world working with some of the biggest names in the industry. And he has the stories to prove it. Like that one time, while in Abu Dhabi for a princess's wedding, when he spent nearly twenty-four hours working on a flower wall alongside famed florist Daniel Ost. And while he still travels to do jobs for New York City-based designer Preston Bailey, much of Delsignore's work is now centered closer to home. As the creative director at Stoneblossom Floral and Events in Warren, Delsignore brings his artistic vision to local weddings and events, often incorporating the nature-influenced style inspired by his grandparents' farm and walks through the woods. Delsignore previously taught floral design at RISD and is excited to use the Floral CoLab to bring his craft to even more people. "Everyone thinks they can design on their own, but it's really not as easy as Pinterest makes it look," Delsignore says. "I like when a student leaves my class feeling like they can do this and understanding the whole process, from wholesaler or farm to design."

Laura Seita

Seita's love of bold hues is on display in an arrangement of roses, dahlias, zinnias, wild raspberry and trumpet vine. The container of succulents was created during one of Seita's Floral CoLab classes.

Flexibility has been a key component to Laura Seita's success as a designer for the past sixteen years. "A big, messy arrangement that has lots of textures and drape is always beautiful, but sometimes a one-flower modern arrangement is more appropriate and I love to do both," says the designer, who moved to Rhode Island five years ago with her husband. She started her design career in Chicago, before finding her way to New York City, where she worked for big names like Martha Stewart Weddings and famed designers Lewis Miller and Matthew Robbins. Seita returns to the city often as an instructor in advanced wedding design at FlowerSchool New York. Teaching, which she started doing at RISD, was an unexpected love. "I was so nervous about teaching but I realized I actually enjoy it because I love what I do and I'm passionate and I enjoy sharing that with other people." When Seita isn't in the classroom, she's running Fig and Squill, the design business she started a year ago out of her Exeter home. Her work with the Floral CoLab has not only been a way for her to share design with others, but to learn more about what her adopted state has to offer. "It's a tiny state, but I'm always amazed at how much is going on," Seita says. "There truly is a bevy of talent here."

---
Semia Dunne
Dunne's Dutch Masters-inspired arrangement highlights just a few of the many products she grows on her family's Lincoln farm, including peaches, apples, amaranthus, roses and vibernum vine. The bouquet showcases a few more, including zinnias, campanula and blueberry.

Growing up on her parents' farm in Lincoln, Semia Dunne hardly remembers a time when her hands weren't in the dirt. After a roundabout path to floral design that included plans for a career in psychology, Dunne opened her first flower shop sixteen years ago. Since then, she's turned it into a booming wedding and events business, Flowers by Semia, and now utilizes that same Lincoln farm where she cut her first flowers as a youngster to grow much of her own product. "Farm-to-table for food translates the exact same way to floral these days and being a farmer florist instead of just a florist has really defined my business," Dunne says. Out of her Providence studio, Dunne and her staff take clients through the entire event planning process, injecting her whimsical, romantic aesthetic into not only the stunning arrangements they create, but into every detail, from the decor to linens. Dunne also uses the Steel Yard space to host events, like a recent popup shop with Providence boutique Nava, and to teach classes, an interest that fueled Dunne's desire to get involved with the Floral CoLab. "All of us are very like-minded in our desire to get the art of floral design out there," she says, "but doing it in a creative way that highlights other businesses in the process."