LMNOP Opens in Newport
Three twenty-somethings are breathing new life into Spring Street with art and apparel.
Last month, a trio of twenty-somethings launched a storefront on Newport's iconic Spring Street. Its name, LMNOP, isn't an acronym. It evokes a first-grade epiphany; what seemed like one thing — elemenopy — is really five individual things. According to the artists, the name "signifies the power in unity."
The shop features work by local artists in a variety of media, most notably photography, home goods and apparel. We caught up with co-owner Nishan Han to get the LMNOP story.
Who is involved?
The three owners are Sara Cooney (twenty-one), Nishan Han (twenty-four), and Zack Rego (twenty-four). We all grew up in Portsmouth and went to high school together.
Why did you decide to open a gallery in Newport?
We were originally looking to rent out an office space for our own use but after recognizing the incredible talent sitting on our Instagram feeds, we saw the opportunity to turn our office idea into something more. We know that other young artists and adults who do this on the side don't normally have the time or resources to be able to sell their work at a storefront location; we wanted to open a gallery in Newport to give artists and entrepreneurs of all ages and experiences the opportunity to display and sell their work.
What does LMNOP add to the Newport art scene?
We hope that LMNOP adds a youthful flair to Newport's art scene. Our ambition is to unite artists, creators and innovators with like minds, while providing a place where all feel welcome to share their work or just hang out.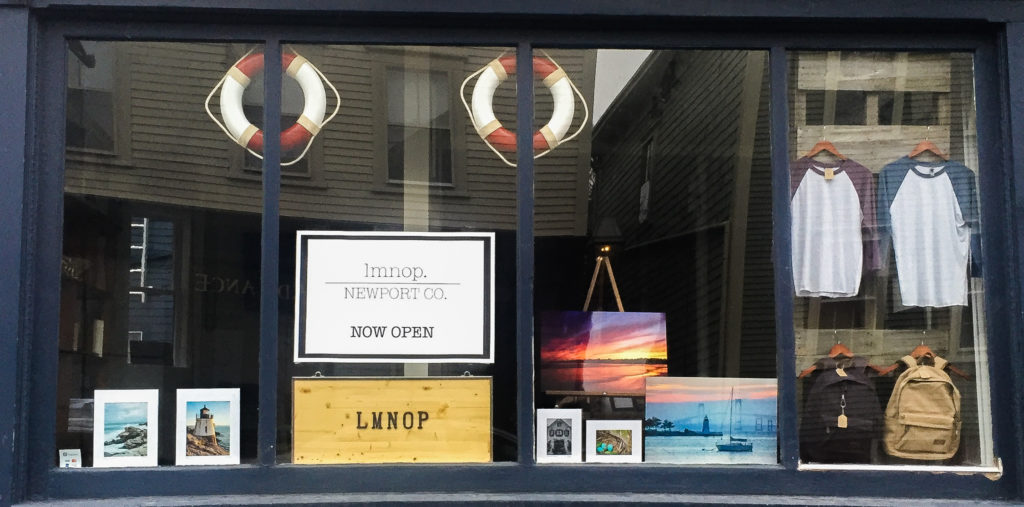 Who are some of your favorite artists in the shop?
Jon Cameron and Madeline Berry are always capturing the beautiful scenes of New England, and we are very excited to have their work take over the walls of our shop for our first "Artist Take Over" starting the last week of May. With ten artists currently featured, it has been really cool to see the different perspectives and talents they each have to share. That's the beauty of it.
What are some of your favorite items in the shop?
Metal prints (photographs printed on aluminum) are our current favorite. The colors are vibrant and the luminescence is stunning. They are very eye-catching pieces. We recently brought in some local apparel from two Newport-based brands which we love having in our shop, and we are currently working on our own branded shirts for the summer.
Are all of the products local? Was that a priority?
Most of what you see in LMNOP is local to Rhode Island, however all are welcome. We have found some jewelry and other handmade pieces on Etsy that fit with our aesthetic. They are not local but we are happy to introduce them to Newport.
LMNOP, 99 Spring St., Newport, lmnopnewport.com.
This interview was edited for clarity.