Living Like a Local in Quaint Tiverton
The town has four distinct personalities — all unmistakably Yankee.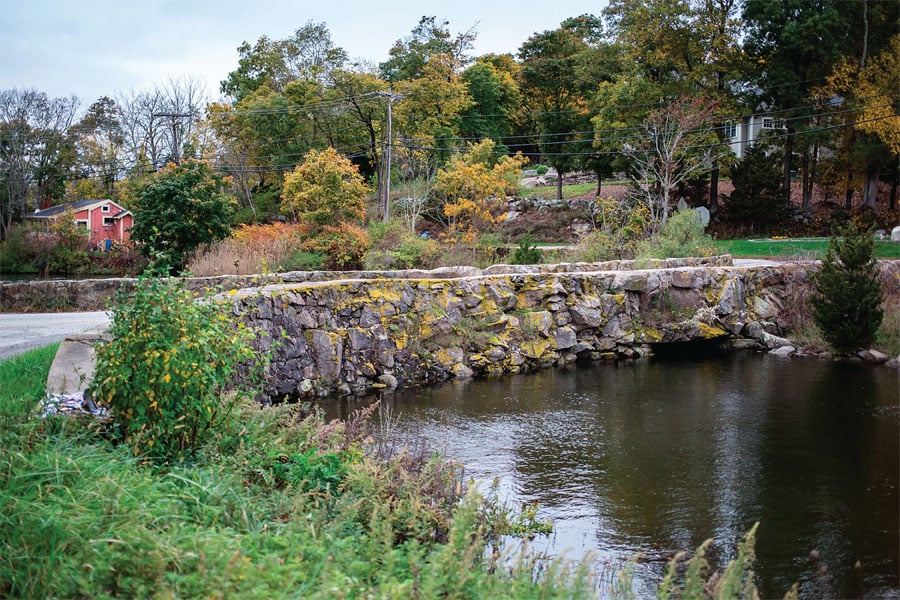 Tiverton has always been just out of reach. As a Kent County girl who considers venturing anywhere north of Cranston a trek, it's always been a little too far for my Rhode Island sensibilities. However, I bite the bullet and drive on over to Tiverton, to a town that has its own charms and quirks and that is worthy of a mini-road trip.
Tiverton is a study in contradiction; it's artsy, intellectual, rural and suburban all in one long, convenient package. Brett Pelletier, town councilman, is a lifelong resident and sits on a slew of local boards and commissions. In short, he knows his stuff. He's offered to show me the ins and outs of a place in a curious stage of transition.
Before my tour I stop by Coastal Roasters, a town classic that BuzzFeed has called one of the best coffee shops in the country. I get an insanely inexpensive coffee and bagel combo, and as I wait for my bagel to toast, I notice, amidst the chalkboard list of coffees, a real gem called the "Uncranky Yankee's Latte." Little do I know how apt this quirky latte's name is in describing Tiverton.
The first thing to understand about the town is that it's basically four little villages —Stone Bridge, North Tiverton, Bliss (Four) Corners and Four Corners — all under one umbrella, sprawling down the east side of the Sakonnet River. The first one we visit is Stone Bridge, an area with a view of the bay, sailing masts poking into a blue sky and the newly built Sakonnet River Bridge overshadowing its older sibling built in the '50s. New and old collide with new winning out; the old bridge is scheduled for demolition soon, and the marina over which its cement pillars tower has grown quiet.
"Stone Bridge is the epitome of Tiverton," Pelletier says as we cruise by the marina in its stage of transition. While there have been lots of changes, there is still the constant of some killer seafood joints. "There's the Red Dory, the Boat House, great restaurants. Just squint when you go by the Cumberland Farms," he says, laughing.
We cruise further south on Main Street and pass Grinnell's Beach, a popular local hangout that Pelletier says is rough around the edges but is going to be to totally renovated. Grinnell's Beach is also home to a legit stone bridge, the namesake of this part of town.
"The old stone bridge once connected Tiverton to Portsmouth and was used by stagecoaches," he says.
Another slice of Tiverton's whole is farming, and as we go further south into what is known as East Tiverton (Pelletier has no idea why it's called East; it's actually southeast), there are lazy pastures delineated by old stone walls and Colonial farm houses.
"These were mostly gentleman farmer farms. They got wealthy, bought a big house and pretended to be a farmer. But because it's an old Yankee town no one wanted to be too showy, hence the simple architecture." But then we see it, a huge monstrosity peeking from behind some trees with a magnificent lawn that overlooks the water.
"That used to be home to an old captain's house, but now…." Pelletier's voice trails off. The mega-mansion hardly fits in with the town's Yankee modesty.
We continue into farmland that could be a landscape painting, with perfectly rolled hay bales and people selling pumpkins on roadside stands. There's a juxtaposition going on though, and as we pass century-old farms and large swaths of protected woodlands there are signs that things are changing. An old Colonial house near the Emily Ruecker Wildlife Refuge is being renovated, with a pale wooden, modern-style addition protruding from the back. Four Corners has quaint shops, old settlement houses and the feel of a classic New England town, complete with the requisite white church spire. But when we hit North Tiverton, farmland makes way for a Dunkin' Donuts and old Colonial houses transform into '50s style ranches.
There's a new skate park abutting an affordable housing/artist village, with a lovely new library on the left, built with shingles to evoke an older, maritime vibe.
The town is being both protected, with a healthy land trust operation and strong preservation society, and renovated.
"In 1963, we started to tackle zoning, before that you could build wherever," Pelletier says as we return to the town hall where we began the tour. "Now we are doing a lot of redeveloping. Some people are probably not happy with all the changes."

Stop into Peter's Attic Antiques for some funky finds; the Sakonnet River Bridge in Stone Bridge.
Change and the mixing of polar opposites seem to define the town. From the demolition of the old bridge and the upcoming casino to the preservation of farmland, this is the character of quaint Tiverton, the Yankee/maritime/agro town that has one foot in the past and one striding boldly into the future.
After saying goodbye to Pelletier, I drive over to the Tiverton Library, a mix of old and new that stuck out in my mind as we traversed the town. Slightly carsick from my tour (taking notes while in a moving vehicle isn't the smartest idea), I stumble into the shingled library and scout out a spot to hide amongst the bookshelves. As I wander, I fully absorb the space.
With its pale wooden shelves and soft cream colored carpets, the Tiverton library is the type of place you could live in. There are plugs everywhere (for a phone addict like me, a space without plugs is kryptonite), cozy armchairs to snuggle up in with your book, and a fireplace —how many libraries have a fireplace?! Get me a glass of wine, a good book (that's the easy part) and I won't leave. The library opened its doors in June of 2015 after taking anywhere between fifteen to thirty-seven years to pull off, depending on who you ask. The award-winning 23,800-square-foot building, with its shingled facade, sweeping buttresses that look a bit like the stem of a ship's hull and walls painted in shades of blue, is much like Tiverton itself: rustic, modern, growing and, with traces of its maritime past and present, unmistakably Yankee.

Great Places for Foodies
Tiverton
The Red Dory
The Red Dory is the epitome of some of Tiverton's best assets: simplicity and seafood. With dishes that use underrated but super flavorful fish (like the grilled Portuguese sardines) and with ahead-of-the-curve trends (the tuna poke is a must), it's easy to see why it's a local hit.
1848 Main Rd., Tiverton, 816-5001, reddoryrestaurant.com.

A Short Drive Away
Bittersweet Farm and Restaurant Tavern
This rustic farm turned restaurant has a lovely, quaint setting that will charm you instantly — as will the food. From luscious scallops to crispy calamari, the food is plentiful and pleasing. And on Thursdays and Saturdays, the farm transforms into a live music venue where you can sip your wine and listen to local bands as they strum and croon.
438 Main Rd., Westport, Mass., 508-636-0085, eventsbylhc.com.

Portas da Cidade
If a taste of Portugal is what you crave, Portas da Cidade is the place to be. While the name means "city gates," the restaurant is also a gateway to Portuguese delicacies including the classic Portuguese soup, caldo verde, or the spicy clams, ameijoas á espanhola.
231 State Rd., Westport, Mass., 508-674-4004, portasdacidade.com.

Great Places to Shop
Tiverton
Milk and Honey
Milk and Honey is crammed with all sorts of goodies that you won't find in your typical grocery store. Its shelves are stocked with more than 100 different cheeses, along with homemade Italian pastas and, true to its name, a variety of exotic honey. Create your own gift basket with the assorted foods and you are guaranteed to make the recipient happy.
3838 Main Rd., Tiverton, 624-1974, milkandhoneyri.com.

A Short Drive Away
Partners Village Store and Kitchen
Not only can you dine here, with a delicious array of soups and sandwiches in the cafe section, but you can do so with a book you just plucked from the diverse selection. Books, toys, stationery and more await, making this the perfect place to search for last-minute hostess gifts.
865 Main Rd., Westport, Mass., 508-636-2572, partnersvillagestore.com.

Adega Beer and Wine Making Supplies
Ever have the hankering to brew your own beer or cork your own wine? Even if you'd rather just buy a six-pack from the liquor store down the street, you probably know someone who is a beer aficionado. And what better way to feed their obsession than with supplies from Adega? Find wine kits, brewing supplies and more at this well-stocked store.
151b State Rd., Westport, Mass., 774-319-5454, adegabeernwine.com.

Great Places to Explore
Tiverton
Fogland Beach
This rustic Tiverton beach is the local hotspot for windsurfing. With great gusts off the river, it's the perfect opportunity for those who like to get rough and ready in the water, or even for those who just want to relax and take in a stunning view of Portsmouth.
Fogland Road, Tiverton.

Seapowet Marsh and Point Fishing Area
Not only is this salt marsh filled with flora and fauna, it is a little known spot for some prime sunset-watching. Even in cold weather, the view is stunning and not to be missed. It's a great spot to end a date, watching the sun sink below the horizon, even if it's a chilly winter's evening.
Seapowet Avenue, Tiverton.

A Short Drive Away
Buzzards Bay Brewing
Beer aficionados, take heed, one of the best (and greenest) New England breweries is right around the corner. Buzzards Bay Brewing is a cool place to visit for some beer tastings and while you're there, grab some grub from Fancheezical food truck on Tuesdays through Saturdays.
98 Horseneck Rd., Westport, Mass., 508-636-2288, buzzardsbrew.com.

Lizzie Borden House
History has some pretty gruesome tales and the axe murder at the Lizzie Borden House is one of them. See the abode of the Borden family and stand in the room where the bloody deed was done. You can even spend an evening there, if you dare….
230 Second St., Fall River, Mass., 508-675-7333, lizzie-borden.com.

Driscoll Arena
For a fun day in the rink, head over to Driscoll Arena in Fall River. Lace up your skates and do a few laps with your family, or bring a date for the perfect excuse to hold hands — just don't bring them down with you when your legs give out!
Driscoll Arena, 272 Elsbree St., Fall River, Mass., 508-679-3274.

Artistic spaces worthy of the Tiverton moniker

Amy C. Lund, Handweaver
Handweaving is a lost art and the chance to see not only these examples, but also the process of making them, is a real treat. Creations range from soft scarves to comfy rugs.
3964 Main Rd., Tiverton, 816-0000, aclhandweaver.com.
Arch Contemporary Ceramics
Gorgeous pottery and ceramics await at Arch Contemporary Ceramics. With various artists in residence and a bevy of glassy hand-thrown pots, the products are truly a stunning sight to behold. They also offer classes for wannabe potters.
18 East Rd., Tiverton, 835-8415, archcontemporary.com.
Four Corners Arts Center
Four Corners Arts Center promotes the local artists in Tiverton Four Corners and surrounding communities through exhibitions of local work and a variety of events ranging from plays to concerts to outdoor dances. The center is in the historic Soule-Seabury House, making this a charming and quintessentially Tiverton attraction.
3852 Main Rd., Tiverton, 624-2600, fourcornersarts.org.
Gallery 4
Gallery 4 is filled with all sorts of unique, quirky items. From cozy cashmere shawls to antique furniture and handmade jewelry made by local artisans Susan Freda and Arn Krebs, there is something for everyone. Winter hours (Jan. 1–May 25) are Thurs.–Sun. 11–4:30.
3848 Main Rd., Tiverton, 816-0999, gallery4tiverton.com.