Living in a Tiny House
A Burrillville Couple Creates a Minimalist Retreat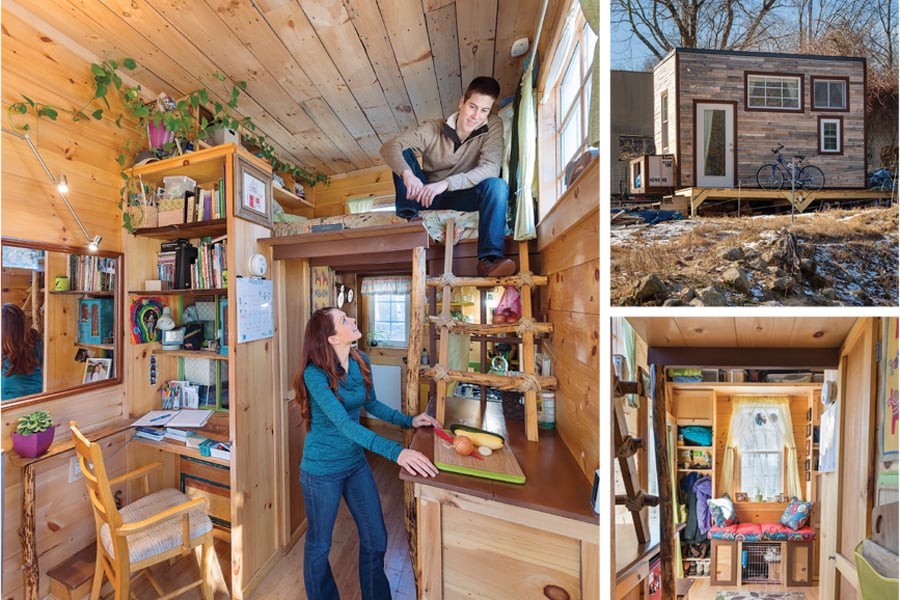 Dan and Jess Sullivan live in a tiny house — 128 square feet, to be exact. The couple started building the wooden structure on wheels about two years ago, constructing a flat roof and elevated shelves to make the most of the space, nicknamed the Pod. "It has this illusion that it's much roomier," says Jess Sullivan. "People joke about it being the size of a garden shed, and I don't feel like that."
The home, located on a farm in Burrillville, has everything they need: seating area, bookcase and desk, closet, storage, composting toilet, a lofted bed and underneath it is a colorful kitchen complete with a stove and fridge. They even have a pet bunny, Wendy, who hops around the floor outside her cage that's installed under the sitting bench. Water comes in the form of water bricks and a portable filtered Berkey container. They've gone off the grid by installing solar panels outside, and they do not have water or electric bills. In fact, their only home expenses include rent to the farm, a heating bill from the propane tank, grocery shopping and a phone bill that includes Internet.
Their reason for going minimalist? The couple was living in an apartment and paying for all the usual necessities (and some luxuries) in addition to student loans and credit card debt. "I was constantly reviewing our financial situation," says Jess. "I was worried about not coming out from under it. That was really frustrating and depressing, and I was like how can I change this?" Now their monthly living expenses range from $600 to $700 a month — including Netflix and a takeout pizza or two.
Follow the Sullivans on their blog Another Tiny House Story at livinginatinyhouse.blogspot.com.