Little Compton and the Rhode Island Red: A History
What's the story behind our state bird?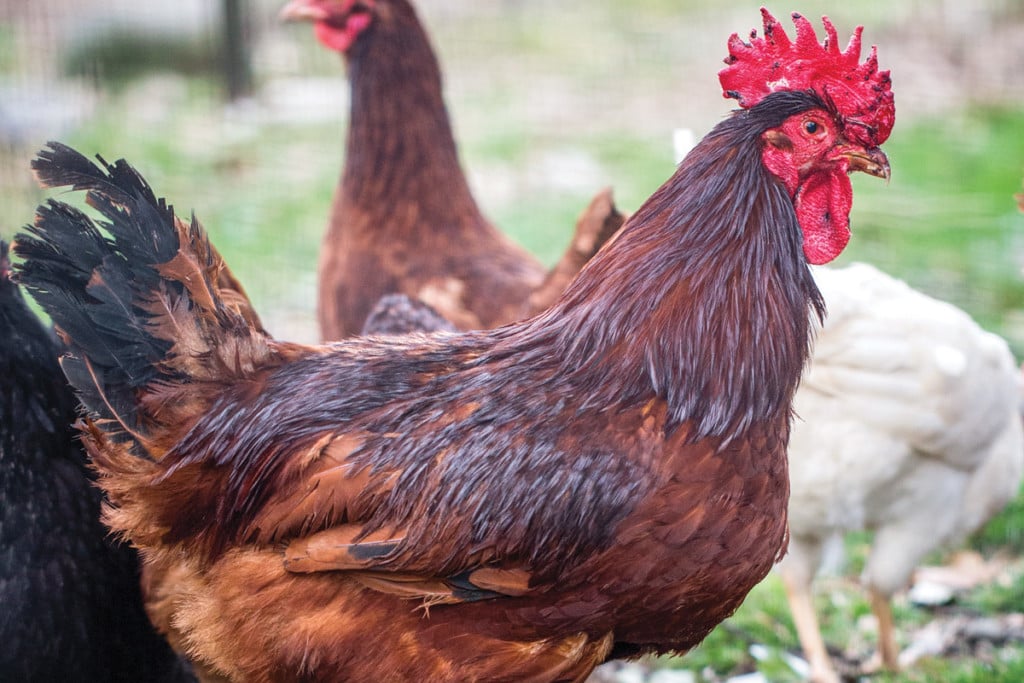 Where to eat
Crowther's
For more than thirty years, locals have been patronizing "The Crow" (a.k.a. Crowther's), to stuff themselves full of Portuguese littlenecks, fish 'n' chips, New Bedford scallops and much more. Visitors can embrace the nostalgia and agree that the restaurant is a great spot for late-night food and drink. Located right by Quicksand Pond, Crowther's serves a classic New England dinner that's known as an authentic local gem. 90 Pottersville Rd., Little Compton, 634-8367, crowrest.com.
The Barn
If you've been searching for a quaint and
delicious Rhode Island breakfast joint, then look no further than this well-known spot that
operates out of a (renovated) barn. Seating is available on the main floor, the second-floor loft and the outdoor patio, which is unlike the typical diner breakfast scene. But don't look to menu prices to set the Barn apart from your local diner, because with a full three-egg meal priced at less than $5, it's likely that you'll leave just as full as your wallet. 13 Main St., Adamsville, 635-2985, thebarnri.com.
A Short Drive Away
The Red Dory
This is the epitome of Tiverton's best assets: simplicity and seafood. With dishes that use underrated but super flavorful fish (like the grilled Portuguese sardines) and with ahead-of-the-curve trends (the tuna poke is a must), it's easy to see why it's a local hit. Save room for the warm chocolate cake with expresso creme anglaise and toasted hazelnut. 1848 Main Rd., Tiverton, 816-5001, reddoryrestaurant.com.
Bittersweet Farm and Restaurant Tavern
Sitting on twenty-nine acres, this rustic farm-turned-restaurant has a lovely country setting with instant charm. From luscious scallops to crispy calamari, the food is plentiful and pleasing. On Thursdays and Saturdays, the farm, built in the 1920s, transforms into a live music venue where you can sip your wine and listen to local bands as they strum and croon. 438 Main Rd., Westport, Mass., 508-636-0085, bittersweetfarmwestport.com.
Where to shop
True Progression Kiteboarding
Little Compton offers a few shops that accurately reflect the local culture, and this kiteboarding store is one. The locale doubles as both a place to shop and a place to have an adventure, as it offers gear for sale and excursions for adventurous water lovers. If you're after a lesson or find yourself in love with the sport, True Progression will hook you up with used gear at a discount, allowing you to make the most of your stay in Little Compton whenever you visit. 2 Winslow Rd., Little Compton, 451-9098, trueprogressionkiteboarding.com.
Wilbur's General Store
Wilbur's embodies quaint New England. The store opened in 1893 and has been offering useful wares ever since, ranging from groceries and meats to books, toys, clothes and hardware. In the heart of the village, it's more than a shop; it's also a meeting ground for all of Little Compton, and with such a deep heritage of providing for the town, it's not hard to see why. 50 Commons, Little Compton, 635-2357, wilbursgeneralstore.com.
A Short Drive Away
The Portsmouth Shop
Open since 1981, this shop is a cozy, family-owned establishment that specializes in gifts for all women, as well as kids with discernible tastes. Think: pretty dangling earrings, alpaca scarves, faux leather pouches, ocean-inspired purses, comfy T-shirts adorned with witty sayings and a number of wares by local artisans. Isn't it about time you treat yourself to a new spring wardrobe? 2511 East Main Rd., Portsmouth, 683-2184, facebook.com/theportsmouthshop.
Gallery 4
This gallery is filled with all sorts of quirky items for yourself, your friends and your home. From cozy cashmere shawls to antique furniture and handmade jewelry made by local artisans, there is something for everyone. 3848 Main Rd., Tiverton, 816-0999, gallery4tiverton.com.
Where to explore
Sakonnet Garden
Nestled within the native coastal fields, Sakonnet Garden is as concerned with natural beauty as it is with environmental health and the joys of curious adventure. The private garden began as a small clearing, hidden within a dense tangle of local foliage. It has since expanded beyond an acre, resulting in a maze of outdoor rooms, each uniquely designed to experiment with lighting, space and color mixing. Stop by September 15 between 9:30 a.m. and 6 p.m. to explore the perennials, hedges, rhododendrons and more for a fee of $20. 510 West Main Rd., Little Compton, sakonnetgarden.net.
A Short Drive Away
Buzzards Bay Brewing
Beer aficionados, take heed: one of the best (and greenest) New England breweries is right around the corner. Buzzards Bay Brewing is a cool place to visit for beer tastings. While you're there, grab some grub from Fancheezical food truck. 98 Horseneck Rd., Westport, Mass., 508-636-2288, buzzardsbrew.com.
Gray's Grist Mill
Visit this Westport, Massachusetts, mill that stone grinds native Narragansett white flint corn into Johnny cake meal that does our Rhode Island specialty justice. 638 Adamsville Rd., Westport, Mass., 508-636-6075, graysgristmill.com.
Greenvale Vineyards
Sip on estate-grown wines in the tasting room or on the outdoor patio. Live music performances Friday through Sunday. Pack a picnic or pick up a bite from a local food truck that may stop by. 582 Wapping Rd., Portsmouth, 847-3777, greenvale.com.
Newport Car Museum
With more than fifty fine and vintage vehicles on display at any time, this new car museum is any gear head's dream. The exhibits, which include Ford/Shelby cars, Corvettes and Chrysler Mopars, span six decades of modern industrial automotive design and celebrate cars as true works of art. 1847 West Main Rd., Portsmouth, 848-2277, newportcarmuseum.org.