Little Compton and the Rhode Island Red: A History
What's the story behind our state bird?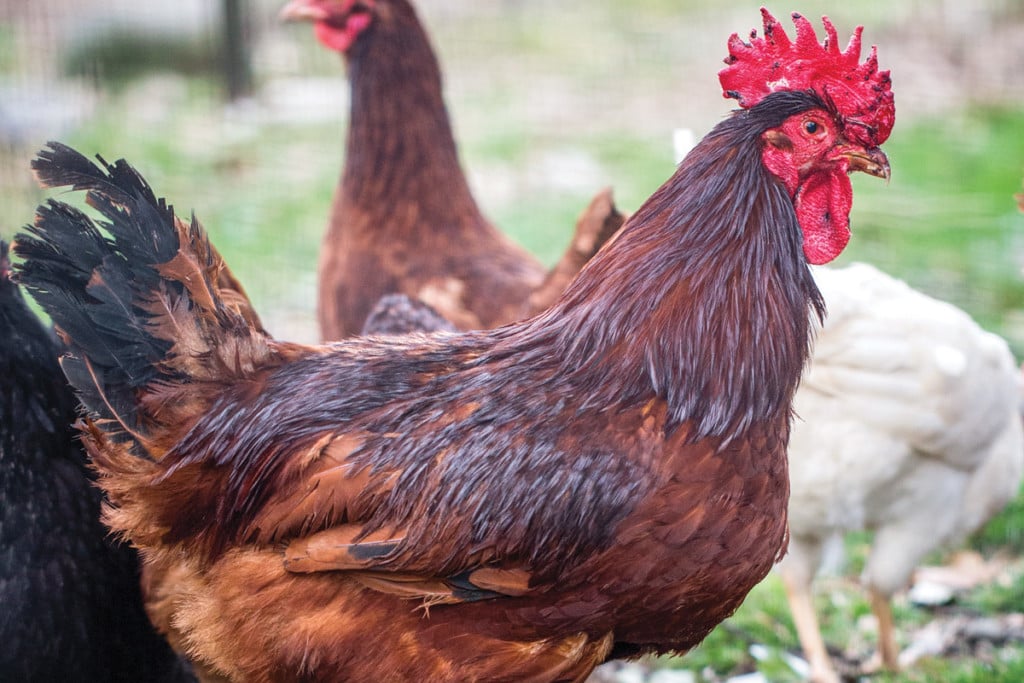 If you ask where the Rhode Island Red was first bred, most people will probably give you the cheeky answer of "Rhode Island." More serious students of poultry will point you to the center of Adamsville, where a larger-than-life chicken has been emblazoned on a hunk of granite in front of the village baseball field. But only a true devotee of Rhode Island's official state bird will be able to send you to the corner of William Sisson Road and Long Highway in Little Compton.
On a meandering stone wall, wedged between two roads less travelled, is a small plaque that reads: "On this farm was originated the Rhode Island Red breed of poultry. 1854–1954."
It seems like a lot of fuss over a bird.
But this is no ordinary fowl. The Rhode Island Red was a chicken that heralded a new age of agriculture, a chicken that briefly launched Little Compton's status as the "poultry capital of the world," and a chicken that even managed to attract its own fan club. And it all started with one man.
It was about a decade before the Civil War, and William Tripp was making one of his regular trips to New Bedford. Tripp was a "market man," an entrepreneurial farmer who collected goods locally to sell in nearby cities. While in New Bedford, he picked up an extra passenger for his ride home to Little Compton: a Malay (or what he called a Chittagong) rooster.
Brought in on a ship from Asia, the bird was a sight to behold. Featuring a gangly, long neck and legs, a bright red color and a spectacular height (roughly as tall as a toddler), the rooster would have easily stood out among its peers. The Livestock Conservancy, an organization dedicated to preserving heritage breeds, describes it as having an expression that's "snaky and cruel" and having a crow that is "hoarse, short and monotonous — reminiscent of a roar."
Why Tripp decided to bring home this strange bird is a mystery. British farmers had been crossbreeding Asian and European stocks with great success, so maybe he had heard whispers about their experiments from across the pond.
Whatever the reason, when he got back to his farm in Little Compton, he let the rooster loose with his hens and, as it goes, nature took its course.
Tripp observed the offspring of his Malay, and he realized the new breed exhibited some remarkable qualities: Hardy, plump and prolific egg-producers, they were the perfect all-purpose poultry. He focused his efforts on breeding a hen that was stronger, more reliable and larger than almost any bird that came before.
Called "Tripp fowl," his chickens gained him local celebrity, but it was Isaac C. Wilbour, another Little Compton native, who launched the breed into the echelons of greatness.
Long before Wilbour purchased fowl from Tripp and began breeding them, he was working to change poultry from a utilitarian livestock to a widespread commodity. He realized there was a demand for meat and eggs that wasn't being filled, and he set to work building an enormous flock to keep up with demand.
Wilbour's grandson David Patten recalled the extent of his grandfather's poultry business in a 1954 pamphlet, History of the Rhode Island Red. "There were between 3,000 and 4,000 laying hens on the farm," he writes. "They lived in so-called colony hen houses. There were about seventy-five of these colony houses…It covered 200 acres."
This large-scale approach to chickens was one of the first of its kind.
"This really revolutionized the whole philosophy of poultry in general," explains Marjory O'Toole, executive director of the Little Compton Historical Society. "Poultry wasn't just a way to sustain your whole family, but actually a way to bring huge profits to your farming business."
Wilbour began his enormous enterprise with run-of-the-mill hens, but later, he decided to invest in the remarkable fowl that Tripp had been raising only a few miles away. He bought some of the birds from Tripp and began breeding.
"What he was after was a better all-purpose bird," writes Patten. "An improved utility fowl that would lay more eggs, bigger and browner eggs for the Boston and Providence markets and larger bodies to provide more meat."
Wilbour's newly acquired hens far exceeded his expectations. They became a significant portion of his flock, and at the height of his business, helped him send out 150,000 dozen eggs a year, an unprecedented number at the time. Realizing the profitability of his business, nearby farmers quickly followed suit.
"Poultry was the Little Compton way of life," says O'Toole. "We see photographs of poultry houses on all sorts of different farms all over town after Tripp and Wilbour proved that it was a profitable thing. Everyone got in on it. We like to say that Little Compton was the poultry capital of the world, because so many of the farmers were relying on the chickens for their main source of income."
However, Little Compton's bird and egg boom was a fragile one. Around the turn of the century, the town saw it dwindle away.
"The industry moved to the south and the west, where there was a more temperate climate and lower labor costs, which meant more profit and a lower cost to the consumer," says O'Toole.
As the poultry industry packed up and left town, the Rhode Island Red fell from commercial use. In the twentieth century, farming plunged into a whole new level of production. Although Wilbour kept birds on an industrial scale, he still gave them free range of his farm. They wandered the hundreds of acres of pasture and returned home at nightfall. But by the mid-twentieth century, with the advent of antibiotics and synthetic vitamin D, farmers could keep thousands of chickens permanently housed in indoor cages without natural light or free movement, which significantly reduced expenses. The Rhode Island Red, a breed that had flourished roaming free, didn't fare well cooped up, and was quietly replaced with more production-friendly birds.
Although the Rhode Island Red has largely vanished from the public eye, it still lives on in Little Compton.
"It's like a logo here," says O'Toole. "You see chickens on lots of things; Sakonnet Vineyards has a chicken for its logo, lots of people in Little Compton have chickens. So, I do think that the legacy lives on. We're proud of that."
Driving down the town's rural roads on an early spring day, I still see some traces left of Tripp's and Wilbour's work. Between the sprawling fields and upscale homes are untended farmstands — a cooler full of eggs, a tin box to slip money into and a sign: "Eggs for sale."