Little Company, Huge Ideas
A Providence-based performance group is crafting big ideas that spark even bigger conversations.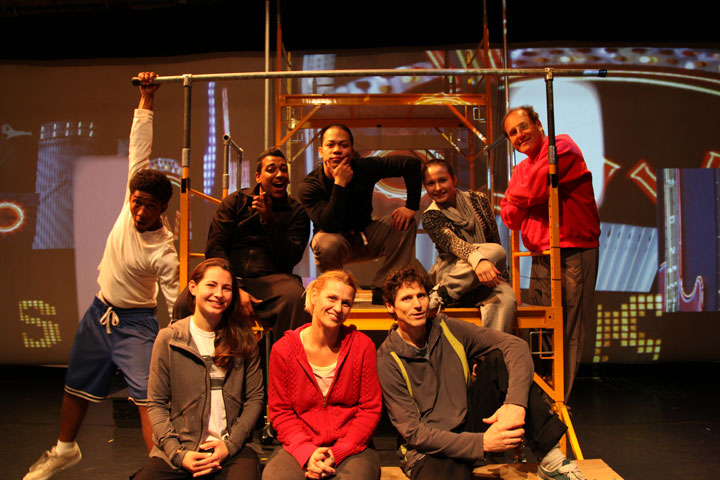 Everett Company, Stage and School in Providence forgoes dusty playbills filled with decades-old ideas for progressive, thought-provoking material that can't be seen anywhere else. The company, cofounded in 1986 by Dorothy, Aaron and Rachael Jungels, is known for producing powerful pieces of hybrid dance/theater backed by thorough academic and community research. Members are currently in the midst of a two-year research and development endeavor, called the Freedom Project, in collaboration with Brown University.
The Freedom Project explores issues relating to the prison system and recidivism, and will close with a multimedia, cross-disciplinary performance run in late 2014. But you don't have to wait that long to see what the company has discovered. Throughout this year and next, Everett will host interactive events, deemed Brain Cafes, that delve into issues related to the Freedom Project. The events feature performances as well as presentations by experts in the field.
The Brain Cafes allow the audience to become entrenched in Everett's research, all while anticipating a final, cumulative performance that puts an artistic spin on very cerebral topics. Co-Artistic Director Aaron Jungels says the idea for the Brain Cafes arose three years ago when the company was researching for BRAIN STORM, a dance/theater performance based on neuroscience and personal narrative. "We would create a piece of art, sometimes poetry or dance, that we would share and we would have a dialogue with the audience," Jungels says. "The audience seemed to be really excited by the mix of art and science. It brought that human element to it."
The Brain Cafes leading up to BRAIN STORM featured regular performances and talks on topics including attention deficit-hyperactivity disorder (ADHD), post-traumatic stress disorder (PTSD) and Tourette's syndrome. Below, watch a video of the Tourette's Brain Cafe, in which artist Sutie Madison and Everett company members performed a ballet inspired by Madison's physical tics.
The Tourette's night also featured a talk by a Brown neurology professor; watch that video here.
One of the very first Brain Cafes in February of 2011 fueled the company's interest in incarceration and eventually led to the development of the Freedom Project. "Children of poverty are at a high risk for PTSD," Jungels says. "They act out and get in trouble with the law, which causes them to be funneled into the criminal justice system."
Everett offers free dance, theater, music and video production courses to low-income youth, and Jungels says many of his students live in neighborhoods impacted by an imbalanced system. "They are part of the communities that have been targeted by the war on drugs and have paid the main costs in mass incarceration," he says. "There's a lot of interest in this subject, and people are noticing how out of proportion it is. People are going to prison for low-level drug crimes longer than violent criminals."
Jungels's interest in the topic is clear. "The more you learn about it, it starts to become a passion," he says. "There are a lot of activist groups who are also working on these issues. What we can bring with theater and art is a nice way to draw out the issues so people can approach them."
The first Freedom Project Brain Cafe is this Thursday, and features three speakers with prison experience. The first, James Gillen, is the director of the Providence Center's Anchor Recovery Community Center. His work supports formerly incarcerated individuals as well as recovering addicts and others with mental health problems. "Our prison system is used as our default mental health system," Jungels says. "…Now, generally, prisons are where people who need mental health care are warehoused."
The second speaker, James Monteiro, was in and out of the prison system for years before he transformed his life. He's in the process of developing the Billy Taylor House, a program that offers workforce development and enrichment opportunities to Providence's youth. Monteiro is a talented spoken word poet, and will share excerpts from his recent collection, The Lost Child.
The final speaker, Abe Henderson, is the director of discharge planning and case management at the ACI for Providence's Institute for the Study and Practice of Nonviolence. Henderson helps young offenders reintegrate into society after their release from prison.
Thursday's Brain Cafe is one of approximately six that will be held throughout 2013 and 2014. The next is scheduled for May 16, and focuses on the stories of young people from Everett's school and their perspective on the prison system.
In the meantime, Everett's staff and board members will work with the public and experts from Brown University to prepare for the final Freedom Project performances, which will be held at Brown in the fall of 2014. "We'll be gathering stories from people who are impacted by the prison system: formerly incarcerated individuals, their families, judges, parole officers," Jungels says. "Then in 2014, we'll present a blend of disciplines that offer different aspects of the issue, but with a focus on their stories so people can see the human story behind the statistic."
Upcoming Freedom Project Brain Cafes: April 18; May 16. 7:30–9 p.m. Free, donations welcome. Everett Stage, 9 Duncan Ave., Providence, 831-9479, everettri.org.