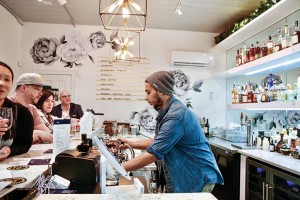 There are only eight seats in the this dainty and darling bar, but it's a hopping spot to catch up over cocktails. And by summer, the bar will extend out to a patio so you can sip drinks in the sun. According to owner, Joanna Chang, bars are 90 percent about the vibe. This new Providence hotspot is clean, airy and light-filled and it's a tad feminine. Plus, there's a beautiful mural on the outside of the tiny building, commissioned by the Avenue Concept, that will change every four months. These factors make this happening spot stand out against the typical city standards and is a new go-to for good conversations and good drinks.
What to eat: For now, Tiny Bar offers pastries, cookies and brownies, but soon they'll launch more robust snacking options.
Who to bring: A coworker for happy hour or your best friend for a therapy sesh.
What to wear: Keep it casual. Jeans and your favorite sweater do just fine.
The drink situation: The bar has a short menu with cocktails with a twist, plus nice wines by the glass. Beer is served, too.
Insider's tip: Get there as soon as it opens to ensure a spot at the eight-seat bar. It is tiny, after all!
Wheelchair Accessible:
No
Address:
377 Richmond St

,