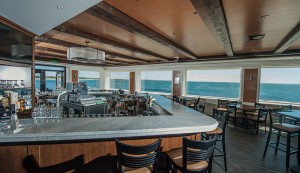 The Coast Guard House menu is fresh and chock full of seafood lovers' delights. The clam chowder gets the cream-to-meat ratio just right, the mouthwatering, buttery lobster rolls are prepared with TLC and the tuna with soba noodles, edamame, ponzu sauce, seaweed and cucumber salad is sure to tantalize any taste bud. Even landlubbers will find something on the menu here, with dishes like gnocchi Pomodoro, filet mignon and more. Brunch is also served seaside with menu options including a fried chicken and waffle sandwich, warm biscuits with strawberry butter and shrimp and grits. But the real piece de resistance lies in the reason why the structure was established in the first place: the location. Situated quite literally on the water, the Coast Guard's dining area, outside deck and terrace provides unparalleled views of the picturesque Narragansett waterfront.
What to eat: Surf and turf it up! Slurp on briny bivalves or munch on local calamari from Point Judith. Go big and add a lobster tail to your entrée for an additional cost.
Who to bring: Take out your significant other this time.
What to wear: Preppy casual will do just fine.
the drink situation: Take your time reading over the extensive (and we do mean extensive) wine list. If you prefer a brew, the restaurant serves many local craft beers on tap, too.insider's tip: Head outside before or after your meal and enjoy an uninterrupted view of the sun dipping below the horizon.