Lion King at the Providence Performing Arts Center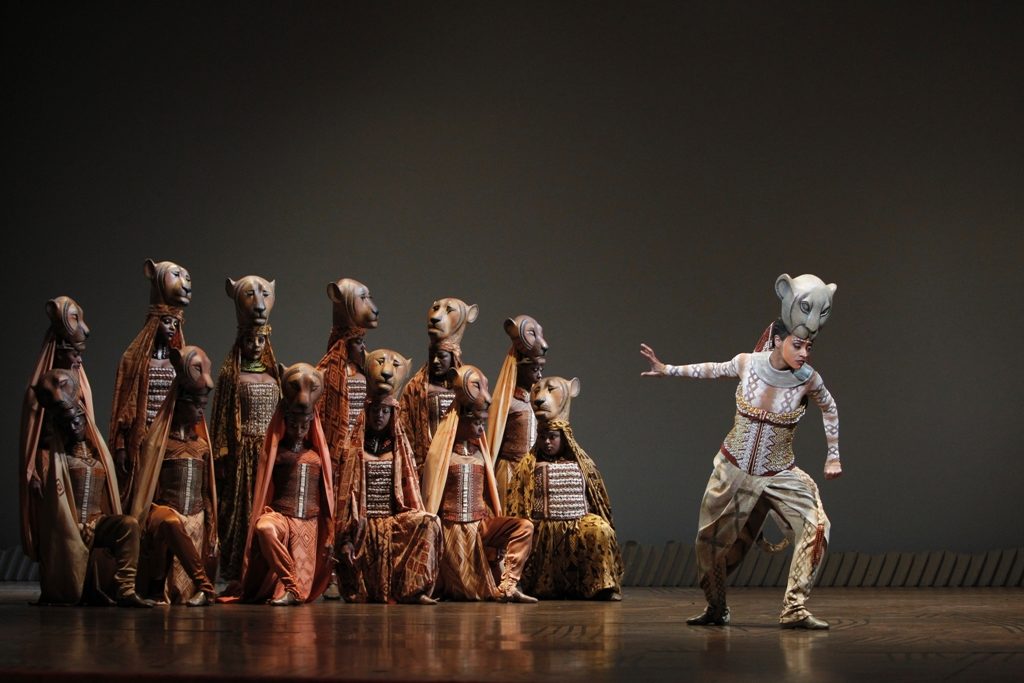 PPAC calls this their "most eagerly awaited return," and no wonder: the Lion King is a rich barrage of song and spectacle. It is, in a word, gorgeous.
In fact, this is the kind of thing the Providence Performing Arts Center does best – its gilded auditorium is the perfect setting for the creative pageantry of director Julie Taymor's adaptation of the 1994 Disney animation film, from fabric rivers swimming with shadow fish to the huge animal puppets that move through the audience in the opening act. It's visual magic.
The recently revamped sound system gets full use, too, and does proud by the cast's uniformly powerful renditions of the show's anthemic Elton John and Tim Rice songs, plus an orchestra that includes bongo-playing percussionists stationed on either side of the stage. Add a familiar, family-friendly coming of age story, some charming child protagonists and moments of slapstick humor, and you've got a show that will please all ages.
It's no wonder it's one of the world's most popular stage musicals, translated into five languages and seen by more than 54 million people in thirteen countries during its fourteen-year life. It has also, incredibly, grossed more than $4 billion for Disney Theatrical Productions. And this production is well worth seeing, with strong singing and some great performances.
One caveat: last night's show, including intermission, runs almost two and three quarter hours. That's a big increase from the hour-and-a-half-long movie, and a big commitment for younger audience members – not least because much of the extra time is spent in music and dance. The dance is incredible, of course; the cast charismatic, and their costumes, including masks and puppets galore, wildly inventive. But after a while it seemed to become a blur for my elementary school companion; matinee performances might be a better idea for anyone under 10. In fact, like a trip to a world-class art museum, after a couple of hours it began to be a bit of a blur to me, too. With no plot surprises to keep me guessing, my mind wandered; those with similarly short attention spans should consider themselves forewarned.
But everyone's attention was rapt for the opening scene, during which almost all the 200 puppets featured in the show must have been on stage or stationed throughout the audience for the song "Circle Of Life." With the big, clear, fearless voice of Brenda Mhlongo (as the baboon shaman Rafiki) leading the song, a huge elephant approached the stage while herds of antelope, lionesses in sleek masks and flowing gowns, soaring birds and stilt-legged giraffes gathered to pay homage to the lion cub, Simba, born to Pridelands king Mustafa and his queen Saribi. What does the cub's future hold? Anyone who's seen the movie – and who hasn't? – will know, but the stage adaptation can still surprise us.
The costumes are part of it. For instance, Mustafa, played by the noble sounding and statuesque Derrick Davis, is suggested by a maned mask that towers above the actor's face when he's standing upright. But when he bends forward, the mask is held in front of this face, more like the horizontal axis of a real cat, and the actors have developed deft moves that mimic the animals. Even evil Scar, a role that actor J. Anthony Crane digs his teeth into, is full of feline grace. But at other times, Simba, for instance, may be represented by a small lion puppet that's moving through the grass. That grass, by the way, is sometimes stage grass, sometimes headdresses on top of actors, and sometimes bodysuits on other actors who crawl and curl across the stage. There's almost no end to the visual creativity.
Zazu, the hapless hornbill tasked by the royal couple with looking after unruly Simba, is portrayed in a different way; the bird is a puppet that's held, and manipulated, by Tony Freeman, who's dressed all in green to blend into the background. But there's a moment when the puppet separates from its master, to bite his arm and proclaim, "This is all your fault!" It's a good joke, as is the moment when Zazu turns to the audience to tell us "This isn't in the movie!"
By intermission – an hour and a half in – Simba has lost his father in the wildebeest stampede triggered by Scar and his evil hyena henchmen, fled the Pridelands in sorrow and shame, met the delighful Timon and Pumbaa, and grown up. The two child actors who play the young Simba and Nala, his lioness friend, are replaced by adults, and the golden-voiced Syndee Winters, as the sinuous grown-up Nala, is particularly impressive. The action picks up as Nala and Simba reunite, and Simba returns to face Scar in a climactic battle scene. As Simba takes his place on Pride Rock and all the animals once more gather below, my young companion, who'd been dozing, woke up to loudly exclaim: "Finally!" We both loved the show, but I have to admit, I knew what she meant.