Linkie Marais: Life After "Food Network Star"
As "Food Network Star" Season 9 continues, Season 8 finalist Linkie Marais, who lives in North Attleboro, Massachusetts, shares what life is like after reality TV. Plus, try her recipe for Caribbean Bread Pudding with Brandy Sauce.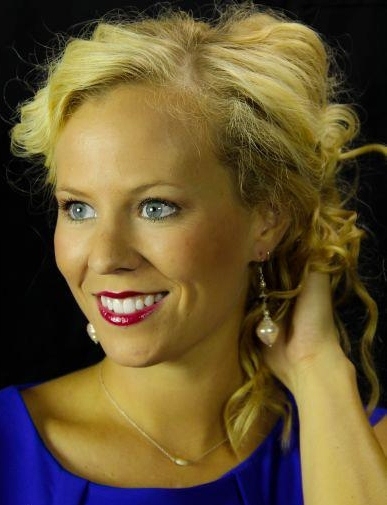 As "Food Network Star" Season 9 continues, Season 8 finalist Linkie Marais, who lives in North Attleboro, Massachusetts, shares what life is like after reality TV. Plus, try her recipe for Caribbean Bread Pudding with Brandy Sauce.
WHO: The thirty-year-old chef is originally from South Africa, and immigrated to the United States with her family when she was sixteen. She spent pre-college years in Tupelo, Mississippi, where she learned how to decorate cakes while working for a wedding catering company. Marais married her husband, also from South Africa, but whom she met in Mississippi, while finishing her Culinary Arts degree at Mississippi University for Women. She worked as a pastry chef at Ole Miss while her husband worked on his post-doctorate and earned a position there. Three years ago, the couple moved to Massachusetts. She decorated cakes for Montilio's Bakery in Brockton, and auditioned (twice) for "Food Network Star," which ended up changing her life forever.
WHAT: Marais tried out for the show twice, and she might have been eliminated after episode six, but she didn't stop there. "With persistence you can accomplish anything," she says. "I don't accept no for an answer." The reality cooking show opened doors for the blonde, blue-eyed beauty, who once competed in beauty pageants. Now she has her own local biweekly TV show, "Living Linkie Style," she regularly appears on "The Rhode Show" and she gives cooking demos at women's shows and food festivals all over the United States, including the recent Food and Wine Classic in Aspen. She's also developing her Living Linkie Style brand. "If you take Martha Stewart and combine her with someone like Cameron Diaz, who's outdoorsy and an adrenaline junkie, that's what my brand is," she says. "It's everything from cake-decorating, entertainment and living the outdoors; it's all that combined in one."
WHEN: Marais first became interested in cooking when she was four years old. "One of my first childhood memories was baking a welcome home cake for my dad when he returned from the war," she says. "I made this little lollipop with a bear face out of gum paste. I even used fondant. I made the little ears and drew a face on it." As teenagers, she and her sisters were each responsible for cooking one meal a week at home. When she first moved to the United States, she had difficulty adjusting to pre-packaged bread and the English language. "I wasn't familiar with certain words," Marais says. "My mom would send us to school with sandwiches on homemade bread. The kids would ask me, 'What do you have on your sandwich?' I'd say 'I have ham, tomato and leaves.' Then I learned the word lettuce."
WHERE: "Living Linkie Style" can be viewed biweekly on North TV in Massachusetts. You can also catch Marais at local cooking demos, which she gives at Rhode Island Kitchen and Bath in Warwick. She will teach you everything from making salads and daiquiris to multi-course meals for couples. You can also follow her on Twitter at @LinkieMarais, friend her on Facebook and read her blog at linkiemarais.com. Linkie will also appear as a host on a new TV show coming out in September, "Living Right!" airing on Fox Providence. She will join co-hosts lifestyle expert Ken Maccarone and mom blogger Audrey McClelland who will focus on everything from fashion and fitness to family and food. The first episode will air early fall mornings on Fox Providence.
WHY: Montilio's would work on eighty cakes a weekend and she loved the work. "I think my record was thirteen cakes in one day." She heard about the "Food Network Star" auditions in New York City and decided to showcase her skills. Tryouts were difficult. "You walk in there and in a matter of a few minutes, they decide if they want to cast you or not," she says. "I did the interview in person, and I didn't make it and I went home and cried for three days." She returned for a second shot in July 2011. "It wasn't until November that I found out I made it, and then I had to keep quiet. You can't tell anyone until it breaks the news. When I went off the track for filming, I had to tell all of my friends I went back to South Africa."
HOW: Marais wishes she had competed on "Food Network Star" differently, and she's bound and determined to get her own national TV show, one day. "I think the hardest thing was watching the show back. I kept thinking about what I should have done, what I could have done," she says. "I used to do pageants, and on the show, they said my confidence is an issue, and I've never thought that my confidence was an issue…. Sometimes politeness gets portrayed as weakness. I would definitely stand up for myself more." But Marais says even if she knew the show would portray her the same way, she would do it all over again. "I've been very blessed to have so many doors open for me. I've been engulfed by the whole experience and I'm running with every opportunity that comes my way."
Linkie's Caribbean Bread Pudding with Brandy Sauce
Bread Pudding
7 Biscuits
1 cup coconut
1/4 cup crushed pineapple
2/3 cup light brown sugar (packed)
5 eggs
1 cup milk
2 1/2 cups heavy cream
1 tsp cinnamon
1/2 tsp nutmeg
Sauce
3/4 cup light brown sugar (packed)
1 cup heavy cream
2 Tbs butter
1/2 cup brandy
1/2 tsp cinnamon
Bread Pudding:
Preheat oven to 350 degrees.
Prepare an 8-inch x 8-inch oven-safe dish with cooking spray.
Break biscuits into smaller pieces.
Add coconut and pineapple and lightly toss together.
Put this mixture into the dish.
In a separate bowl, combine all remaining ingredients.
Beat with a whisk until all ingredients are mixed together thoroughly. Pour over biscuits.
Bake for 1 hour and 15 minutes or until a knife inserted in the middle comes out clean. If it begins to brown too much on top, cover loosely with foil.
Sauce:
Combine all ingredients in a sauce pan.
Heat over medium high heat until it comes to a boil.
Once it comes to a boil, turn down to simmer and cook for 10−15 minutes until thickened to your desired consistency.
Serve over warm bread pudding.