Light in the Dark of Winter in Newport
Friends of Ballard Park is seeking applications for the eighth annual Illuminated Garden.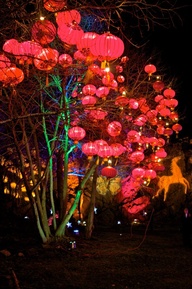 Long after the holiday lights have been packed away, Newport's only nature preserve comes alive with another type of illumination.
The three-acre meadow known as Ballard Park will soon chase the chill doldrums of February with its eighth annual Illuminated Garden event. Visitors to the park's pathways in the past have enjoyed a model of Newport made out of cardboard boxes by students at the Cluny School, a disco pond, and round red lights dangling from a tree, evoking Chinatown.
Artists, teachers working with student groups and civic organizations are encouraged to apply for this year's event. Submissions must be able to withstand high winds and have a light source and power cord. Applications are due February 1 and judges will then pick eight winners.
The educator for Friends of Ballard Park is also working with students from Newport's elementary schools to make igloos out of recycled water and milk jugs that will be decorated with Christmas lights. Not a sculptor yourself? Friends of Ballard Park is also accepting donations of working Christmas lights, outdoor extension cords and lamps that are at least two feet tall, and any cool lamp shades. They can be dropped off at the nonprofit's offices at 226 Bellevue Avenue, #10 in Newport on Mondays through Fridays from 10 a.m. to 5 p.m.
You can check out the twinkling work of the winners on February 21 and 23 from 6 to 9 p.m. The event is free and open to the public.
Ballard Park is located at the intersection of Hazard and Wickham roads in Newport. For more information, call 619-3377 or go to ballardpark.org.