The Life of a Rhode Island Dreamer
A young woman, who was brought to the United States as an infant, struggles to make sense of her place in a country that calls her illegal.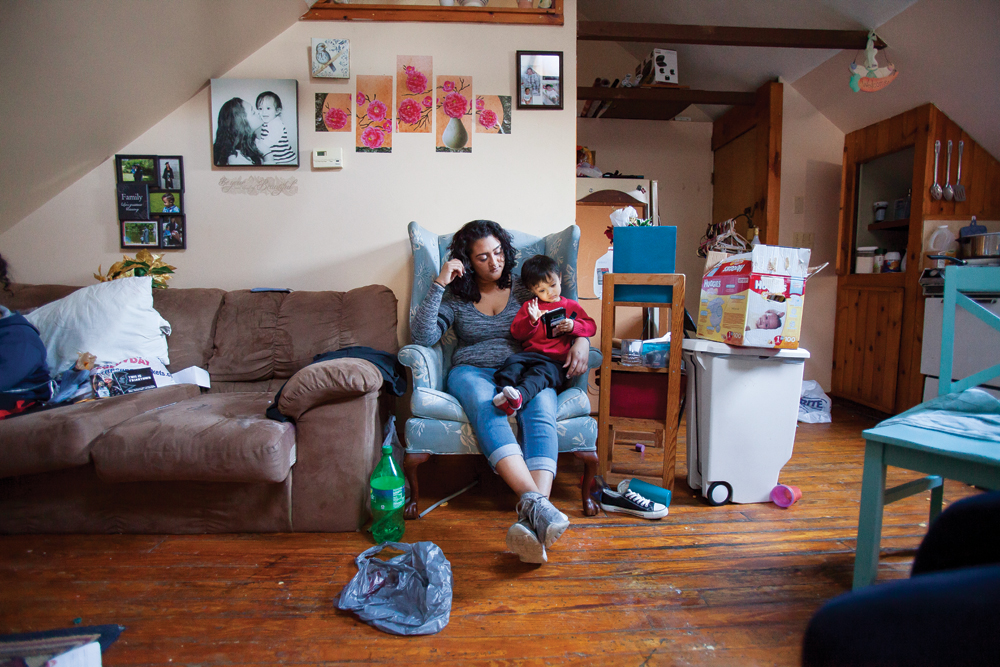 Paula Hernandez Rosales was born on the fifth of July, 1998. When fireworks crack in the sky to celebrate our nation's birthday, she pretends they're an early gift for her, too.
But they weren't bequeathed to her at birth. Paula was born in Chiquimulilla, a drug-infested municipality along a trade route in southern Guatemala.
The particulars of Paula's migration story — war, disguise, unlawful entry — belong, not to her, but to those who sit on the outskirts of her life. They're not written in ink on paper. They're folklore, but with real consequences.
When Paula was four months old, she and her mother boarded a plane from Guatemala to Mexico. Upon landing, Paula was fastened into a car seat and driven over the United States border, disguised as the son of strangers. Paula's mother paddled across the Rio Grande on a raft and reunited with her infant daughter in southern California.
Paula's father had already entered the United States without inspection. He was fleeing persecution for his role in the Guatemalan Civil War. The war had ended in 1996 but aftershocks of violence reverberated across the country — and in Paula's father, too. He was the first in a series of troubled, abusive men that Paula would confront in her eighteen years, men who lived below the law thanks, in no small part, to the unauthorized status of the women they battered.
Paula's parents settled first in California, where Paula's sister — an American by birth — was born. They moved to Maryland to be closer to family, but shortly after they arrived, her mother took the girls and fled to Rhode Island. Paula was five; she hasn't heard from her father since.
In 2004, Paula was enrolled in school in Providence where she learned English and made friends. This marks the start of her citable history, one unmoored and littered with hardship but one that's her own.
Earlier this year, another citation was added to Paula's story. One week before the inauguration of President Donald J. Trump, her application for Deferred Action for Childhood Arrivals (DACA), a program initiated in 2012 via executive order by President Barack Obama, was approved. The program is more of a bandage than a cast; it doesn't legitimize Paula or her peers in the eyes of the law and it does not forge a path to citizenship.
The familiar DACA story — of students who use the program to pursue college and an advanced career — is as out-of-reach for Paula as citizenship itself. But DACA is her best chance for survival in the United States. Through the two-year renewable program, she can get a social security card. A job that pays minimum wage on the books. A driver's license.
But the timing of the approval, which Paula had sought since she was fifteen, felt like a cruel plot twist. Trump campaigned on a promise to end DACA, calling Obama's executive order "one of the most unconstitutional actions ever undertaken by a president." As soon as she began writing her future, she could imagine its end.
As early as elementary school, Paula discovered that, unlike her younger sister, she was not a United States citizen. Anytime she brought a field trip form home, her mother refused to fill it out. A stoic woman who worked two jobs to support the family, Paula's mother rarely answered questions.
"Some of the field trip paperwork asked for my social security number," Paula says. "She'd never explain why I didn't have one. I found out by asking around."
Paula wasn't alone; about 2,000 minors without authorization are enrolled in public schools in Rhode Island, most in Providence and Central Falls, according to data compiled by the Migration Policy Institute. The state is home to approximately 29,000 unauthorized immigrants, 2.8 percent of the total population.
While her mother worked, Paula took care of the house, cooked meals and looked after her younger sister, Maria. The girls' autonomy was preyed upon when a new man entered the picture — an immigrant without legal status who would father Paula's youngest sister, also an American by birth.
Throughout elementary school, Paula says her stepfather abused her. Her mother kicked him out of the house when she was ten, but he'd park outside of Paula's school and threaten her to get into his car.
One such confrontation led to Paula's hospitalization. The Rhode Island Department of Children, Youth and Families (DCYF) launched an investigation of the abuse, which prompted Paula's stepfather to flee the country.
DCYF's involvement caused irreparable instability in the Rosales home. Paula and her mom fought constantly. Shortly after she entered Hope High School in Providence, Paula moved out of her childhood apartment and in with a boyfriend, who lived next door.
For a couple of years, she thrived. She joined her high school's Junior Reserve Officers' Training Corps (JROTC), a four-year elective for students interested in pursuing military service. Through JROTC, she participated in community service projects, she performed with the color guard and she earned rank insignia to pin to her navy blue service coat.
"I liked the idea of being in uniform, having instructions," she says. "I was thinking about joining the service for a while. Being in JROTC alone and applying for colleges — it would've been helpful."
It was around this time the DCYF social worker assigned to Paula's case told her about DACA. In order to join the military, Paula would need her DACA work permit. Enlisting as a DACA recipient would put her within reach of a military program that offers a rare path to citizenship for undocumented immigrants.
Paula began working with Dorcas International Institute of Rhode Island on her application, with hopes that she'd be accepted shortly after her fifteenth birthday.
Paula is one of approximately two million Dreamers, young people who were brought to the United States as children without authorization to live here permanently. According to a Center for Migration Studies report, 66 percent of people who arrived or joined the unauthorized population in 2014 overstayed legal visas for travel, work or school. The remaining 44 percent crossed our northern or southern borders without inspection, as Paula and her parents did in 1998.
The "Dreamer" moniker is inspired by a failed 2001 Senate bill — the Development, Relief and Education for Alien Minors (DREAM) Act — which sought to provide a path to permanent residency for unauthorized minors. Various incarnations of the DREAM Act floated through the legislature for a decade before Obama announced his DACA executive order. The program has served more than 740,000 people nationally.
As of September 2016, 1,379 DACA applications were accepted in Rhode Island. About 5,000 teenagers and young adults are DACA-eligible here. But Rhode Island has the lowest application rate in the United States when looking at the potentially eligible population and the second lowest rate (after Hawaii) when looking at the immediately eligible.
"There are a number of factors that might account for the low application rate, key among them the demographics of the unauthorized population in Rhode Island," says Michelle Mittelstadt of the D.C.-based Migration Policy Institute.
Guatemalans, who represent the largest share of the unauthorized population in Rhode Island, are applying nationally for DACA at lower rates than expected, for reasons Mittelstadt can't quite pin down.
"There are other possible explanations for low application rates, among them the climate of reception — in other words, do people feel a need to apply because of the concern they might be picked up for removal? — as well as how widely the particulars of the program have been disseminated to populations in the state," Mittelstadt says.