Life After Idol: Erika Van Pelt
The American Idol vet spills on Kickstarter, her new album, tours and more.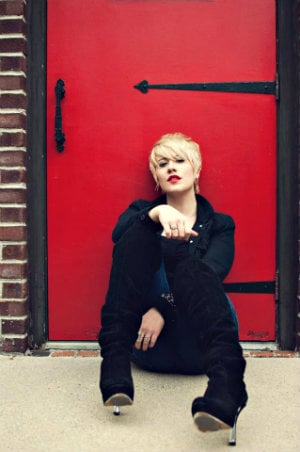 She made the top ten on season eleven of "American Idol" and saw the country on the American Idol LIVE! Tour in 2012, but Rhode Island native Erika Van Pelt is just starting a musical journey of her own.
After "Idol" duties slowed, Van Pelt, a Newport resident who placed tenth on the show, dove into a busy schedule: finishing up her record, shooting music videos and working two jobs. She owns and operates VP Entertainment, a high-end mobile DJ company that caters to weddings and events in Newport.
All of her hard work is finally paying off. Van Pelt's debut album, My Independence, will be released tomorrow, October 8. The album is rooted in diverse genres ranging from rock and roll, funk, pop and everything in between. "I want my record to be as eclectic as I am," Van Pelt says. Her first single off the album, "Listen, Learn, Then Delete," is a rebel anthem about freedom and exemplifies her own experiences after "American Idol." Here's the video:
Her short time on the show tested her strength to continue in the music industry, but the tour ignited a newfound passion. "Being on the road with the American Idol LIVE! Tour really taught me that I'm built for it," she says. "It's hard, it's definitely not easy, it can be pretty brutal. But at the end of the day I loved being on the road. I remember being so sad when the tour was over."
Van Pelt's ultimate goal was to break away from the "Idol" box and exhibit her personality, something fans didn't get to see on the show. And while she is flattered by comparisons to Adele, Pink, Joss Stone and Kelly Clarkson, at the end of the day, "I want to be my own artist," Van Pelt says.
After the show wrapped, Van Pelt was one of just two contestants who didn't receive a record deal; but it didn't hinder her momentum. "Elise Testone (who placed sixth) and I were the ones not to get a record deal out of the whole thing," Van Pelt says. "She and I turned around and said, 'Let's do things. Let's do things our way.' " Van Pelt recently went down to Charlestown, South Carolina, to sing backup vocals for Testone's new album, In This Life.
For her own album, My Independence, Van Pelt collaborated with two producers: Anthony J. Resta, who has worked with Elton John, and Christian Lohr, who has worked with Joss Stone. "I was lucky enough to be approached by two really great investors who have been my producers," she says. "They've been part of my songwriting and they were willing to work with me on my record."
To make her record dream a reality, Van Pelt launched a Kickstarter campaign with a goal of raising $20,000 by September 27. In just a month, the artist surpassed her goal by $471 with 273 supporters. "Kickstarter is not a charity. It's an investment I'm creating," she says. "It's an investment in my dream that I've been creating my whole life."
Van Pelt hopes the album's next single, "Hurricane," will empower her younger fans. The song is filled with emotional undertones about being your own worst enemy. "Sometimes I'm that train that won't stop running. I tend to leave a bit of dust in my wake and it's just that I'm hoping a lot of my younger fans are going to get a lot out of this song," Van Pelt says. Here's a preview of the single:
Along with the new album, Van Pelt is in the midst of an East Coast tour, with an outdoor concert in downtown Providence on October 12 as part of the Gloria Gemma Flames of Hope weekend and a show at the Providence Place Mall on November 16. Learn more here.