Life, According to Sam, Is What You Make It
The nation mourns a seventeen-year-old inspiration.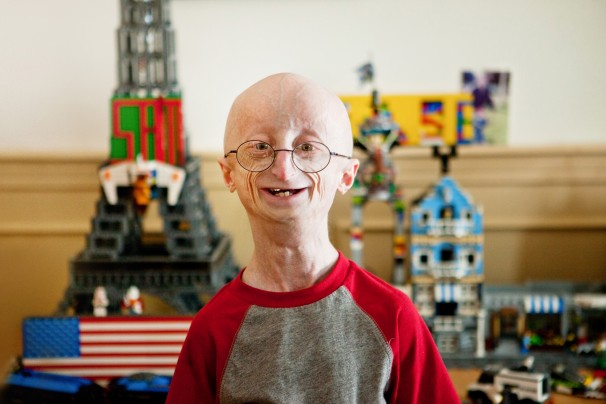 This morning, friends, family and the public gathered at at Temple Israel in Sharon, Massachusetts, to say goodbye to Sam Berns, a kettledrum pro, Eagle Scout and teenage philosopher who inspired millions with his take on the good life.
The seventeen-year-old died on Friday night in Boston of complications from Hutchinson-Gilford progeria syndrome. Sam was the face of the rare genetic disease, which resembles the natural aging process and affects 200 to 250 children in the world at a time. The average lifespan for a victim of progeria is thirteen years old.
You think that slowed seventeen-year-old Sam down? In less than two decades, Sam achieved more than most of us would in eight. He starred in an HBO documentary, impressed Patriots CEO Robert Kraft, chatted with Katie Couric, chilled with the Bruins, waxed philosophical at TEDx and, all the while, earned straight-As at Foxborough High School.
Sam dreamed of going to Brown or MIT to study genetics, but his contributions to the world of medicine have only just begun. His parents founded the Progeria Research Foundation when Sam was a toddler, shortly after he was diagnosed. The PRF's achievements are extraordinary; within Sam's lifetime, the foundation, based in Providence and Peabody, Massachusetts, took an obscure disease and isolated the gene that causes it, created a cell and tissue bank for further genetic study, founded an international medical and research database, and launched several clinical trials that, in 2012, led to the first-ever treatment for progeria.
Sam was the PRF's inspiration, but he also participated in every step of the journey, enrolling in drug trials and serving as a role model for younger kids with progeria. "I just couldn't be more proud. He's so eloquent and mature and he's just so giving. He sees the bigger picture," Sam's dad, Dr. Scott Berns, said in "A Mother's Momentum," our May 2013 profile of Sam's mom, Dr. Leslie Gordon. "It's not just him alone; it's about all the other kids. He really, he's just a very motivating, inspirational kid. Progeria doesn't define him; he defines who he is."
Sam changed the way of the world, not only for kids with progeria but for the rest of us, too. During Saturday's playoff game at Gillette Stadium, where Sam was slated to serve as the Patriots' honorary captain, the teams led a moment of silence in Sam's honor. The New York Times, The Huffington Post, The Boston Globe, ABC and more major organizations have shared the news of Sam's death, and countless celebrities and athletes have expressed their condolences on social media.
But as he said during his TEDx talk last October: "I try not to waste time feeling bad for myself, because when I do, there's no room for happiness." Let's leave a little extra room for happiness in honor of Sam, today and always.
According to the PRF's website, "Expressions of sympathy and support may be expressed using #prfsam on Twitter and/or directed to the Progeria Research Foundation at P.O. Box 3453, Peabody, MA, 01961-3453."