Letters: Rudy's Deli, Cider Doughnuts, Library Treasure
Rhode Island Monthly readers weigh in.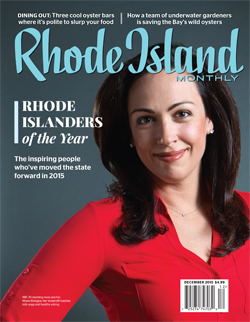 "Historic Renovations," Reporter, October
How about fixing our horrible roads!!
BELLA MACKIN
VIA FACEBOOK

"9 Amazing Things You Can Take Out From The Library," ridaily, October
I didn't know about the seed library. What a great idea!
KELLY FRYE
VIA FACEBOOK

"Rudy's Delicatessen Makes a Comeback," The Dish, October
A throwback to yesteryear. Love the chopped liver sandwich and the soups!! Arnold is smiling… This is his legacy.
MDAVID SEIDMAN
VIA FACEBOOK
Rudy's is a welcome addition to Cranston eateries. Great soups.
WAYNE ISE
VIA FACEBOOK

"Making Cider Doughnuts at Jaswell's Farm," The Dish, October
Freakin wicked good!!! Or if you're from Mass — awesome.
LEE PAGE
VIA FACEBOOK

Can you ship some to Western Australia??
ROBYN E MULVEY
VIA FACEBOOK

Dining Out: The Shanty, September
Best. Place. Ever.
ADRIENNE MARIE
VIA FACEBOOK

Huge thanks to Rhode Island Monthly for this article. We couldn't succeed without all the wonderful support we've gotten.
THE SHANTY CREW
VIA FACEBOOK

"Skydiving Over Newport," Snapshot, August
Haha. I still remember my first jump out of a C-130. What an experience that was.
JOE MCNALLY III
VIA FACEBOOK