Letters: Nursing Excellence, Glee for Gum
Rhode Island Monthly readers weigh in.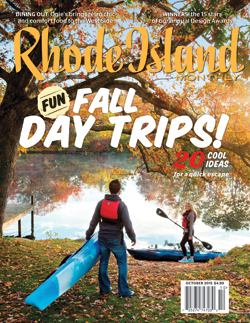 "Excellence in Nursing," September
What a welcome surprise to see the featured "Excellence in Nursing" recipients! While the issue featuring "Top Docs" [May] is well deserved, it's nice to see the spotlight on deserving representatives of a profession I love deeply.
Nursing is the backbone of our health care system. A nurse's priority has always been the care and wellbeing of patients, and although we don't expect public recognition for our calling, it sure is nice to see it given! Thank you for sharing!
Mary Ellen Casey, RN, CIC, M.Ed.
West Greenwich

Current, August
Thanks to everyone at Rhode Island Monthly for both the fabulous profile on our company president (wow!) and the Best of Rhode Island award for Glee Gum (yay!). We so appreciate the coverage.
The article about Deborah [Schimberg] particularly filled us with glee for being so creative, informative and thoroughly fact-checked (it may be the first time we've ever said that about an article).
Molly Lederer
Verve, Inc.

Style, August
Happy to see our dress featured in Rhode Island Monthly's August issue and proud of our #BESTofRI win! Would you hold a rooster? Yes or no?
Gossip Boutique
Via Facebook

"Hidden Rhode Island," January
#TBT to when one of our favorite not-so-hidden gems was an @RIMonthly cover star.
Big Blue Bug, @bigbluebug
Via Twitter

"No Peace for this Portsmouth Monk on a Wind Turbine," ridaily, August
This man has every right to be up there and also has a right to privacy. If a person was face to face and gawking the way the controller used that piece of machinery, it could be considered stalking! Zooming in and out and getting closer — that is stalking with a camera.
Donna Lee Tschuta
Via Facebook