Letters: Inside the Emergency Department; Mom Blogger Audrey McClelland
Read the letters from our July issue.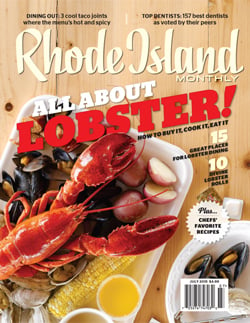 "Overnight in the E.D.," May
Memories, as many good as bad (difficult). Great staff, great colleagues, countless psychiatric evaluations in the busiest Level One Trauma Center in the Northeast. Nothing that you don't see, outstanding team efforts, I miss it and the people (believe it or not).
Ray Cooney
Via Facebook
"Pot Luck," At Home, May
Good article. I only have a small porch and will need to try a container garden this year.
Stephanie Corso
Via Facebook
"Hey Everyone, It's Audrey Here," May
What a fabulous description of a brilliant blogger and the hard work that has led to her success. Audrey McClelland is such a joy to watch and I've been blessed to call her a friend ever since those days of Pinks and Blues.
Susan Carraretto
Via Facebook
"Mr. Lemon," Snapshot, May
My favorite, did not know many knew about it! It was the first place I hit when returning from Florida, after living there for way too long. Love the owner and his sisters, still live on the property, all about family!
Kristin Hicks
Via Facebook
"Under Lock and Key," Current, May
I visited the Museum [of Work and Culture] with my grandchildren last year. Wonderful experience! It was like stepping back in time. Highly recommend.
Christine Andrews Cole
Via Facebook
"Whipstitch Sewing Cafe Opens in North Providence," ri daily blog, May
I've driven by and wondered, what's this all about? Yea! Fabric right down the street. Not to mention the cheesecake! I'll be around. Soon.
Karin Serbus Marchessault
Via Facebook