Letters: Doughboys at Holy Angels, Rhode Island Monthly Love
August letters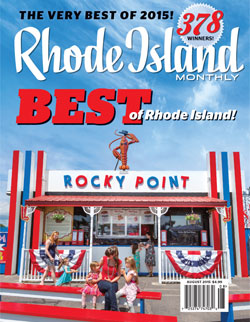 Publisher's Note, June
Growing up on Maple Avenue in the sleepy town of Barrington in the '50s and '60s was a unique and treasured experience. My grandparents were part of the influx of immigrants who settled in Barrington and were instrumental in helping to build Holy Angels Church. My brother and I would anxiously await the arrival of the festival in August, celebrating the Feast of the Assumption. We would watch them set up the rides for the carnival and couldn't wait to go on them. Fireworks followed the end of the Feast at Chianese Field and culminated on Sunday with a solemn procession of parishioners carrying the statue of the Blessed Mother. I remember my dad running out and pinning dollar bills on the statue.
While the feast still continues, it is a mere shadow of what it was back then. Many of the children and grandchildren of those people work very hard to preserve this tradition and as we celebrate 100 years of Holy Angels Church [August 13 to 16], I invite you to stop by and have a doughboy!
Adele Assante Carlson
Barrington
Praise for Rhode Island Monthly
I was born in Newport, Rhode Island, in 1950. My dad was stationed there. We moved to New York, and now I live in South Carolina. When my brother passed a few months ago, we returned to Newport for his funeral. While there, I saw a copy of Rhode Island Monthly, so I sent the card to have your magazine come to my home. I am ecstatic. I love reading about what's going on in my hometown and surrounding areas. My friends now read the magazine, so I keep the copies in the teachers' lounge for everyone. Everything about the magazine is awesome. Pictures are beautiful, and all of the articles are great. When my subscription runs out, I will renew. Keep up the good work. Thank you.
Sheila Graham Parson
Kingstree, SC