Letters: Bike Dreams, Oyster Restoration Success, A Sour Taste
Rhode Island Monthly readers weigh in.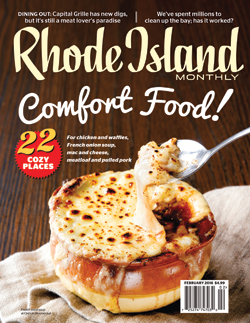 A huge heartfelt thank you on behalf of Project Broken Wheel Foundation and all our volunteers for sharing our program in the December Rhode Island Monthly publication. We have already started to receive calls from people reading about our program from the recent publication. The foundation has continued to grow due to grateful media attention like Rhode Island Monthly.
Project Broken Wheel Foundation is very fortunate to have Rhode Island Monthly cover our program, and many underprivileged children will benefit due to the enhanced media exposure.
Frank Martucci
Co-founder, Project Broken Wheel

"The World is Their Oyster," December
I loved your story on OGRE (Oyster Gardening for Restoration and Enhancement program) in Rhode Island Monthly. I sent it to a number of people, and I thought it was well done, even with regard to controversial issues.
Congratulations on your piece. It was an important story, and you told it well.
Janet Coit
Director, Rhode Island Department of Environmental Management

"11 Local Beers for Celebrating the Holidays," the Dish, December
In the course of reading what should have been an innocuous beer review, I was pretty shocked to come across this line: "Adelia wants to be a part of your holiday celebrations. She is an aged, tart blonde ale (kind of like Hillary but more fun!)."
Not only is this not funny or clever, but it is extraordinarily sexist. Politicians may be open season for satire, but a beer review is no place for politics, and a general interest magazine such as yours is never a place for sexism (or ageism, for that matter).
I hope Rhode Island Monthly will think twice before publishing discriminatory statements of any kind in the future.
Phoebe Hall
Providence