Letters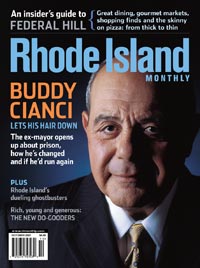 True saints
Thank you so much for including a story about the revitalization of Pierce Street in Westerly ["Pride Street," August]. As many South County communities struggle to meet federal fair housing requirements, Pierce Street is a story worth telling.
There is one part of the story that you missed, and that is the story of the Saint family and their family business, Saint Management LLC.
Six years ago, five years before the first demolition and reconstruction project on Pierce Street, the Saint family purchased four properties on Pierce Street and began the laborious process of gutting and completely renovating each property.
With fifteen rental units on Pierce Street, the Saints have weathered the transitions of tenants littering their yards, vandalizing the walls and fixtures, and failing to pay their rent. Each time the family removed the litter and garbage, and repaired the apartments. While continually keeping their rents below the average rental prices of South County, they have strived to bring new families to Pierce Street who wish to improve upon their lives and honor and respect the quality of housing provided for them.
Robert Vincze
Warwick
Bar tabs
I always look forward to the Best of Rhode Island issue [August].
I was delighted three years ago when you finally ran best gay bar in Rhode Island in your poll.
For the last three years I attended the Best of Rhode Island Party and had a blast. I decided not to attend this year because you took out the category of best gay bar. I was wondering what made you do this. The state of Rhode Island has many gay people who live and shop here, and I know that they were more than put off that you took this category out of this year's Best Of.
Now we will wait and see why. I do hope you will rethink this decision next year.
Stephen Hartley (a.k.a. Miss Kitty Litter)
Pawtucket

Editor's Note: We decided to retire, at least temporarily, several categories to make room for some new ones, so we may bring the best gay bar category back in the future.
Frozen assets
I recently enjoyed your article about ice cream shops in Rhode Island ["10 Scoops of Summer," July]. Since we are a new shop, only open for a little over two months, your staff probably did not know about us when writing the article. We are located in Warren, on the waterfront, and have twenty-eight flavors of hard ice cream, and many different flavors of gelato and sorbet. Our shop is called Carriage House Creamery since we are in a 1790s carriage house. Thanks for your time and please include us in your next article.
Ray Brierly
Warren
Editor's note: All of the shops we included serve house-made ice cream; Carriage House Creamery features ice cream from Bliss Brothers in Attleboro.
Correction: In our Best of Rhode Island feature [August], we printed an incorrect address for the winner of Best Vintage Bath Fixtures, Loo Loo Design. The correct address is 255 Bristol Ferry Road, Portsmouth.