Letters
Reader letters from our May issue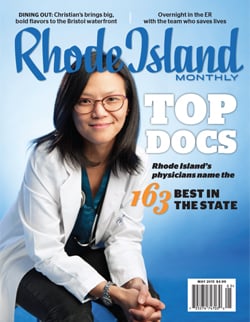 Buds of History
Thank you for the article and photos about the Whim in the March issue ["Down by the Sea"]. Not only are the home and gardens a magical place, they are also full of history. After Edith Wharton sold the neighboring Land's End property, Rhode Island's Governor John Beeckman moved in. My great-great grandfather, John Balfour Urquhart, was Governor Beeckman's estate manager and president of the Newport Horticultural Society. He raised his family at the Whim and oversaw the prize-winning gardens from 1904 to 1928. My husband and I were very fortunate to be married in the Whim's gardens where the spirit of history, both Rhode Island's and my family's, is still very much alive thanks to the current owner and caretaker.
Julie A. Novak
Cranston
Bistro Boast
Sadly, you neglected to mention Le Central in your last issue concerning restaurants in Bristol ["Waterfront Wonders," March]. This is a wonderful bistro with great food. Jesse and his staff are terrific and really care about their clientele. It is a real treasure! I hope that you can rectify this in your next issue. They deserve the recognition.
MaryAnn R. Opton
Barrington
Hometown Love
Having lived contentedly in Portsmouth for the past twenty-five years, I was, of course, disappointed that my town did not make the cut out of thirty-nine cities and towns on your list ["Best Towns," March]. It would be helpful to list the criteria on which the towns were selected.
Dorothea Doar
Portsmouth
From the Editor
Our "Best Towns" story showcased fifteen of our favorite towns, each with a distinct personality. We like Portsmouth too, and although it didn't appear on the list this time, it's been included in best town features that we've done in previous years.
For the Record The cover story in our March issue ["Best Towns"] incorrectly stated the location of Tiverton. As fans of the bucolic East Bay town were quick to point out, Tiverton is part of mainland Rhode Island.