Letters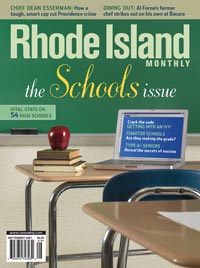 Picture perfect
It looks like the Puritans of Massachusetts are at it again [Letters, "Not a pretty picture," August]. First they kicked out Roger Wil-
liams, and now they are judging the covers of our magazine. Will someone please tell them it is the Rhode Island Monthly? Admiring a beautiful woman in a bikini is part of our culture!
Bob Kotlen
Cranston
Thanks for the scoop
I would like to thank you for including Krueger's Homemade Ice Cream in your ice cream article ["10 Scoops of Summer," July].
We work hard to produce the best possible ice cream and gelato that we can, and it is great to be recognized for that. You captured our business exactly, and I can't express how thrilled my wife and I were with the article.
We have already had people from around the state coming in to tell us that they read the article and had to try us out. It is really great to see our employees beam with pride when someone comes in and mentions the article.
William Krueger
Krueger's Ice Cream
North Kingstown
Up River uproar
I disagree entirely with Karen Deutsch's review of the Up River Café [Dining Out, July]. I visited the Up River Café in June for a business meeting and had the best sandwich of my life! My food experience was topped with great service and a fantastic atmosphere.
I have an eclectic palate and a not-afraid-to-try-anything-new attitude. I spent many years living and dining in Manhattan, and I am also a well-traveled diner who has explored the foods of Italy, Israel and Grand Cayman. Her opinion that the restaurant should have a "self-imposed limit of a half-dozen ingredients" has done a real disservice to your readers. I applaud the chef and owner for putting this creative, refreshing, indulgent-without-the-guilt menu together.
I had the breaded eggplant Napoleon with goat cheese, tomato compote, and a green bean, cucumber and shaved red onion salad for $8. This would have cost $15 elsewhere and would not have been as tasty. It was perfectly cooked eggplant, crispy yet soft in the middle, fresh-tasting not oily, layered with the goat cheese and tomato compote, and seasoned perfectly. You would think that an eggplant sandwich would be typical and boring, but it was exciting and not overly eccentric. Thankfully, there were no carbs on this plate, which came with the freshest green bean salad.
I can't believe your dining critic was disappointed with the additions that an experienced palate should have been able to enjoy.
Jennifer Lee
Richmond
What was she thinking? I read Karen Deutsch's review of the Up River Café in Westerly. I agree with everything she said. We went there last night for dinner and were totally wowed by the ambience, the friendliness and efficiency of the waitstaff, the high, high quality of the food, and the exquisite wines. And we left puzzled and astounded that after all her raves, Ms. Deutsch only gave the restaurant two stars! How in the world can that happen? This had to be an error, and if so, it's one that needs to be corrected. We put it on our four-star list anyway.
Kate O'Kula
North Kingstown
A Portsmouth shout-out
Your story on short getaways ["Getaways on a Time," July] caught my eye when I saw my old stomping grounds of Portsmouth, New Hampshire, listed. I read the article with fear that you had disclosed all of my secret spots to other Rhode Islanders, but thankfully you were only able to pick up on a few.
In all seriousness, Portsmouth is the gem of the New Hampshire seacoast. It offers several hotels right downtown, which leaves you within walking distance of the unique shops, restaurants and parks in the harbor. And while you won't find many, if any, "snobby locals" as you put it, you will find your usual rude tourists from Massachusetts wearing their full Red Sox and/or Patriots gear. But of course they make for great conversation as I people-watch at my favorite coffee shop, which you didn't list.
In any event, it's worth the short trek, just a little over an hour and a half, to spend the day in a beautiful little town. I'd love to list specifics as to all the great places to go, but you'll have to do some leg work on your own.
Robyn A. Sisti Devine
Warwick
Correction: In our Best of Rhode Island feature [August], we included an incorrect address for Clover. The correct address is 233 Westminster Street, Providence.