Letters
February letters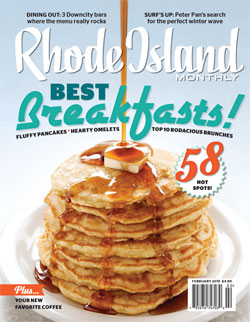 Powerful Suggestion
Your recent piece, "Powerful Women" [December], should have also included Helene C. Martin, who is the chief operating officer (acting) of the Eleanor Slater Hospital, where she also serves as the nurse executive.
She is the first woman to serve in an executive position at the hospital in its 129-year history.
The 495-bed Eleanor Slater Hospital is the state's only public hospital with two campuses (Cranston and the Zambarano unit in Burrillville).
She has also served on the Rhode Island Commission on Women.
Shannon Beverly
North Providence
---
On Rhode Island Monthly's Facebook Page
"Why We Love National Chain's Holiday Display," ridaily December
I'm interested in knowing who puts that one lit tree in the woods off 295 on the west side around exit 6 or 7? Maybe I shouldn't ask and let it continue to appear magical. —Heidi Thompson
"Six Cheap, Fun(ish) Ways to Reduce Your Electricity Bill," ridaily December
Make the Rhode Island culture about respecting hard work and jobs instead of about welfare and handouts. I've been insulted and called names and laughed at for working and wanting to work, but I can pay my bills and not live in fear of going without basic necessities.
—Evelyn Livant
"Web Extra: Fall River Food Tour," ridaily December
Love this place [Portugalia Marketplace]. Best choices of peanuts, almonds and fava beans. Plus much more. Well worth the trip.
—Joanne Lopardo