Letters
December Letters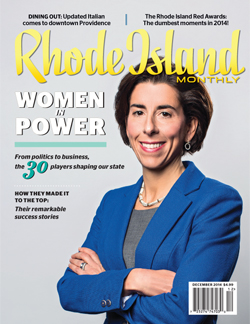 Court Schooling
Glad to see a great article on Bill Reynolds, ["He's Got Game," October]. He's one of the true greats in Rhode Island sports — not only on the sports scene but also behind. I was playing pickup basketball with Billy at CLCF [Cranston's League for Cranston's Future] for years. My son was playing basketball for Hendricken at the time and Billy's guidance and encouragement directed us in a path we really never knew. My son went to Phillips Exeter Academy, played a post-graduate year and then got accepted to Amherst College to play basketball. This would never have happened without Billy's encouragement and a realization to use basketball to achieve the ultimate education possible. I said it before and I'll say again: Thank you Billy.
Donny Carcieri
Orlando, Fla.
Payday Discord
A recent article presented a one-sided view of payday lending in Rhode Island, offering readers a skewed look at a complex topic [Reporter, October].
Because of the author's lack of balance and overreliance on a handful of anecdotes your readers may be unaware that payday loans make personal and economic sense for thousands of hardworking Rhode Islanders.
The loans are simple, reliable and transparent, and are valued by those who choose to use them: 96 percent of Advance America customers rate their experience as good or excellent.
In neighboring states without regulated lending, borrowers do not experience fewer financial challenges, but they often must turn to unregulated online lenders that offer no consumer protections and are often more expensive than storefront loans. Without a regulated marketplace, Rhode Islanders would be faced with the same difficult decision.
And while we welcome their entry into the market, nonprofits alone cannot fill the demand for short-term credit.
Payday loans help Rhode Islanders to bridge a gap in the credit market, and are an effective short-term financial tool.
Jamie Fulmer
Senior Vice President of Public Affairs
Advance America, Cash Advance Centers, Spartanburg, S.C.