Letters
October Letters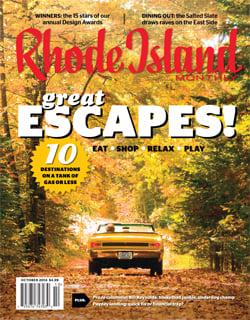 Full-Grown Fitness
I am writing on behalf of Unleashed in regards to the recent Best of Rhode Island Awards [August]. As loyal readers and active members of the community, we were very honored to be recognized for our facility. Unfortunately, we were described as being a children's facility that also offered classes for adults. This is very misleading. We do offer four classes per month for children but are in fact an obstacle fitness and functional training center primarily for adults, offering more than 100 adult classes per month.
As the only 6,000-square-foot indoor training center of its kind in all of New England, we take great pride in our specialized training. Our classes include (beginner to advanced) TRX, kettle bell, certified Spartan Group X, Insanity Certified, boot camps, obstacle fitness, kickboxing, Ninja Warrior training, small group, semi-private and private personal training. We have battle ropes, vertical ropes, six, eight and ten-foot walls, traverse ropes, cargo nets, monkey bars and much more.
For those who wish to learn more about our training, we invite you to our website at unleashedusa.com or to Unleashed at 5 Soule Street in Warwick. All athletic abilities are welcome! We offer your first trial class free.
Janine Calise
Owner, Unleashed
Warwick
---
Water Worries
I happened to be in Newport on vacation and picked up a copy of Rhode Island Monthly that was in the room. I noticed your article ["Opening the Floodgates," Reporter, August] and it rang a bell since I was one of the thousands who were affected by Sandy.
I must admit I, too, had heard of the new higher flood insurance rates coming in 2014. So when I read your story, it rang a bell. I was in shock when I read a story in Newsday of a hospital getting a $1.13 billion bandage of aid from FEMA. Now we know why our rates are going to go up and up and up. Great story.
Andrew Hager
Bellmore, N.Y.