Letters
August Letters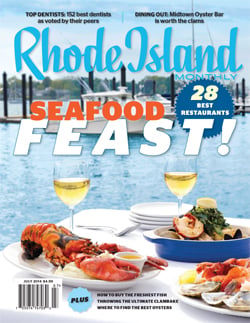 Hoodwinked
Every time I read something by Ann Hood, I expect to be moved. Whether it's humor or pathos, I always end up wiping a tear. I'm not sure if it's because I partly identify with her Italian-American family or just plain being human. Her coming-of-age story "Cresting the Dunes" [June] brings up long-ago summer memories of myself, as a young woman thinking I knew everything, then getting to middle age and realizing it wasn't so — taking people for granted and thinking they'd always be there for you.
It was only at age fifty, many years ago, that I learned not to take those close to us for granted. I remember blowing out the candles on my cake at that age, looking at my dad, who passed away the following year, and looking at the rest of my family at my birthday celebration and, to quote Ann, taking every beautiful moment of it in!
Adele Assante Carlson
Barrington
Clinical Buzz
I want to thank you for a wonderful article in Rhode Island Monthly ["Allergy Play," Top Doctors, May]. I have had so much positive feedback from it — from patients to neighbors to families interested in our work. You did a wonderful job capturing what we were doing, and I really appreciate it.
Elizabeth McQuaid, PhD, ABPP
Director, Brown Clinical Psychology
Training Consortium
Associate Professor (Research),
Department of Psychiatry and Human
Behavior, Alpert Medical School
Pampering Press
Thank you so much for the wonderful exposure on 360 Face Mind Body in the May issue of Rhode Island Monthly ["Healthy Pampering," Top Doctors]. We are very proud to offer spa treatments to those people undergoing health challenges. I really appreciated Rhode Island Monthly giving us that amazing press and recognition.
Michelle Maynard
360 Face Mind Body, Coventry