Letters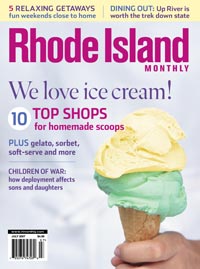 Olneyville rising
I read with interest your article "Last Call for Sin" in the June issue. But I and others here were both saddened and disappointed to see a photo of Rising Sun Mills featured so prominently in your story.
Struever Bros. Eccles & Rouse has invested a great deal of time, money and effort in restoring and rehabilitating old mill buildings and turning them into mixed-use, mixed-income viable centers of activity and success. Rising Sun Mills on Valley Street is one such project. We have worked very hard with many local community groups and nonprofits in Olneyville to help tackle the tough issues in this neighborhood. We have been advocates for and investors in programs that are helping to decrease the severity of these problems, and those programs are making a difference. In our meetings with neighbors and other residents, there is a growing sense of confidence, of place, and of a rebirth.
Has the problem of prostitution gone away? No it hasn't, but it has greatly diminished. A greater police presence on the streets, thanks to the leadership of Colonel Esserman and his staff and officers, the revitalization of parks and other gathering places, and the increase in activity by the residents, tenants, commercial and retail businesses all contribute to a safer environment.
My hope is that Olneyville becomes viewed by your readers not for what it was but for what it increasingly is: a neighborhood working its way forward, and doing so with confidence.
John Sinnott
Managing Director of Providence Operations
Struever Bros. Eccles & Rouse
Where is primary care?

Your May 2007 article on the "Top Doctors for Women" recommended primary care physicians as one of the best referral sources for women who need specialty care, yet it excluded primary care physicians from the article.
Women (and men for that matter) who need medical care are best served by a relationship with a personal physician, such as an internist or family physician, who specializes in the prevention of disease and management of chronic illness, and who can provide most of their care. For the patient with multiple and complex problems, primary care physicians coordinate the care that patients receive from subspecialists like those you include in your list.
There are many primary care practices that are organized to meet the needs of women patients that deserve the same recognition the subspecialists in the article received. I hope that future versions of your survey correct this oversight.
Yul D. Ejnes, MD, FACP
Glocester

Green article not so green

A lot of great information was covered in "How Green is Rhode Island?" [April]. But the paper used for your magazine is anything but green.
Your paper should at least meet the guidelines of the Forest Stewardship Council. This is a chain of supply that starts in the forest with managed forest lands, utilizing harvesting methods that are sensitive to the overall surrounding areas, printers that use environmentally sensitive inks and trucking companies that use a percentage of biodegradable fuels. Your paper should also contain at least 10 percent post-consumer waste.
With a little work, your overall product can be as "green" as any publication on the market.
Jeff Robertson
Vice President, Gould Paper
Barrington

There was parmesan in his eye!

I ran across Mr. Marrocco's letter to you in response to the review of his restaurant, Mediterraneo ["Capital Dining," February]. He wrote, "I find it unbelievable that anyone on my carefully trained staff would call Ms. Deutsch honey and wink at her." I was very pregnant the last time my husband and I dined at Mediterraneo when one of Mr. Marrocco's "carefully trained staff" asked my husband "if he was the father." Obviously that was quite a turn-off, and my husband and I both agreed that the food was not as good as it had been. As such, we have not been back since. I think the lesson here for Mr. Marrocco is humility. I don't blame him for what the server said, but one must understand that things can and will happen that are out of one's control.

Angela Conte
Providence


Correction: Our story on school construction ["Reporter," May] incorrectly reported how much the state spent on such projects. From 1995-2004, Rhode Island spent a total of $320.5 million on land, construction and equipment for schools.