Letters
May 2012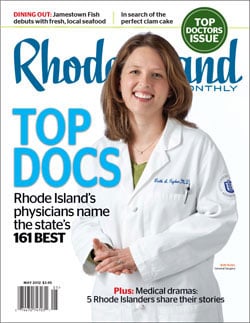 Job Lot Generosity
The story on Marc Perlman was a fine read ["Bargain Hunter," April]. One of Marc's other beneficiaries is the URI Master Gardener Program. Each year he gives us pallets of vegetable and flower seeds left over from the previous year. (It is not legal to sell leftover seeds.) We, in turn, spend many hours sorting them and then distribute them free to schools and community gardens around the state.
Last year, the Master Gardener Foundation of Rhode Island gave Marc an Excellence for Achievement award. He was quite gracious, and brought his mom as his date.

Rudolph Hempe
Master Gardener Program, 
University of Rhode Island
Kingston
Heads and Tails above 
the Rest
Seriously, not one veterinarian from North Kingstown Animal Hospital ["The Ultimate Guide to Unconditional Love," February]? After more than thirty years of bringing my pets there — from chronically/seriously ill to routine care — I cannot even imagine ever going elsewhere (and it's a thirty-minute drive these days).
Dr. Maxon Balmforth, in particular, has saved more than one of my pets from death, and his staff has cried just as hard as I have when it hasn't been as positive.
Sharon Terzian
Warwick
EDITOR'S NOTE: In our Top Vets survey, we asked hundreds of local veterinarians to evaluate their peers. Their votes determined our list of the state's top veterinarians.
I have lived in Rhode Island my whole life and enjoy your magazine very much, but I am quite surprised that Gem Ravioli in Johnston has never been visited or nominated for "Best of Rhode Island."
It would be nice to see a small-town staple like Gem get some well-deserved recognition.
Anonymous
FOR THE RECORD: Due to a miscommunication, incorrect information was provided for Ten Prime Steak and Sushi's prix fixe menu in "The Price Is Right" [February]. The $30 prix fixe menu includes a choice of arugula salad or spicy tuna roll, filet mignon or Scottish salmon, plus dessert.