Letters
February 2012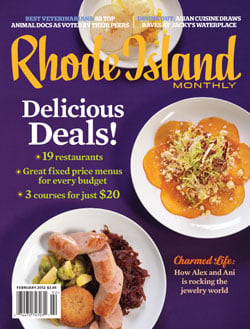 I must commend the magazine on the article, "Oh, the Fun We Had!" in the November issue. It was a wonderful collection of photos. I wanted to comment on the picture on page sixty-one of Ted Williams with the bluefin tuna. The other man in the photo is my late father-in-law, Captain Dick Lema, of Narragansett. He and Ted became good friends and competitors over the years, fishing in both Rhode Island and in Florida. The original photo was credited to Staff Carroll of the Providence Journal.

Susan Lema
Charlestown
What a really great spread in Rhode Island Monthly ["Oh, the Fun We Had!" November]. I'm sure it sparked a lot of conversations in many households starting with, "Remember when…." It makes me remember when times seemed a whole lot simpler! Thanks for the memories.
Betty Fitzgerald
Rhode Island Collection Librarian at Providence Public Library
I don't know who the middle-aged, paunchy gentleman signing the baseball is ["Oh, the Fun We Had!" November], but he is most definitely not Lou Gehrig. In 1928, Lou Gehrig was a broad-shouldered, chiseled, twenty-five-year-old athlete, well over six feet tall. In addition, his Yankees would have been playing in Washington on the day in question. The man looks a little like Ty Cobb, but the Ironman? No way.
Ray Penza
Providence
EDITOR'S NOTE: The caption information for the photograph was provided by the Rhode Island Historical Society.
Homesick for the Holidays
This story brought tears to my eyes because it rang so true for me ["Take the Long Way Home," November]. As a teenager, I thought there was so much more that the outside world had to offer than the little state of Rhode Island. After twenty years of being outside of that little state I know how wrong I was. I miss Rhode Island and all of the unique things it has to offer and the true meaning of family, even when they get on your nerves. Thank you, Ann Hood, for putting what I feel into words. Hopefully I will be home by next Thanksgiving.

Anonymous
RImonthly.com
The first thing I always read when my new issue arrives is "From the Publisher." Whatever the topic, it's written with class, style and emotion. I come away each time having learned something.

December's note, "Hometown Hero" [on PC's head basketball coach, Ed Cooley] brought back memories of being a student at St. Xavier Academy. We were all fans of the Providence College Friars; I recall going in groups downtown to obtain photos of the players.

I enjoy every issue of the magazine.

Barbara Jarry
Cranston