Letters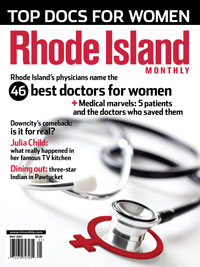 Go green
Just wanted to drop you a quick note to tell you how much I enjoyed the green coverage "How Green Is Rhode Island?" [April]. Of course, we were entirely too late with news of our client, Newport Harbor Corporation's switch to wind power, but it's great to see that this topic is garnering so much attention lately.

Lisa M. Doucet-Albert
Senior Vice President/
Deputy General Manager
Regan Communications Group
Providence
Just got the latest issue of the magazine. It looks great. Really like the new design and appreciate more substantive articles like the green ones.
Lois Kelly
Cumberland
Proud to serve
I was very excited when I received the issue with "At Your Service" [March] on the cover promising sixty-four experts in the service industry. Being in the service industry, I am proud to be part of a community of very talented professionals throughout the state. Your article promises "experts" and "pros." Recognizing that we are one of more than seventy-five limousine services in the state, it is hard to feel slighted knowing that only three companies could be chosen. I am, however, curious about the criteria used to choose your selections. Under "Emergency Geek Service," your first listing is a national company. It is hard to imagine that you could not find another local geek to include.
Eric Weiner
President
All Occasion Transportation
Cranston
Editor's note: We strive to highlight local products and businesses whenever possible, and if you look again, you'll see that two out of the three "geeks" in "At Your Service" are based in Rhode Island.
Capital response
Happy as I was to receive Rhode Island Monthly in the mail yesterday, I have to say that I was very taken aback by your food critic's review of Capriccio ["Capital Dining," February].
My first taste of Capriccio was on my fifteenth birthday, and it became a tradition to go there for very special occasions. I would always have the steak Diane, prepared by Gino to perfection.
Capriccio holds wonderful memories for me and my family. My family and I give Capriccio four stars!
Sara Q. St. Angelo
East Greenwich
In your February issue, publisher John Palumbo writes about the "Divine Dining" we have in Providence and promotes the "Capital Dining" article written by Karen Deutsch. At first glance, we at Mediterraneo were honored to be one of those ten top city restaurants. But after reading the entire article, it's a dubious distinction. To our surprise, Ms. Deutsch was quite critical of each establishment in some way. In our case, we feel we must make some clarifications.
Ms. Deutsch writes that "food comes in a distant third after entertainment and alcohol" on the second floor of Mediterraneo when it turns into a Latin-style dance club on Saturday nights. Food is not even served in the club when it opens at 11 p.m.
I find it unbelievable that anyone on my carefully trained staff would call Ms. Deutsch "honey" and wink at her. That is just unthinkable.
Only one of our pasta dishes, the lobster ravioli, comes from Venda Ravioli. All the rest are imported from Italy, which should justify the cost of each pasta dish.
Ms. Deutsch criticizes the mainstream dishes on our menu, dishes that Mediterraneo is not especially known for. She complains that our house-made mozzarella is dry and in need of salt when in fact that is exactly how a true mozzarella should be so that it can be seasoned to taste.
The truth is that Ms. Deutsch really should have written about a lot more than just ten restaurants. And I think most Rhode Islanders would agree that it's pretty hard to get a bad meal in this great state of ours.
Once again, someone who fancies herself to be a food critic has written a damaging article without any understanding of how hard it really is to make a restaurant work well day after day. All I can say is that for your sake, it's a good thing that there isn't a publication in Rhode Island that rates food critics such as Ms. Deutsch.

Gianfranco Marrocco
Co-owner
Mediterraneo
Providence
Correction: Our regrets for misspelling Jamie D'Oliveira's name in February's "Capital Dining" feature.
Rhode Island Monthly welcomes your letters. Send letters to: Editor, Rhode Island Monthly, 280 Kinsley Avenue, Providence, RI 02903; fax us at 401-277-8080; or send us e-mail at letters@rimonthly.com. Please include full name and phone number for verification. Letters may be edited for space and style.