Letters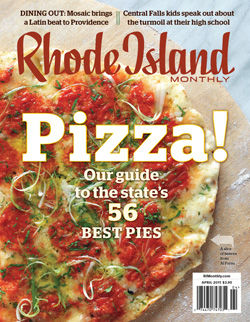 Pecking Orders

Thank you so much for the great piece about Rhode Island Families in Nature in the March issue ["Rhody-to-Go"]. I've already started seeing an increase in new members!
In the paragraph about Wilcox Park, you mentioned "designating outdoor tasks, such as feeding the birds." I'm a little worried that people will interpret this as feeding birds in parks — or worse, feeding them human food. What I meant to suggest was that filling a bird feeder in your yard is a family activity that can help motivate kids to go outside during the winter.
Thanks again. I'm so grateful for 
the exposure.
Jeanine Silversmith
Rhode Island Families in Nature
Wakefield
Charting a New Course
While I found this month's article on Angus Davis intriguing ["Boy Wonder," March], I am disappointed that you elected to reprint a quote referring 
to the Highlander Charter School 
as an underperforming school. As 
we explained during the charter renewal process in 2010, Highlander's achievements include:
•
Highlighted by Rhode Island Department of Education as significantly improving in reading and math
•
Met Adequate Yearly Progress (AYP) as required by state and federal guidelines yearly since NECAPs began
In addition, I am pleased to report that the recently published NECAP scores for 2010 have shown dramatic gains, including another eleven point increase in reading and another seven point increase in math.
Highlander is performing higher than all Providence middle schools, and it outperforms the Providence district as 
a whole.
We invite you and your readers to visit Highlander to see firsthand the incredible learning experiences happening every day.
Rachel Elliott Roderick
Highlander Dunn Board of Trustees
Providence