Letters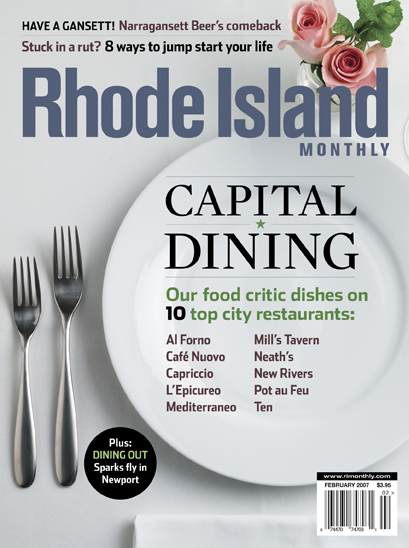 We've learned a thing or CO2
We enjoyed reading the Rhode Island Monthly articles, "From Vine to Wine" and "Some Like It Sweet" ["Wine 101," December].
Currently, our tenth grade biology class is learning about cellular respiration. In conjunction with this, we also studied the process of fermentation and read the articles as an assignment.
We found it very interesting that wine-making truly is a science of its own; however, we noticed a mistake in the inset of "Bubble, Bubble, Toil & Trouble." The formula for carbon dioxide was written as CO2, but should have been CO2.
Thank you again for a wonderful article and the ability to see how science can be "uncorked" in our everyday lives.
Mrs. Knight's tenth grade biology classes
Lincoln School
Providence
Wine guide whine
If you were to read The Oxford Companion to Wine from cover to cover, then you might begin to learn "everything you need to know" about wine.
However, since the December issue promised that knowledge, I was surprised that there was no mention of corked wines, that is, wines affected by 2,4,6-trichloranisole (TCA).
At its worst, TCA gives wine an intense, nasty smell like moldy cardboard; at lower, and in some ways more insidious, levels, it merely robs the wine of its fruit.
Estimates on the prevalence of corked wines vary widely, but something like 10 percent are believed to have some kind of spoilage. I know that it happens to me way too often.
Since TCA almost always (but not invariably) comes from the cork, your writer had a fine opportunity to mention it in the paragraph on corks and screwcaps.
It is definitely something consumers "need to know" because the majority do not. They smell TCA and assume the winery is just no good. Actually, it's usually only that bottle, and I'm sure that every merchant interviewed for the article will take back a corked wine, with no questions asked. So will servers in a restaurant.
Donald Breed
Providence
Scene in Connecticut
I am a native Rhode Islander who lived away for twenty-two years. Rhode Island Monthly helps keep me informed. I was so excited to see Len Cabral (author and storyteller) in your December issue ["RI Scene"].
It was my pleasure and great fortune to hire Len Cabral and Marilyn Meardon to develop a series of nutrition education plays for the Rhode Island Department of Education back in the early 1980s.
They wrote these to teach preschool and K-3 children about good food and nutrition. Their fanciful costumes of fruits and vegetables were designed by a recent Rhode Island School of Design grad.
Len and Marilyn visited hundreds of schools and reached thousands of Rhode Island schoolchildren through plays such as The Mean Queen Who Would Eat No Green.
I still can't believe how lucky I was to work with two such creative artists who brought to life such an important subject.
Lindell Clark Northup Nutrition Education and Training Coordinator, 1979–84,
Rhode Island Department of Education
Hamden, Connecticut
Thanks, it was grand
Just received my December issue in the mail. Thank you to you and reporter Megan Fulweiler for a great article on the preparations for Christmas at the Newport Mansions ["Grand Illusions"]. And Nat Rea's photography was fantastic. It was wonderful to see such a beautiful spread, and to recognize the hard work of some of the many behind-the-scenes staff members who work so hard to create a special experience for our visitors. We really appreciate the coverage.
Andrea Carneiro
Communications Manager
The Preservation Society of Newport County
Newport
Corrections
Several credits were mistakenly omitted from photos in "How Rhody Are You?" [January, 2007]. The correct credits are: PawSox game, Ralph Smith; Convention Center, Dunkin Donuts Convention Center; Rocky Point House of Horrors, Bill Luca, www.laffinthedark.com; Beach, Karen Cooke, South County Tourism Council; Suffolk Law School, Suffolk University Law School; Filming on street, Lew Place, Rhode Island Film & Television Office; Warren Quahog Festival, Warren-Barrington Rotary Club.